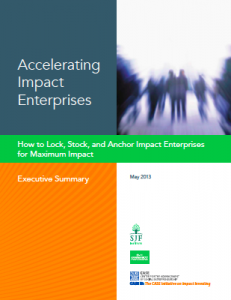 Cathy Clark and Matt Allen of CASE i3, Bonny Moellenbrock of the SJF Institute, and Chinwe Onyeagoro of O-H Community Partners recently released a report, "Accelerating Impact Enterprises: How to Lock, Stock and Anchor Impact Enterprises for Maximum Impact."
This report explores the "demand" side of the impact investment marketplace – the evolution, potential, and needs of domestic for-profit impact enterprises (IEs) who may be the recipients of impact investment capital.  The report addresses three main questions and recommends that IEs LOCK, STOCK and ANCHOR to accelerate their impact:
1. How has the overall market of impact enterprises evolved over time?
Since an initial national survey of impact enterprises was done by Cathy Clark in 2003, we have seen a significant rise in the number of certifications and commitments – such as certified B Corps and legal forms like Benefit Corporations and L3Cs – that IEs have available to them.  What is truly interesting is that the data shows that the IEs that have pursued these product or company certifications show strong correlation with overall business growth and success. The study's authors therefore recommend that IEs should LOCK in their mission through certification which resolves ambiguity and correlates with greater business success.  2. What impact enterprise segments have the most potential for impact?
The IEs in the study were mapped by "pace of growth" and "impact commitment," showing a positive correlation, on average, between high growth and high impact.  This of course varies by industries – e.g., agriculture/food and financial services show higher growth and impact, whereas manufacturing and transportation show a weaker correlation between the two.  It also varies by population served with companies focused on underserved populations showing slower growth on average, regardless of the industry segment. The authors recommend that IEs should take STOCK of the enterprise's impact targets, as they may influence growth trajectory.

3. What do impact entrepreneurs need to succeed?
The study showed that IEs are most successful when part of a community of practice that may include centers of excellence around common issues in each industry or stage of maturity, or peer networking. And, of course, IEs need access to capital – but the right kinds of capital at the right time in their growth trajectory.  The authors point out that IEs will be most successful when they ANCHOR within strong communities of practice.
Want to learn more about the study and its findings?: