I spent spring break of my first year applying my MBA skills to an international consulting project in South Africa! The experience was part of the Fuqua Client Consulting Practicum or FCCP, a six-credit experiential learning course offered during the two spring terms for first year students. FCCP was one of the programs I was most excited about when researching Fuqua and remember specifically mentioning it during my interview.
There are many FCCP teams each year that do either a domestic or international project. During spring break, the international teams traveled to Peru, the UK, Switzerland and Johannesburg, South Africa, where five teams including mine did consulting work for non-profit and for-profit organizations.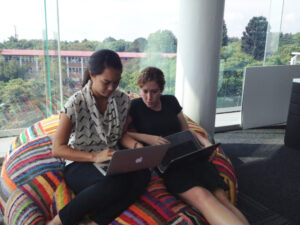 FCCP Format
International project teams typically start virtually meeting with their clients at the beginning of the spring term and spend two weeks during spring break on-site with their client. We jumped in head first and had many Skype meetings to get up to speed before arriving in South Africa.
Our Client
My team's client was a for-profit organization based in Johannesburg that designs, builds and runs branchless banking solutions. They're a startup company pursuing an innovative approach in the mobile banking space. They asked for our help to create an expansion strategy as well as prioritize countries for future growth.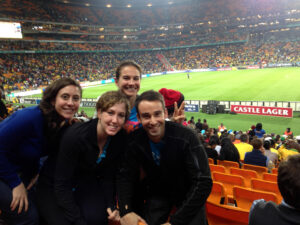 The Project: Week One in Johannesburg
We kicked things off Monday of spring break in South Africa at an opening dinner with a traditional African meal. After two months of Skype meetings, it was nice meeting our clients face-to-face. Though we had done a lot of work prior to arriving in South Africa, the remainder of the week we really got down to it. On the first day we went into the field to a nearby township and met with the beneficiaries and future customers of branchless banking. During the week we conducted interviews with other employees within the organization and worked on our final deliverable. One evening after work, our client took us to the South Africa vs. Brazil international friendly match at FNB Stadium, made famous during the 2010 World Cup. We rounded out the week at the office and left Friday night for some leisure time in Cape Town.
Weekend in Cape Town
Our two days in Cape Town were spent relaxing and enjoying South Africa. Early the first morning, we hiked Table Mountain for magnificent views of the city and surrounding area. We toured a beach of penguins and visited the Cape of Good Hope. At night, we explored the waterfront and dined on excellent seafood and South African specialties like springbok and ostrich. On the second day, strong winds thwarted our attempt to visit Robben Island, but we made up for it by spending more time at a nearby vineyard where we enjoyed local wines. We waved goodbye to Cape Town and headed back to Jo'burg Sunday night for the workweek.
The Project: Week Two in Johannesburg
My team jumped headfirst into week two with the final presentation. Because we did so much work on the project in Durham before arriving, we presented on Monday morning, early during week two. Our hard work paid off and it was a success! The client enjoyed our presentation and it generated great discussion between executives about the organization's expansion strategy. Our team worked well together and we each brought a unique set of experiences and expertise that paired perfectly to meet our client's needs.
Spring break begins!!
Since we finished our consulting engagement early, we officially kicked off spring break and used our free time to discover more of South Africa. On Tuesday, fellow Fuquans on the South Africa GATE trip arrived in Jo'burg and we went with them to the Apartheid Museum and celebrated a classmate's birthday. On Wednesday, we traveled north for an overnight safari in beautiful Pilanesburg National Park. The safari was remarkable—we saw an incredible array of animals including lions, rhinos, giraffes, elephants and so much more. Thursday night we returned for the closing dinner with all of the FCCP teams and our clients to celebrate our accomplishments. On Friday before our flight home we biked around Soweto, the most famous of Johannesburg's townships and former home of Nelson Mandela.
Takeaways
The South Africa FCCP trip was my most memorable Fuqua experience to-date. I loved the international consulting work and the chance to experience a new country with my teammates. The work provided a chance to practice the skills we learned in class and provided valuable stories to talk about in interviews. Now that we're back at school, my team continued working with our client as part of Emerging Market Strategy class!
To see more photos from Fuqua students' adventures around the globe during spring break, fall break or other times, see below and/or search #FuquaTravels on Twitter or Instagram.