Category:

Technology
Want to Work in Tech? Go to Fuqua
Every student interested in technology asks the same question: "Should I have a tech background to work in the industry?" And the answer is "No!"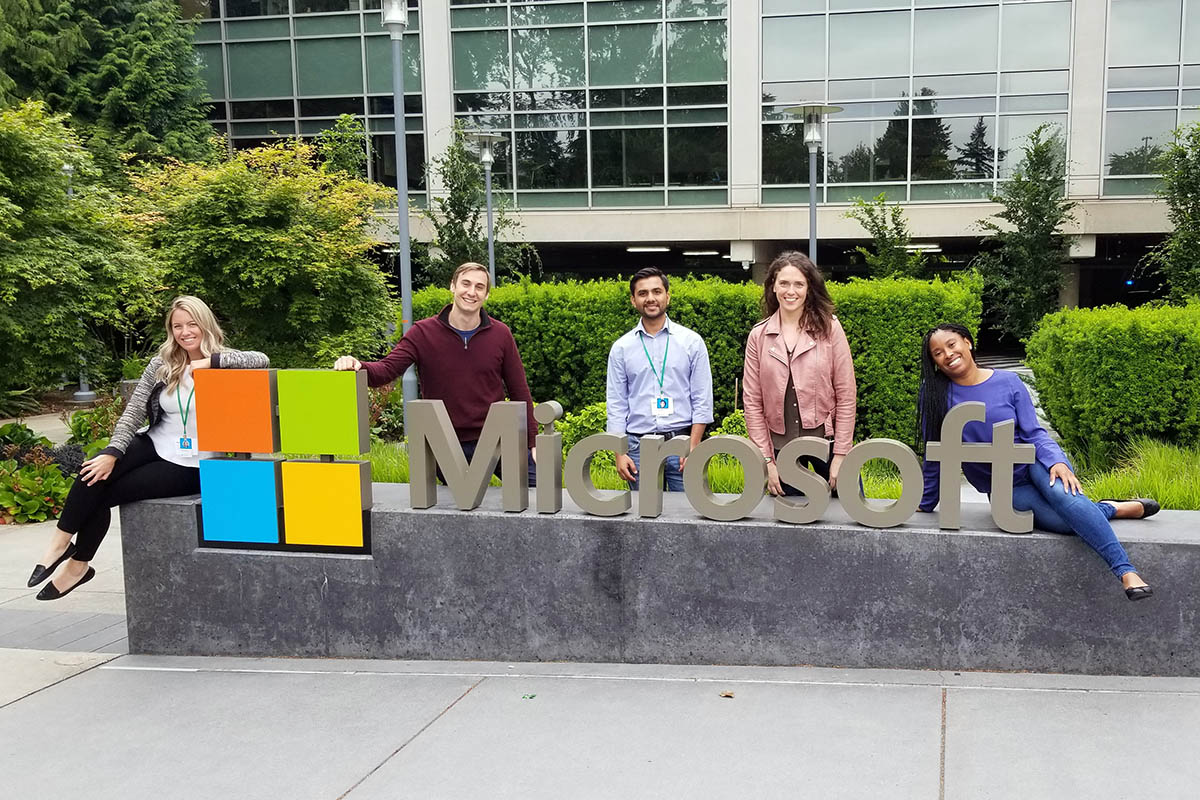 Every student interested in technology asks the same question: "Should I have a tech background to work in the industry?" And the answer is "No!"
Regardless of your experience prior to enrolling, Fuqua provides an array of resources to guide students and help them navigate tech including industry education, recruiting preparation, and experiential learning opportunities.
While classes allow students to acquire valuable theoretical knowledge, combined efforts from the Career Management Center and the Duke MBA Tech Club help students learn from industry professionals and alumni about new industry trends, required technical skills, and how to succeed in recruiting. Moreover, since tech is not only for those interested in project roles, initiatives across other clubs and their respective sectors, such as marketing and finance, present students with the perspective of different roles.
If you are interested in joining this industry for your summer internship or upon graduation from business school, here are some of the main resources available at Fuqua to check out!
Experiential Learning Opportunities
Here are some student blogs that dive into the details and benefits of each of these opportunities.
Career Support
In addition to bringing the most-wanted companies to Fuqua to recruit our talent and supporting customized, off-campus recruiting, the CMC champions different initiatives to help students to navigate and succeed in internships and full-time position recruiting in this industry.
For instance, the CMC has leveraged our fiercely loyal alumni base by naming "Fuqua Alumni Champions" in strategic tech companies like Airbnb, Salesforce, Uber more than a dozen others. These Fuqua Alumni Champions engage with their company's MBA recruiters to encourage them to facilitate recruiting activities with Fuqua, share job postings, and ensure that any student who receives an interview invite also receives non-evaluative mock interviews and insight into the team they're interviewing with. This initiative will help to drive a higher number of Duke MBAs into these Tech companies.
Student Clubs
The Duke MBA Tech Club
The Tech Club is a student-led organization responsible for providing students additional resources helpful in recruiting for their dream job and fostering community. Among the student-led initiatives are:
Annual Symposium. This annual symposium brings dozens of industry experts, alumni, and recruiters to campus to share and discuss key trends, career advice, and anecdotes of life in the industry.
Tech Pipeline Series. This semester-long, in-depth industry recruiting training includes weekly sessions that cover everything you'll need to know for your recruiting journey. We cover things from the basics to the specifics including function-specific recruiting tips and role-specific knowledge.
Industry Education. Through casual chats, second-year students address a wide variety of questions related to the industry and their working experiences.
Tech Trek. This trip, led by the Tech Club, takes students to the West Coast (Silicon Valley and Seattle) and to Texas (Austin) to visit companies. Alumni and company leaders open the doors to their companies so students can learn more about their culture and ask questions.
FinTech Club
Students are also looking for jobs that are finance and tech hybrids. The Duke MBA FinTech Club focuses on growing the awareness of and interest in the industry and related career paths. It also connects students with the broader industry community, developing relationships with industry experts, recruiters, alumni, and faculty.
Other Clubs
Other clubs constantly partnering with the Tech Club to develop a diverse range of initiatives are the Duke MBA Marketing Club, the Design & Innovation Club, and the Entrepreneurship and Venture Capital Club.
Academics
In your academic experience at Fuqua, you will acquire valuable knowledge about this industry, as well as master diverse tools that will help you to succeed in the role you chose to pursue after business school.
Given the relevance of tech nowadays, Fuqua has recently created a class to discuss technological disruption and the impact of technology on businesses and societies. Technological Transformation of Business is part of the core and is taught during the summer term of students' first year, being one of the initial classes you take together with your section. During the classes, cases of tech companies such as Amazon and Apple are discussed, helping to set the ground for an MBA experience focused on the relevance of this industry.
Additionally, Fuqua has a comprehensive offering of electives that are directly or indirectly linked to this industry, including Managing Innovation in a Global Organization, Marketing of Innovations, and Innovation and Cryptoventures, just to name a few.
Lastly, among all the concentrations and certificates you can pursue while at Fuqua, these four are especially useful if you want to pursue a career in tech.
Management Science and Technology Management (MSTeM)
Deepen your expertise in the tools, frameworks, and models that address managerial problems. The classes will prepare you to both lead and direct analysis, and to get deeply involved with and understand the tools and models that should be utilized to inform and improve decisions. Here's why one of my classmates pursued MSTeM.
Decision Sciences
Learn to master the key analytical tools that are broadly used. Gain expertise in constructing decision tree models to evaluate different R&D projects, using regression models to forecast sales, building optimization models for production or distribution systems, or using game theory to analyze the impact of launching a new product in a competitive marketplace.
Marketing
You'll learn to capture the voice of the customer, deliver value via product, price, place, and promotion, and choose and maintain relationships with everyone from customers to suppliers, and even competitors. Fuqua offers two concentrations in this area:
Product Management: This enhances your skillset if you wish to pursue a product management career in packaged goods, consumer durables, business-to-business settings, high tech markets, pharmaceuticals, and services.
Market Analysis and Strategy: This prepares you for careers in marketing strategy, consulting, corporate strategy, general management, and sales.
Other Student-Led Initiatives
Duke's Innovation Co-Lab is an incubator from the university that approximates students, faculty, and staff of all backgrounds, interests, and skillsets to new and emerging technologies. The organization promotes seminars, panels, workshops, fairs, and open demonstrations about the latest industry trends. The Tech Club and CMC partner with the Co-Lab to bring different initiatives to the business school.