A Different Kind of Rodeo
Come one, come all to the Food Truck Rodeo! What exactly is a food truck rodeo? It's an event that occurs a couple times a year, and all the food trucks in the Triangle area convene in Durham Central Park. Durham has quite a lively food truck scene, with a variety of different cuisines.
At last, the weather was beautiful and it finally felt like spring on Sunday. It was the perfect day for the food truck rodeo, and since I was still in town for spring break, I stopped by the rodeo with a couple of friends to check out the scene. I had a great time, enjoying the nice weather, some delicious food, and good company. There was even a live band. It was definitely a popular event as the street was packed with tons of people and pets.
Some of the options that we had to choose from were American Meltdown Gourmet Melts (gourmet grilled cheeses), Parlez-Vous Crepe (French crepes), Daisy Cakes (cupcakes), and much more! Check out the event site to see what other food trucks attended, if you're interested.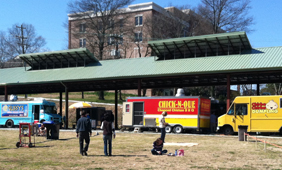 Personally, I started off with a coffee from bikeCOFFEE. It's exactly what it sounds like: coffee from a bike. It's got a sort of rustic vibe, but it was definitely good coffee and the people were really friendly. Every beverage is individually made so you can get a custom drink. I also stopped by The Parlour, which is a specialty ice cream truck. They had some unusual flavors like salted butter caramel and chocolate earl grey. After contemplating which flavor to get, I ultimately went with the Girl Scout Mint with hot fudge. Yum! It tasted just like the thin mint Girl Scout cookies. I definitely recommend it!
Overall, the Food Truck Rodeo was a fantastic event to showcase the fabulous food in the triangle area. I definitely plan on coming back to the next one and recommend anyone around to go as well. If you ever want to dine food truck style in Durham, check out this site for updates on some of the trucks and their locations.