Ninth Street is a main attraction in Durham. It's a strip that has a variety of different restaurants, coffee shops, and eclectic stores. Located close to Duke's East Campus, I find myself frequenting the area pretty often. It's got a bit of a hipster vibe, and you'll definitely be able to find some unique things there. Here are some of the businesses that are located on Ninth Street (in no particular order):
Bean Traders
I'm actually writing this blog post from one of my favorite coffee shops on Ninth Street: Bean Traders. I consider myself a coffee enthusiast, and I would say hands down that Bean Traders has the best coffee in Durham. Not only do I come here for coffee, but I'll often come here to stud. It's a good option if you ever get tired of going to the Ford Library to stud. If you end up stopping by here, I recommend the mocha — it's delicious.
Francesca's Dessert Cafe
Bean Traders is not your only option for coffee on Ninth Street. There's also Francesca's, which also has good coffee and offers gelato and fancy desserts. I definitely recommend coming here if you have a sweet tooth craving. They also offer booth seating which lets you get pretty comfortable.
The Duck Shop
Duck Shop? Do you mean the Duke Shop? Nope, it's called the Duck Shop I'm not sure exactly why, but this store is your go-to place, other than the on-campus Duke University Store, if you want to get any type of Duke paraphernalia. They have a wide range of shirts, hats, decorations … you name it, so you can treat yourself, friends or family.
The Regulator Bookshop
If you're interested in supporting your local bookstore, The Regulator is the spot for you. They have a whole section of books by local authors as well as a variety of books about Duke, Durham, and the surrounding area. It's a pretty quaint store, but conveniently located on Ninth Street.
Dain's Place
Dain's is a local pub, which seems to attract the bikers in the town. But don't let that intimidate you at all. The people are very friendly and the food is good, too. If you're down to grab a burger and a microbrew, this is a convenient spot to come to with a couple of friends. It's even been ranked number 10 on a list of 50 Best College Bars in America.
Vaguely Reminiscent
Vaguely Reminiscent is a very interesting, out-of-the-ordinary, store that sells a variety of things ranging from little trinkets to gag gifts and clothing. You'll never know what you can find here, but that's what makes it such a great place to visit. I've come here to grab a unique gift for a friend. You'll have to come here for yourself to experience what I mean when I say out-of-the-ordinary.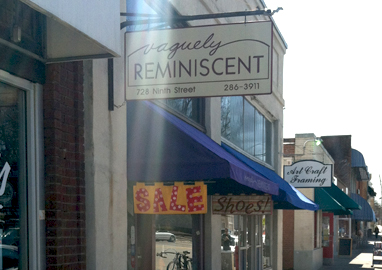 Wavelengths Salon
Wavelengths is a popular local hair salon that offers haircuts and styling. They also carry a variety of products from Aveda, Bumble and Bumble, etc. So, if you had to move away from your trusted hair stylist, and you need a new one in the Durham area, give them a try. Their location is conveniently close to campus.
Metro 8 Steakhouse
Metro 8 is a restaurant that's also a nice event venue. They serve classic American cuisine and you can come here for a nice steak entrée. At the same time, the establishment allows groups to hold events such as fundraisers, formals, and more. We even held our MMS winter formal at Metro 8.
Ox and Rabbit Soda and Sundries
When first walking into this place, you might take it as an ordinary stationary store, but don't be fooled. The Ox and Rabbit is not only a stationary store, but an ice cream soda shop as well. You can get all kinds of homemade milkshakes and cream sodas here. Not too many people know about this place, so spread the word!
Blue Corn Cafe
In the mood for some Latin food? Then Blue Corn Cafe is your place. Serving fajitas to enchiladas and anything in between, they have some delicious dishes. Their fusion style is unique. I've also heard that the margaritas are pretty good, so you'll just have to see for yourself.