Duke University is consistently considered among the best in the world. We're known for having superior academics, overseeing state of the art research, and being home to a number of Nobel Prize winners. However, in there is another part of this university that distinguishes it in a different way: sports. Sporting events at Duke are not just attended, they are lived, loved, and act as a base for the school spirit that defines our university.
Duke Athletics has long been a leader in Division 1 athletics. The university boasts 26 varsity sports across men's and women's programs. If you are part of the Duke community, you know that there are so many great things about sporting events at Duke. Let me highlight the very best parts…
Here is what to look out for during sporting events at Duke…
1. Cameron Crazies
The Cameron Crazies are named after the home to Duke's basketball and volleyball teams, Cameron Indoor Stadium. Duke is famous for its school spirit, and more specifically, its student fans at basketball games. Duke basketball is a powerful force in the basketball world, and the fans are no different. At any given basketball game, they are packed in to the student section, faces painted blue and white, cheering until their voices are gone.
2. The History
Duke athletics is grounded in the history of the university. The football stadium, Wallace Wade, was opened in 1929, and named for the legendary football coach. Cameron Indoor Stadium has a similar strong history, as it was opened in 1940 and named for Eddie Cameron, who served as Duke Basketball head coach from 1928 to 1942. At a sporting event in Cameron, make sure to look up and around the stadium at the numerous banners representing championship teams, historical athletic moments, and individual star athletes.
3. The Choices
During any given season, there are a number of sporting events to choose from. In the fall, you can watch MMS student represent Duke Football in Wallace Wade. Then, go outside and watch Ryan Thompson play a soccer game in the warm sun. In the winter you can watch athletes go to work in the pool, or take down opponents on the wrestling mat. In the spring, you can watch Duke basketball win during March Madness, or watch Jessie Ambrose fly down the lacrosse field with the ball in her stick. Like I said, lots of choices.
4. The Cheers
Whether it's the Duke fight song ("Fight, Blue Devils, Fight"), or pestering opponents during foul shots or penalty kicks, Duke cheers are legendary. The best cheers are led by the line monitors who make sure the student section doesn't get too crazy. However, those line monitors are not afraid to pick on one opposing player throughout the game, as they often do.
5. The Blue Devil
Duke's mascot is the Blue Devil. The mascot comes from the French, "Les Diables Bleus," or Blue Devils, which was a fierce French infantry battalion during the first World War. The modern day Blue Devil at Duke sporting events dances, 'surfs' on band members at basketball games, and generally encourages school spirit.
6. Coach K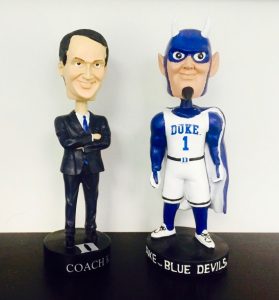 Coach Mike Krzyzewski has been the head coach for the Men's Basketball team since 1980. He is the winningest coach in men's NCAA basketball history. When he walks on the court before a basketball game, students and fans can be seen 'bowing down' to him as he enters. If you're a Duke basketball fan, it really seems like the only way to greet Coach K.
7. The Band
DUMB, or Duke University Marching Band, is surely not dumb as their preferred acronym suggests. The band makes Duke sporting events fun and noisy, as sporting events should be, with songs ranging from Duke fight songs to the latest pop hits. They play instruments, they march, they provide the means for the Blue Devil to 'surf,' and they are the liveliest group you've ever seen.
8. The 'Ws'
Arguably the best part of Duke sporting events. Because Duke is such a force in Division One athletics, Duke teams usually walk away with a 'W,' or a win. And who doesn't like winning?!
As you can see, there are so many things about Duke sporting events that will make you want to go back. Go out and support our teams, and GO DUKE!