Under the bright lights of Cameron Indoor Stadium, with an electric atmosphere ignited by the Cameron Crazies, the Duke basketball team defeated Michigan State 78-69 in the ACC-Big Ten Challenge.
For many across the world, when they hear "Duke University" the first association that comes to mind is Duke's storied basketball program. Other schools experience similar phenomena; like when Alabama or Michigan are mentioned the first thought may be football, or when UNC is mentioned one might think Kris Jenkins and Villanova.
At first glance it might be puzzling why Duke, a school with unwavering commitment to academic excellence, would invest so much in their basketball team and entire athletic program. Are there any overlaps between draining a deep three-point shot and acing a Corporate Finance final? Academically, Duke ranks number eight in the nation and Fuqua ranks number three. So what makes having a successful athletic program attractive for these institutions of higher learning?
Having been a student-athlete on the soccer team while attending both Duke and now Fuqua, I've experienced first-hand the principles espoused in athletics which serve to reinforce our greater institutional values.
Teams and Leadership
One of the most fascinating aspects of team sports is rooted in its potential to bring together a diverse group of talented individuals and mold them into a high-functioning, unified team whose collective ability far exceeds the sum of its individual parts. There are a lot of important inputs necessary for successful team-building; including recruitment, fundraising, and strategic planning. And while each of these are key components of team-building, I believe that leadership is the one characteristic that rises above the rest.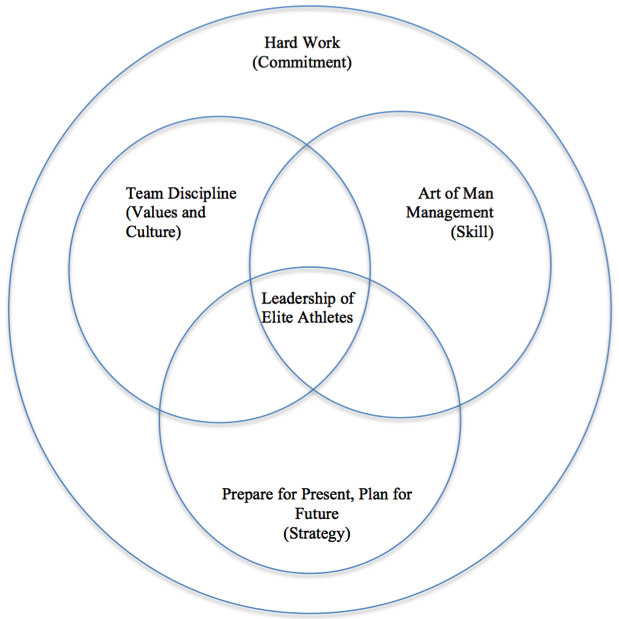 In my senior year at Duke I was inspired to learn more about effective leadership, specifically regarding elite athletes. By working with Professor Scott Yakola, we were able to conduct an independent study on Coach Bill Belichick, Sir Alex Ferguson, and our very own Coach Mike Krzyzewski. After researching these coaches' philosophies via interviews, biographies, articles, and more, we synthesized a long list of various anecdotes into three comprehensive leadership themes:
Team Discipline—which will shape the values and culture of your team.
Man-Management—which tests your ability to extract the maximum potential out of each individual and the team as a whole.
Prepare for the Present, Plan for the Future—which deals with strategic thinking in terms of how to best prepare your team to win today, while working towards building a sustainable future.
Ultimately, we found that these three leadership themes are most effective when bound together by consistent hard work and an unwavering commitment to improvement. From my experience, these concepts are not only the foundation for success in athletics, but are also effectively applied to higher learning and business.
Practicing these Principles at Fuqua
In my experience, the focus on building Leaders of Consequence, is the hallmark of Fuqua's and Duke Athletics' success. My desire to continue learning about leadership had not waned on day one of MMS orientation. I sat with the rest of my forthcoming classmates in Geneen Auditorium, and listened to our MMS Director, Steve Misuraca, and Associate Dean, Russ Morgan, articulate the school's commitment to developing Leaders of Consequence. There were a lot of similarities in what they presented as Fuqua's core values and the important principles of leadership discussed by Coach K and the other coaches I studied. These are leaders who are not only extremely skilled at getting the most out of groups, but are genuinely guided by integrity, authenticity, and purpose.
At the end of the day, these concepts of leadership and team-building can only create something special if they are lived day in and day out. Thus, it is not only the construction of these principles, but the execution of them in which Fuqua and Duke Athletics excel. At Fuqua, genuine expressions of interest from professors, and out of class meetings with directors result in truly authentic connections. Likewise, I know that I can walk into my coaches office at any time, which builds trust and communication.
I believe my experiences with role model coaches and teammates as a student-athlete uniquely prepared me to adopt Fuqua's principle of being a Leader of Consequence. For the last six months I have been developing new relationships at Fuqua that have certainly helped me become a better leader and teammate for my soccer team. Our strategy instructor, Professor Ramon Lecuna, pushes us to look for organizational synergies and I believe that these overlapping values taught at Fuqua and Duke Athletics can give us the answer to why Duke so strongly values its athletic programs.