FEATURED POSTS
LATEST POSTS
3 Key Learnings from the Program
February 19, 2019 -
-
As my MBA journey recently came to a close, I got to reflect on my time with Fuqua. After traveling in four different continents with my cohort of more than 110 classmates, I...
4 Things to Know Before Starting the First Term
January 18, 2019 -
-
After months of waiting, chatting with future classmates via Slack, and MBA Math-ing to prepare for the coursework, beginning of the first term finally arrived! Orientation and the first residency in Durham was a remarkable...
My FCCP Experience: Consulting, Leadership, Teamwork, and Helping Children
October 12, 2018 -
-
The Fuqua Client Consulting Practicum (FCCP), a hallmark program at our business school, is an experiential learning opportunity where students work on a team to solve a real-world problem with a client. Being a firm...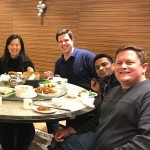 How the Duke MBA is Preparing Me for the Next Step in My Career
October 2, 2018 -
-
Why go back to earn an MBA? Why now? Why Fuqua? These are some of the questions I received when deciding to pursue an MBA midway through my career. I have experienced professional...
Are MBA Case Competitions For You?
June 8, 2018 -
-
Admittedly, consulting is a popular and well-explored career in business schools. Experience in consulting can be powerful: you gain multi-disciplinary and cross-functional exposure while working on strategic C-suite problems in various industries. So...