Category:

Residencies
Planning a Cross Continent Residency: A Story of Dedication with a Splash of Betrayal!
This blog was written prior to the Cross Continent MBA program merger with the Global Executive MBA program.
Cross Continent MBA (CCMBA) residencies are intense! During one, students attend class sessions, guest speaker engagements, club events, cultural excursions, and much, much more. As Fuqua's senior program manager for the CCMBA Class of 2015, my job is to coordinate the logistics for the residency to ensure students have an enriching academic and cultural experience.
I like to think that I work hard for the students and that they are thoroughly enjoying their experience (at least that's what they indicate on our surveys). However, our January residency in Santiago left me scarred. For you to really understand the sense of betrayal I experienced you first need to understand what I do for the class.
I conduct the majority of planning with my colleague and main partner in crime—fellow Senior Program Manager Mary Grey Erwin. Here is just a short list of the things we do in preparation for a residency so that the students have a great experience:
Communicate with students on a frequent basis so they know all the logistical items they need to complete prior to and during the residency
Review survey feedback from the previous term's residency and incorporate changes to improve the experience where possible
Coordinate with faculty to make sure they have all the materials needed to teach their courses while at the residency
Work with the hotel—where we stay and hold classes—on menus to meet dietary preferences and to make sure its space can accommodate academic and programmatic needs
Work with a destination management company to develop meaningful cultural activities and to secure safe and reliable transportation—for example in Santiago, we set up a winery visit and tasting, and an awesome city bike tour
Partner with Fuqua's regional teams to develop the schedule and plan insightful speakers and corporate visits
Coordinate with the Career Management Center (CMC) to incorporate career workshops into the schedule
Meet with club leaders to help them plan club events
Meet with class leaders to get their feedback and ideas for the residency and the program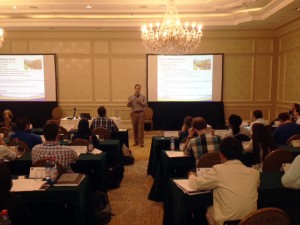 Now that the scene is set, here is the moment you've been waiting for. Our first full day in Santiago was Team Changeover Day where students transition from their old five or six-person study teams to their new teams. Part of the day is spent working with our teaming expert, Professor Mark Brown, and the other is spent outside doing team building activities. For our Team Changeover Day we traveled to the beautiful Hacienda Santa Martina in the Andes Mountains.
We started the day off with a short orientation presentation. I was super pumped to see everyone. I've gotten to know the students really well since the program started, so I was glad to be reunited with this great group of folks. Assistant Dean Karen Courtney (who you can follow on Twitter for live updates when we're at residencies), kicked the day off by introducing the staff that would be with the students in Santiago. When she announced my name I was expecting a thunderous applause, but instead I received a quiet golf clap, and not even a good one at that. I wouldn't have thought too much of it, but our IT guy, Gordon Wang, was welcomed like he invented the Internet. The applause was deafening.
It was a bit of a rough start to the day, but being the congenial person I am, I decided to let it go. I had a great day outside with the students taking pictures and even getting to participate in some of the team building activities. It was a hot day, but it was a good, fun day. To celebrate the end of the day some of the students decided to take a dip in the pool that was on the grounds. These students decided to capture this special moment by taking a nice group picture with the pool and mountains as a scenic backdrop. They even asked me to join their picture—it was truly a touching moment. Life was great, and I was all smiles for the picture.
Then…
SPLASH! It was a set up! The students weren't trying to capture a sentimental moment—it was all a rouse to throw me in the pool. Shirt, shorts, tennis shoes and all were soaked. Come to find out my very own colleague, Mary Grey Erwin, was in on it. B-E-T-R-A-Y-A-L! I should have known something was up when she kept asking if I had any other phones on me to take the picture with—she didn't want them to get wet. I thought that after all I do for these students and after the golf clap debacle they would treat me with the utmost respect. Well, I was quite wrong and had some wet shoes and socks to prove it. Now it is time for me to start plotting a prank to get them back at a future residency!
I hope from this blog post you've learned two important lessons:
A lot of work goes into planning a Cross Continent residency.
Don't pose for a group picture in front of a pool.