Category:

Life in the Program
How to Do Dubai Like a Pro
When the time comes for each residency, why not make the most out of the opportunity with an additional pre- or post-residency trip? Here is how we made the most out of a pre-residency trip when a group of us all stopped over in Dubai for a few days before our studies in New Delhi
This blog was written by a Cross Continent MBA student prior to the program's merger with the Global Executive MBA program. 
During Duke University's intensive and internationally-focused Cross Continent MBA (CCMBA) program, you'll travel to five unique locations.
When the time comes for each residency, why not make the most out of the opportunity with an additional pre- or post-residency trip? Here is how we made the most out of a pre-residency trip when a group of us all stopped over in Dubai for a few days before our studies in New Delhi.
I live in Saudi Arabia, so being from the region I took it upon myself to start planning the excursion for our group to make sure everyone got the most out of their UAE experience. I incorporated all sorts of activities which included cultural, social, and professional elements. There was also plenty of free time for us to explore Dubai on our own. I know from the stories that everyone took full advantage of being there together and did a lot of exploration.
Since there were going to be almost 20 people in the group, I knew I was going to need some help organizing. So I recruited three generous and outgoing characters, pictured below. Hicham, a longtime Dubai resident and a very longtime friend of mine. Tania, another longtime Dubai resident and Hicham's significant other. And Zeina, who was actually born and raised in Dubai and flew in from Beirut just to be with the group as a cultural translator. She also just happens to be my significant other. The three of them all took time off work and out of their lives to be a part of this trip, and I know we're all really thankful for their help.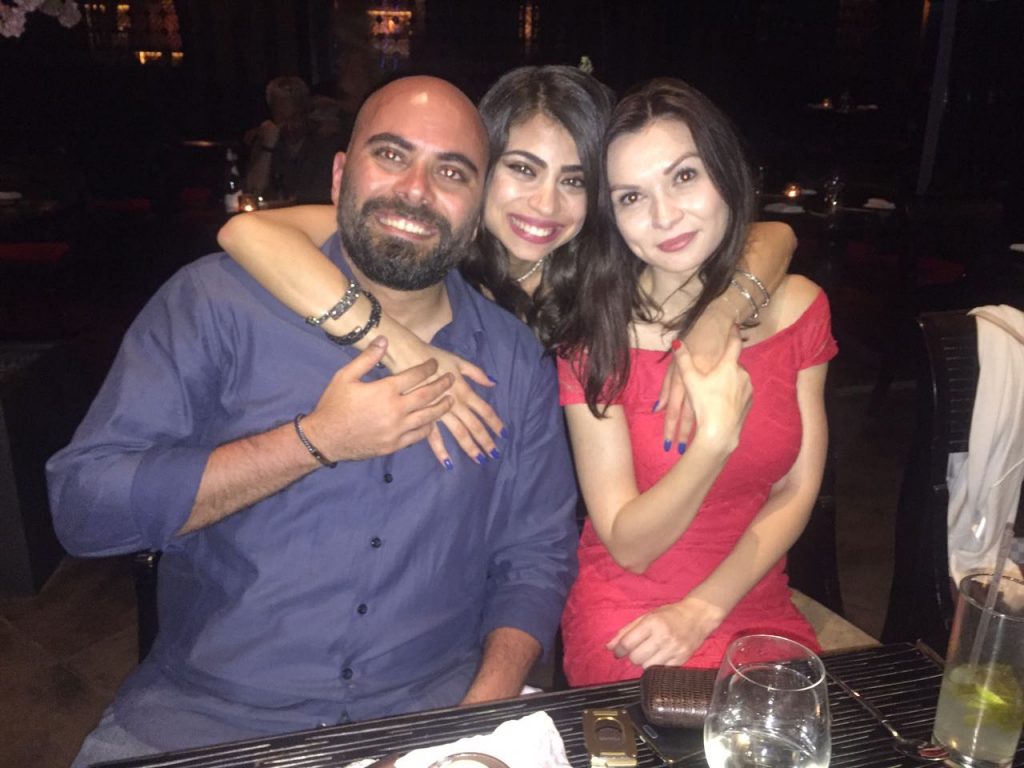 I knew we had to have a kick-off meeting upon arrival to ensure all the plans were confirmed as my Fuqua classmates all began descending on Dubai. Poolside at the JW Marriott made the most sense with the arrival night dinner beginning later in the evening.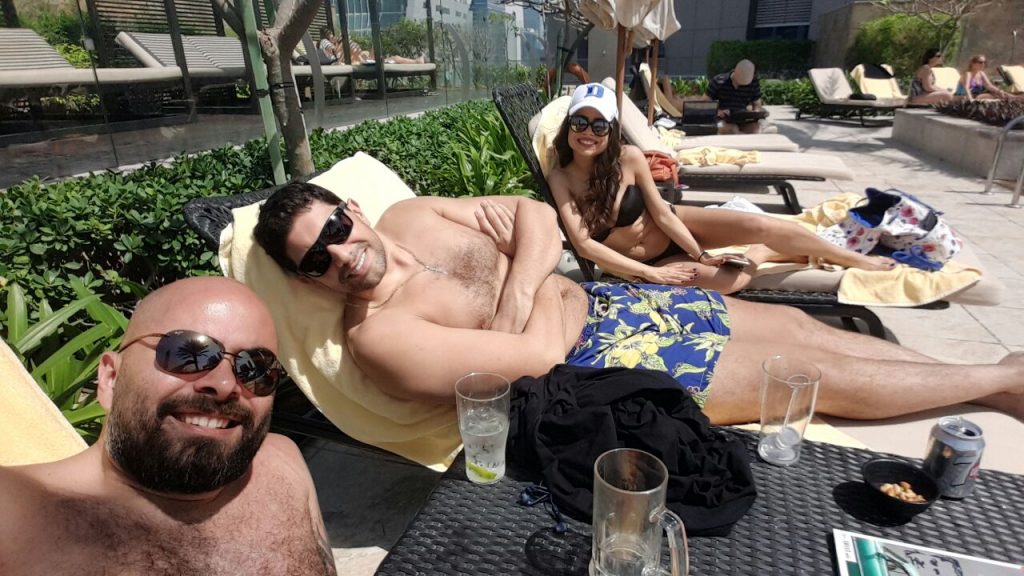 Everyone arrived in Dubai more or less within a few hours of each other and made camp on the prestigious Jumeriah Beach Residences right on the main walk area. There was no shortage of things to do and see in that area from the awe-inspiring architecture to the luxury cars, yachts, and shops.
We all met at Pier 7 on the Dubai Marina, which is a beautiful area to oversee the harbor and boardwalk. Everyone was able to catch up on each other's lives since the last residency, while having a great dinner at Asia Asia.
It's interesting because even though that gap period in between residencies is only a short 10 weeks, everyone's lives are so busy and constantly changing that there wasn't a moment of silence even when all the food came out. It made me realize that as a group, even though we don't go to school with each other daily on campus, we still maintain a very close bond.
We visited and explored Dubai's old markets and visited some of their historic sights. We opted to take the dhow river boat over to the Deira Old Souk to visit the spice souk and the gold souk.
Lily Eyraud and Julia Curry were all amped up and excited to conquer the old markets after having a great lunch right on the Dubai Creek canal.
Even though we had an important term coming up and everyone still had their careers back home to manage, there was always time to enjoy a nice sunset. Here Matt is taking a moment.
You never know what you're going to come across during your travels in the CCMBA program. For a few members of the group who went jet skiing in the morning on the Arabian Gulf, they came across camels just trying to get their tan on.
For others like Diane Pham, visiting the local Laduree's of the world satisfies her sweet tooth is just one of the small travel challenges she sets for herself. I have to admit, Laduree does make some tasty desserts.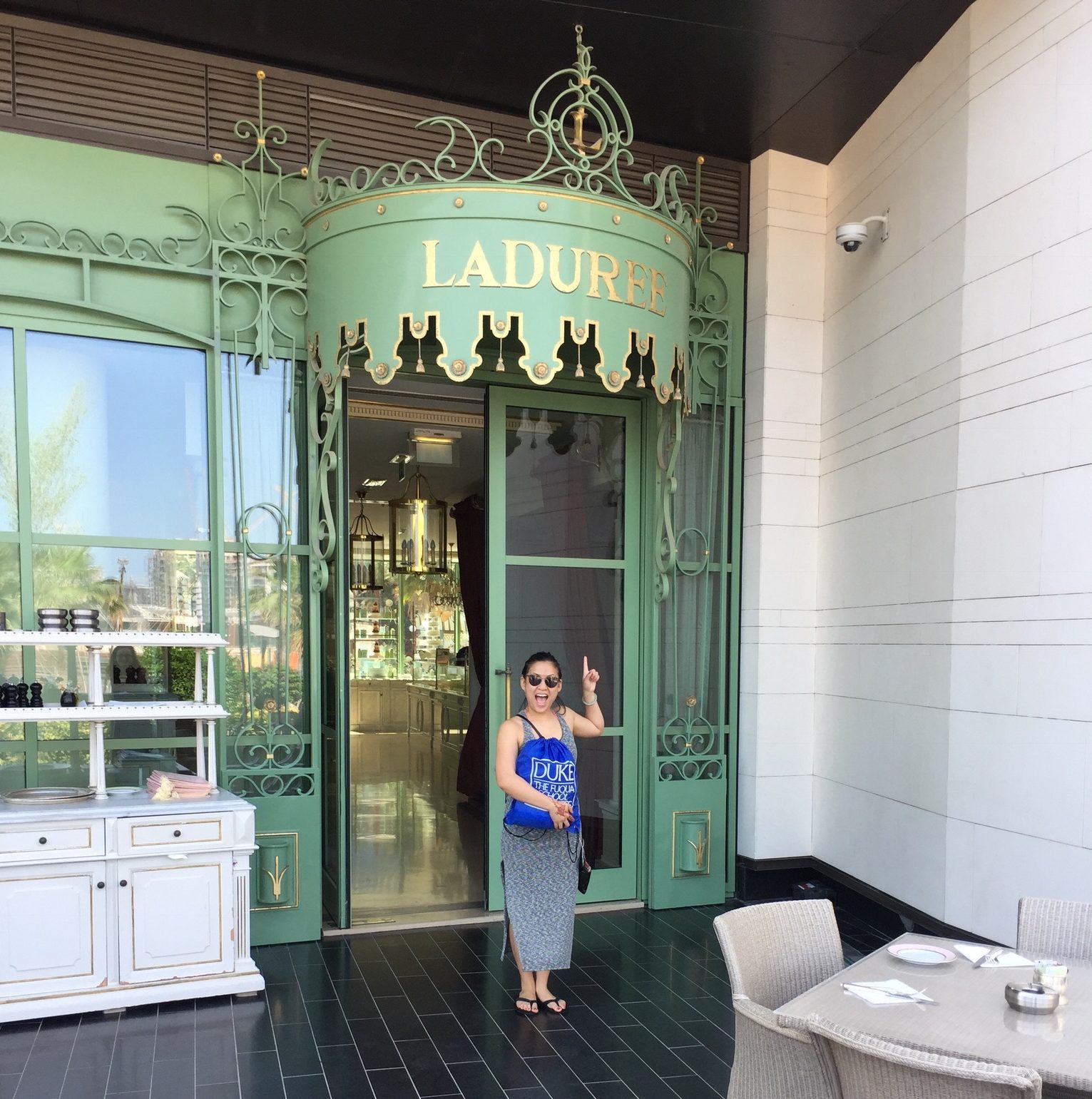 And for all of us, growing our bond and friendships really added to the beauty of the trip. These are lifetime friendships we're cementing throughout this MBA program.
Having lunch at the restaurant Atmosphere, 150-plus stories up at the top of Burj Khalifa, was an exciting experience. It's not everyday you have the opportunity to have lunch in the tallest building in the world.
Others chose to explore Burj Khalifa from the bottom looking up and around the fountains.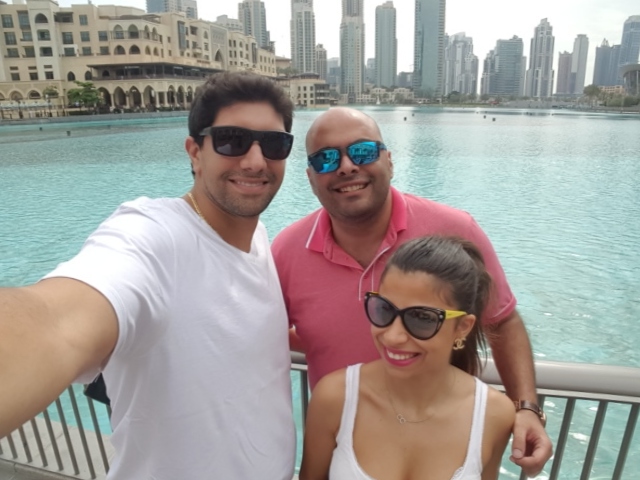 It's incredibly important not to fall behind on pre-term residency work. So we didn't forget to study and complete all of the pre-reading for each course. What better way to study than over some traditional Arabic coffee and hookah at one of Dubai's traditional cafes?
We had amazing meals throughout our entire time in Dubai and shared many unique experiences together over food.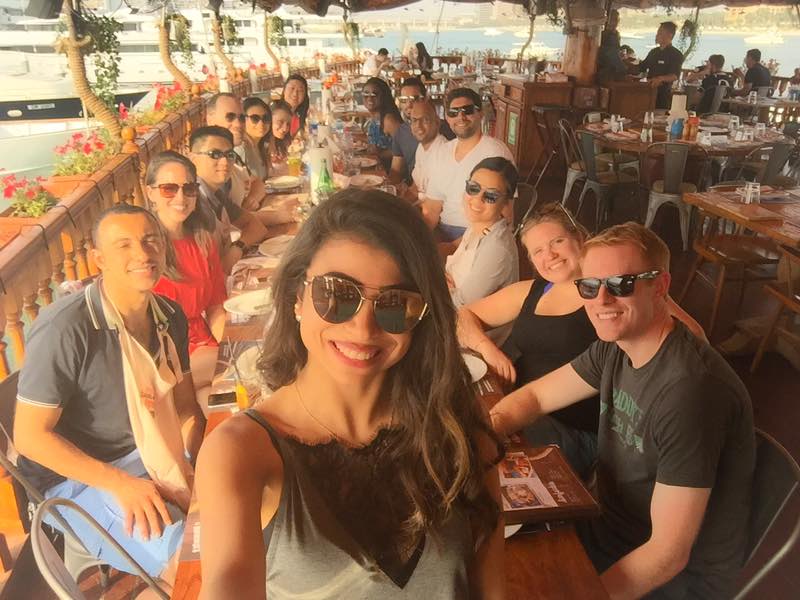 When setting up corporate visits, I wanted my classmates to get an on-the-ground perspective from a wide variety of resources. The U.S. Consulate was our first stop, and we learned all about what it's like to setup, operate, and create a sustainable business in the UAE.
We then set off to visit General Electric's newly built, state-of-art, Oil & Gas facility in the JAFZA area. We learned about how GE selects and analyzes their new and emerging markets of interest where high volatility is present and must be navigated very cautiously. Afterwards, we had a guided tour of their Oil & Gas manufacturing facility.
One of our most interesting visits was the Dubai Future Accelerators (DFA). The DFA is a unique opportunity for technology companies to gain unparalleled access to the staff, resources and expertise of Dubai's government entities. This makes the aim of the DFA to provide a dynamic environment where companies can explore new opportunities to deliver transformative technologies and services.
I also couldn't have my classmates visit Dubai without a first-class Bedouin experience in the desert. Platinum-Heritage scheduled a full  day of activities on one of Dubai's only wildlife conservation reserves. By the end, many of us could have been content just camping out under the stars.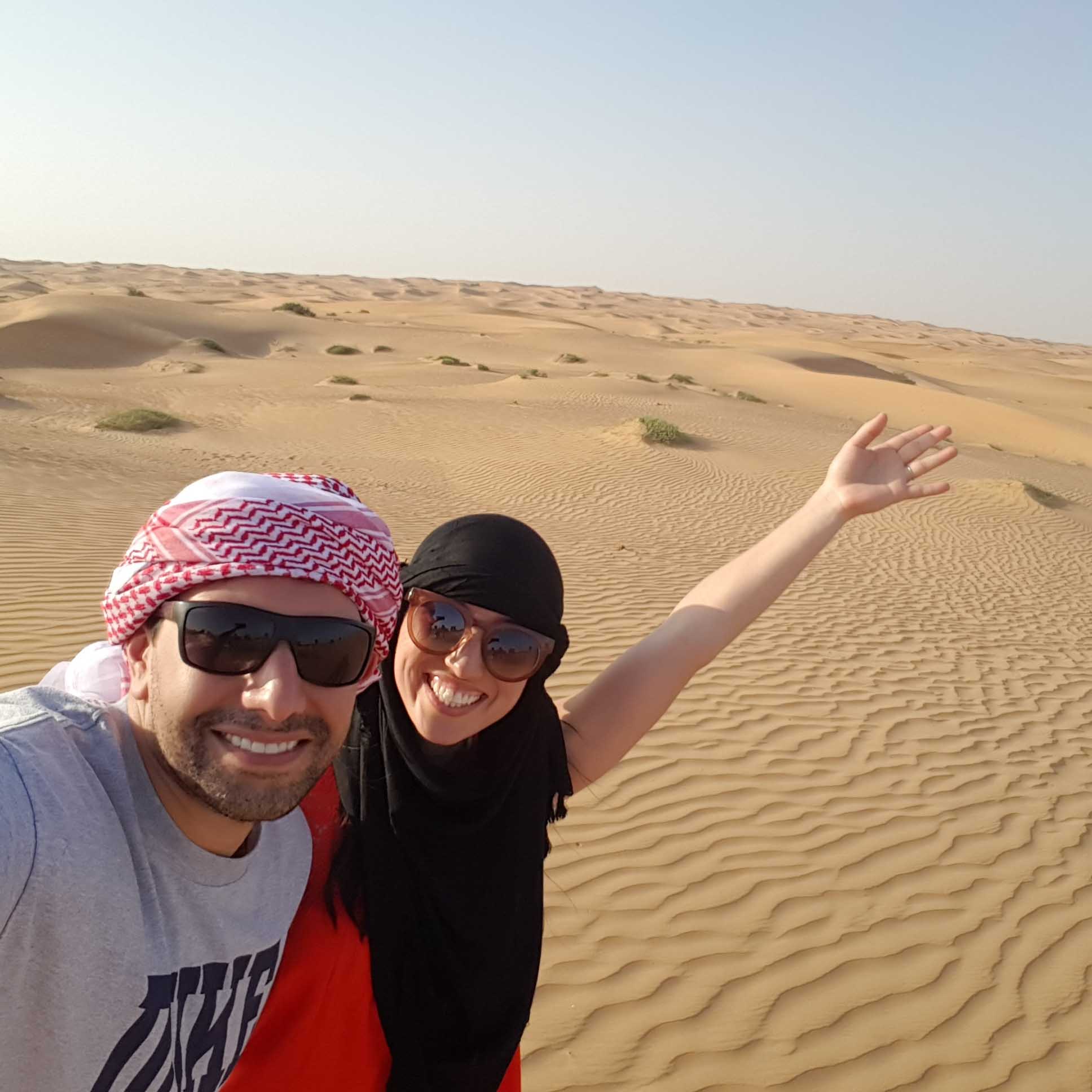 We then took a casual drive through the desert in these beautiful antique 1950s Land Rover Defenders back to the Bedouin camp area for dinner, hookah, music, and stargazing. We learned about life in the desert and what it was like to survive and thrive before Dubai became what it is today.
Our little oasis in the desert was fully-loaded with an amazing dinner, traditional coffees and teas, hookah, dates, music, camels, falcons, and a special performance detailing how the Arabian dancers would perform the traditional "hair dance."
Lily and Christina Warner decided to take the camels out for spin, while others like Andrew Ness were trying out the little luxuries of Bedouin life.
All-in-all we really had such a great time in the desert taking in all the sights and experiences that traditional Emirati culture had to offer.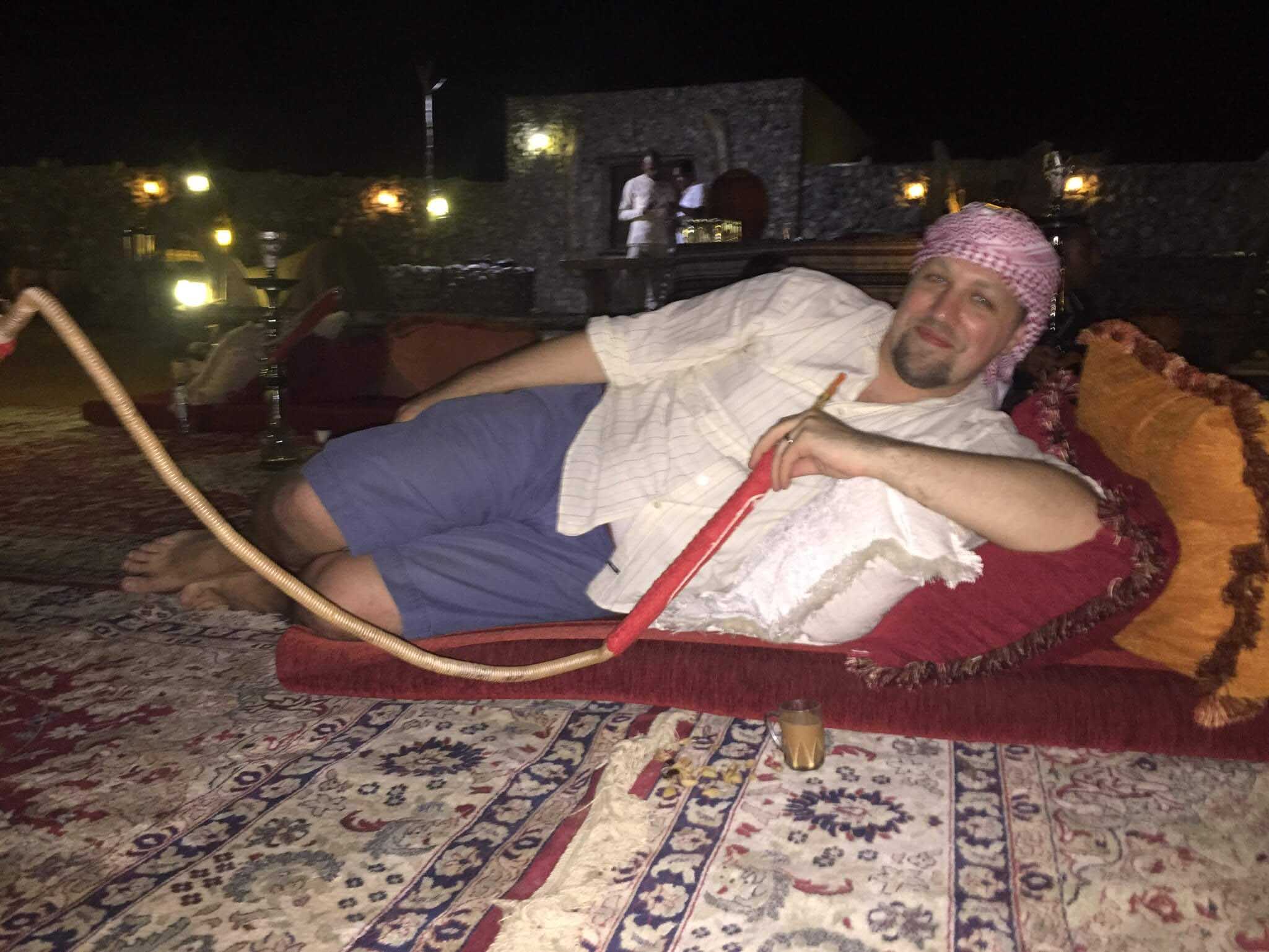 In summary, even though the program has its demanding requirements, don't forget to make time for yourselves before and after the residencies. The academics are the primary piece of the program, however the relationships and experiences are the major secondary elements. To be a great leader, you must invest time and energy into the relationships that you build with your team members. These pre- and post-residency trips are exactly the time where you can take advantage of this. I can say confidently that after attending a few of these trips, all parties involved realize pretty quickly how powerful the interactions were for learning outside of our own limited knowledge and experience.
With that, I wish you the best of luck and safe travels on your journeys!