This blog was written prior to the Cross Continent MBA program merger with the Global Executive MBA program.
Admittedly, consulting is a popular and well-explored career in business schools. Experience in consulting can be powerful: you gain multi-disciplinary and cross-functional exposure while working on strategic C-suite problems in various industries. So how do you know if the consulting track is for you? Well, for one, try a case competition.
For those unfamiliar with case competitions, they are professional events, often targeting MBA students, where participants work in a team to develop and present a recommendation to a real-world problem within a defined time frame. Some may argue that case competitions, by design, could be as close as you can get to practicing how to pitch and sell consulting projects to the management team.
Last November, four of my classmates and I decided to compete in the Duke/UNC Cisco Marketing Case Competition. It all started when our team lead, Charitra Adhikari, found out about it through an email sent from The Duke MBA Tech Club. A quick text to our class' WhatsApp group instantly brought together professionals from diverse career backgrounds: an entrepreneur from India, a management consultant from Chicago, an analytics specialist from San Francisco, a medical device engineer from Philadelphia, and a petroleum engineer from Houston.
Our task was to define business collaboration use cases for artificial intelligence (AI) and develop a marketing plan within a week. The case appeared to be an open-ended one, so we drew from our individual experiences to brainstorm as many ideas as possible for applying AI in the workplace and leave no stone unturned. Some of the most discussed ideas included: intelligent project management, automated meeting scheduling, and smart note taking.
The discussion then led to one about our struggles with language gaps at work. One teammate enthusiastically shared his current challenges working with foreign vendors because they don't speak a common language and thus must rely on an interpreter for any business communication. When we realized this was a common pain point that we collectively felt, we knew we were onto something. Our idea to implement an AI-backed real-time translation service for conference calls was born.
After settling on our recommendation, we delegated responsibilities amongst ourselves based on our individual preferences to conduct additional research and develop presentation materials. On the day of the competition, we were given 30 minutes to present and answer questions from the panel of four Cisco judges via a video call. Despite our best effort to make a persuasive case and support each other during the Q&A, we didn't end up advancing to the final round. We traded notes with other participant teams afterward, and in retrospect, we realized we could have touched more on the financial benefits of our recommendation, which the winning team seemed to have conducted an extensive analysis on.
In any case, we were thrilled that every team member explored a concept that the world can potentially benefit from and stayed committed throughout the experience. In fact, over the three days leading up to the submission date, the team tirelessly met via WebEx every day around the clock in different time zones to fine-tune and rehearse for the final deliverable.
A few days after the competition, we received an email from the organizer with feedback on what we did well and could improve on. Getting personalized feedback was a valuable insight and a friendly reminder that competitions like these are not about "winning or losing" but rather "winning or learning."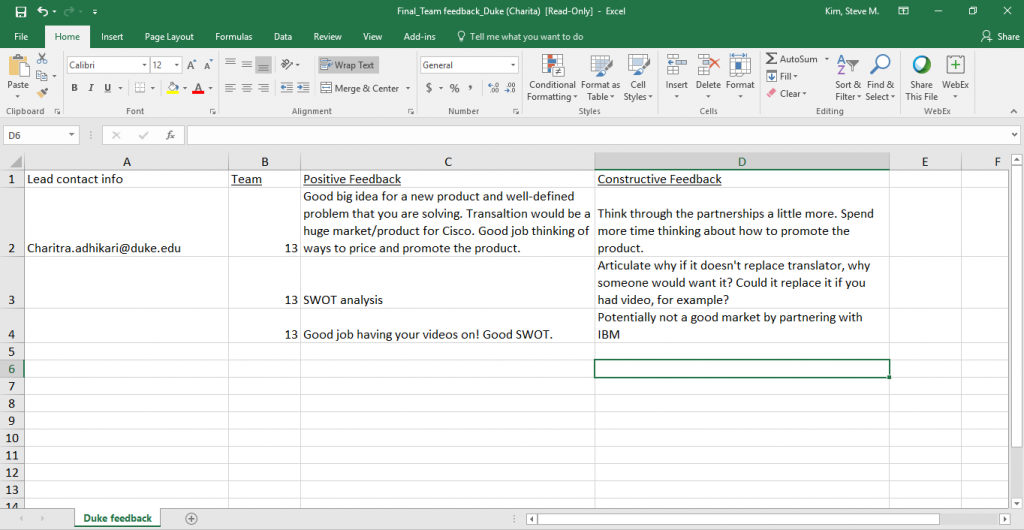 I highly recommend that anyone in a business school program try a case competition. It'll teach you a thing or two about time management, research, data analysis, and public speaking, all in a matter of just a few weeks. And you're doing it with people you may not know well, which is often the case in consulting firms when you get staffed on new teams. I'm planning to participate in more case competitions this year through Fuqua's various clubs.
If you're interested in learning more about how you can assess your fit with a consulting career at Fuqua, check out the Fuqua Client Consulting Practicum (FCCP) where Fuqua students form a consulting team to advise a real client on their actual business problem under faculty advisor's coaching.
Steve is a student in the Cross Continent MBA program, which recently merged with the Global Executive MBA program for future classes.