The Social Side of Super Term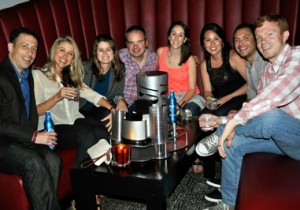 Super Term, a 2-week residency on campus, kicked off with a meeting of the Weekend Executive and Cross Continent MBA classes of 2012. During the joint term, the two groups bonded and elected to take advantage of a few extracurricular activities. From soccer matches and basketball games with students of both programs, to nightly brainstorming sessions over dinner and beers, the social and networking aspects of Super Term were a nice respite from the intense classes and assignments—we work hard, but we also play hard, as the saying goes. 🙂
After the first week of class, we all celebrated the halfway mark and let off some steam at Solas night club in downtown Raleigh. The school reserved a couple floors to fit all of us—about 250 students total. Buses took us to and brought us home from the venue. There was great food and even a photo booth. Beverages, laughs, and good times summarized the joint event as friendships emerged and tightened. Some of our program managers, admissions counselors, and other Fuqua staff were also in attendance—it was great to get to know some of them better, in a more casual setting. The event set the stage for week two and a closer knit experience between the groups. And thankfully, we had Saturday to fully rest and recover.
As we realized there was only one week to go, both groups seemed to make the most of our time together. The groups mixed well during week two, and by the next Friday, we were all sad to see the Super Term come to an end … We celebrated it though, with a joint program cocktail hour, separate group dinners, and then a joint celebration at Parizade until the late hours of the night.
From an academic standpoint, I think we were all ready for Super Term to finish, but from a social aspect, it went far too quickly! In addition to the Weekend Executive friends I have made and will stay in touch with, I added several Cross Continent students to my list of lifelong friends.
I pursued my MBA in order to transition out of the world of finance and into general management or product/brand management. Outside of work and school, I like to spend time with my family and friends traveling, trying new things, and spending time outdoors.