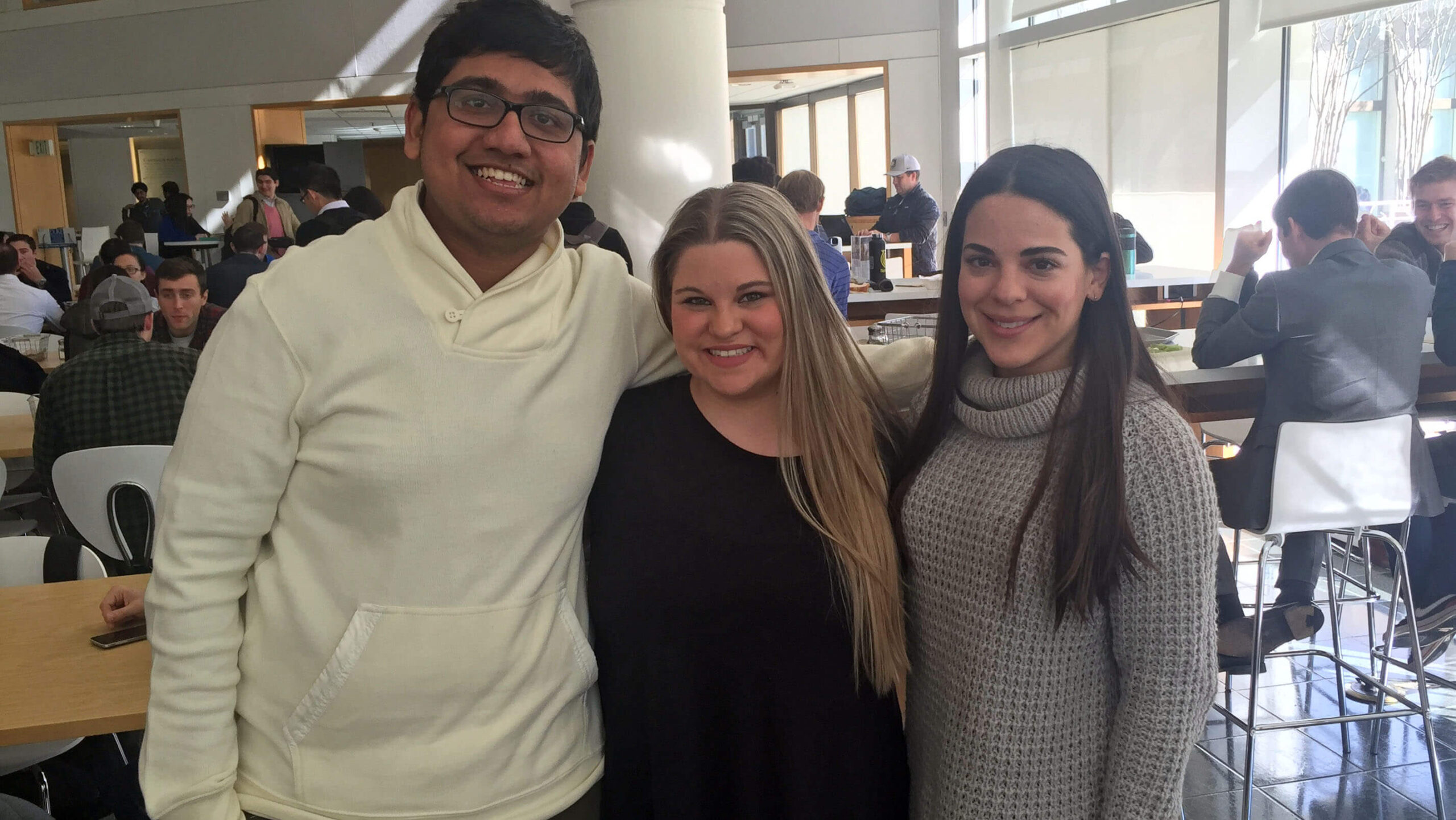 Melissa Blette
Like many, I came to orientation feeling excited but nervous. Would the "Team Fuqua" spirit I felt during my campus visits be true of my experience? How would I handle the transition back to school? Would I make the lifelong friends I'd hoped for? Now a couple terms in, I can assure you that the collaborative nature of Team Fuqua is incredibly real.
As a proud member of Section 4, I have already made what I feel could be lifelong friends and my section-mates, in particular, have been so supportive. When I got sick, a member of my Consequential Leadership (C-LEAD) team came over, cooked dinner, and cleaned the dishes. When I needed extra help on statistics, a section-mate tutored me for an entire Saturday which was her only day off that week. When I earned an on-campus leadership position, I found sticky notes on my locker congratulating me on becoming a #girlboss. So with all this, I can truly say that through late-night study sessions, C-LEAD team dinners, and even a few "Bachelor in Paradise" viewing parties, I've made friends that will last a lifetime.
Tushar Dasgupta
As I was flying from India for my first trip abroad, I was full of mixed emotions. I was excited to go to a country known as the "Land of Dreams,"—a place where liberty and freedom are respected—but I was apprehensive whether I'd fit in. As a gay man in India, I had always felt uncomfortable and unaccepted. In large cities, I knew the U.S. would be more open to me being gay, but I had some doubts that Durham would be the place I could live openly for the next two years. The state had just passed HB2, their infamous transgender "bathroom law."
Now that I've been in the U.S. for 100 days, I realize I made the right decision. The acceptance I feel at Fuqua and in Durham have exceeded my expectations by leaps and bounds. I'm a member of FuquaPride—Fuqua's LGBT organization—which has given me a platform to meet people with similar life experiences; my entire class respects who I am; I'm fully supported in my professional and personal life; and I can share my problems with my amazing C-LEAD team. At Fuqua, I'm freer and happier than ever before and have found the acceptance I had been searching for my entire life.
Nicole Barefoot
At Fuqua, we're a team. It's not just something Fuqua puts on its marketing materials—it's an ingrained belief. Before going to business school, I was worried about keeping up with my quantitative courses; I was worried about living in a brand new city where my spouse was traveling for most of the week; and I was worried I wouldn't fit in.
Since I started school a few months ago, those feelings have faded away. Instead, the people I've met have encouraged me to be my best and have motivated me to be even more supportive and authentic. When I needed help in Fall 1 Economics, many of my sectionmates reached out to offer their time. They had more than enough work to keep their 24 hours jam-packed—so this wasn't just "I'm going to help you," but an "I'm choosing to give up something else to make sure you succeed." This mentality will continue to be a guiding principle for me. I'll always remember how I felt when my team members reached out and how much better my team functioned knowing we supported each another.
Ultimately, every prospective student needs to decide what school is their best fit. But what's great about Fuqua is that we don't have an individual 'fit'—because we're a team.