After a jam-packed Fall Term 1, we had a week off for Fall Break. One of the options during Fall Break is to travel with fellow Fuqua students on company treks called Week-in-Cities. This is a great opportunity to visit many different companies and meet with Fuqua alumni across the country as part of the career search process. Like most events at Fuqua, these trips are coordinated by students. Two of my fellow classmates put together wonderful itineraries for our health care company visits in Los Angeles and San Francisco.
We kicked off our trip in Thousand Oaks, CA, about an hour north of Los Angeles at Amgen. I was impressed not only with the campus but also with how many Fuqua alumni took time out of their days to meet with us and share their experiences and advice. Before arriving at Fuqua, many current students and alumni had told me that the Fuqua network is strong and that alumni go above and beyond to help fellow Fuquans. I definitely felt that was true, and it was only our first stop in California!
Over the course of two days (Monday and Tuesday) in the Los Angeles area, we visited five companies, ranging from biotechnology, to provider (insurance company), to health IT. Four out of five of the companies we visited had Fuqua alumni in those offices, so we had the opportunity to expand our networks across the country.
Wednesday was a travel day as some of my classmates had planned to join other Week-in-Cities trips hosted by other clubs (consulting in Dallas, marketing in New York/New Jersey, to name a couple) or to head home before returning to Durham. I used Wednesday to spend a few hours at my home in Huntington Beach (an hour away from Los Angeles) and then made the short flight up to San Francisco.
In San Francisco, we also visited five companies, and I was very excited that we complemented the Los Angeles trip with a mix of health care start-ups and two large corporations. Again, the Fuqua (and in one case, Duke undergraduate) alumni went above and beyond to ensure that we had productive visits, going as far as coordinating panels and Q&A sessions where we could ask more detailed questions about the work culture, challenges, and reasons why they were drawn to their respective companies.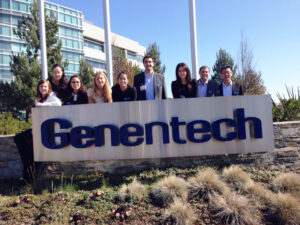 Overall, I thought our visits were a great opportunity to see in person what life would be like working at these companies. In addition, since we had fairly small groups of 10 to 11 students in each city, I was able to meet a few classmates with whom I had not previously interacted and get to know other classmates from the Health Sector Management (HSM) program a little better. We had a fun time exploring both cities and going out to dinner together, so the trip wasn't entirely focused on company visits!
Before the trip and even before setting foot on campus at the start of the program, one of my concerns was the distance between Fuqua and the West Coast since I would like to head back there post-MBA. After the trip, though, I was impressed that not only were these companies excited to host us and encouraged us to apply for internship opportunities, but also the Fuqua alumni were incredibly helpful and supportive. In each city I felt that we had a mini Team Fuqua experience and I can now attest to the strength of the Fuqua network 2,000-plus miles from Durham.