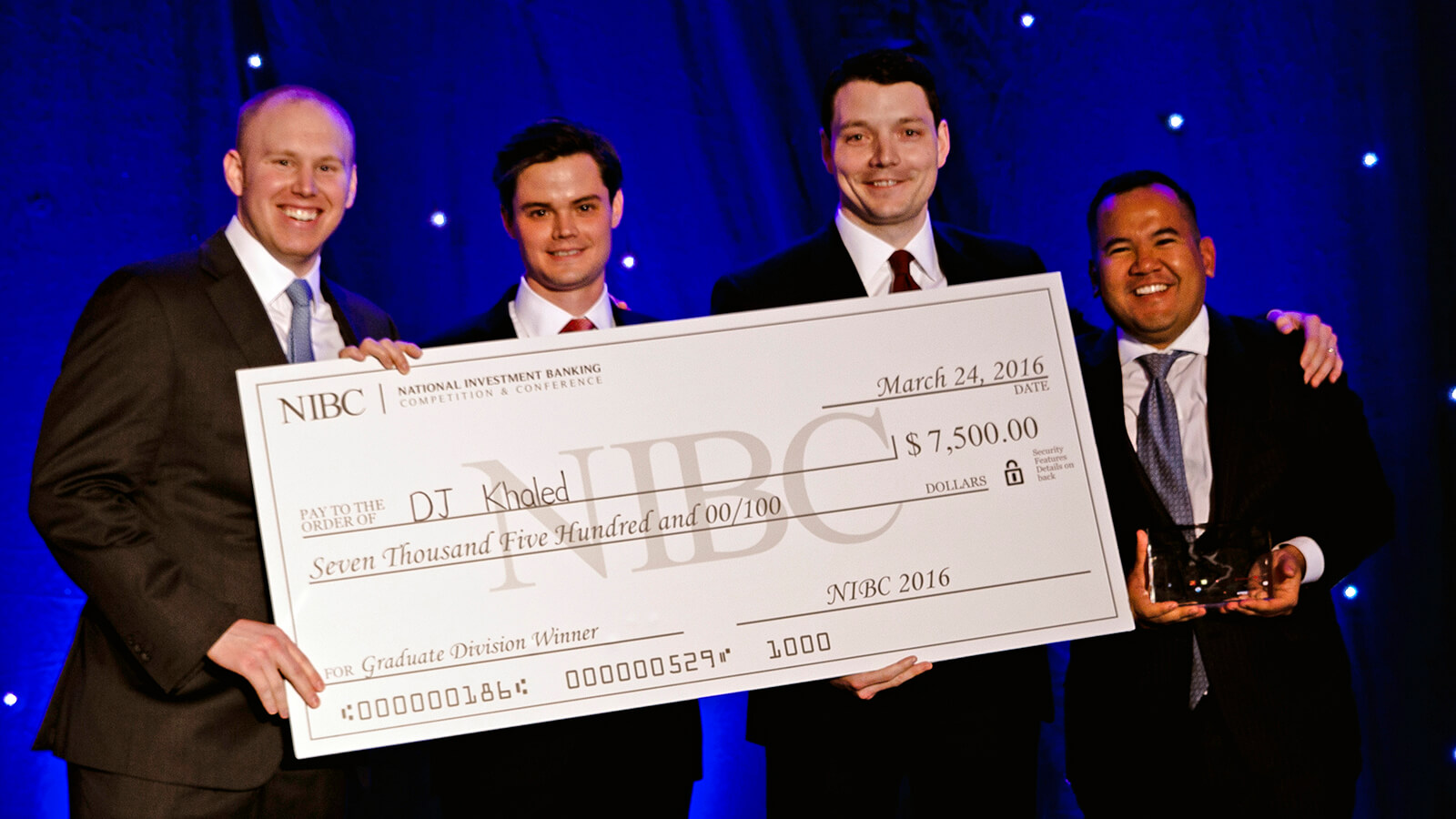 The 2016 National Investment Banking Competition (NIBC) began in October 2015 with four friends from Fuqua who were six months, 330-plus teams, and 3,000 miles away from the championship.
When our team had formed, the goal was simple: be the best at investment banking.
Together in the first round, Team "DJ Khaled" put together a pitch book for AT&T (NYSE: T) recommending strategic acquisition opportunities. After advancing to the second round, our team traveled to Vancouver where over the course of 36 hours we created a new book for AT&T's specific acquisition of media content provider Starz (NASDAQ: STRZ) and presented to a panel of investment bankers. Team DJ Khaled won our pool, advanced to the semi-finals and then became one of two finalists selected to present to the entire conference, including a board of managing directors. In the finals, we beat a team from Darmouth's Tuck School of Business to win the 2016 NIBC Championship.
Thinking back to where this journey began, the competition had originally been announced in The Duke MBA Finance Club's weekly newsletter which, given the timing (early fall), easily may have been overlooked by students for more pressing career recruiting opportunities. Nevertheless, the few of us whose attention it did catch were curious to find out if Fuqua had a history of participating and whether or not the administration supported the effort. In the absence of any clear institutional history in the event, we did what Fuqua students are known to do in the absence of clear guidance—we seized the initiative, garnered support from the Finance Club and the administration and set out on the road to Vancouver. Unsurprisingly, when we had made it sufficiently clear that we were serious about winning the competition, Fuqua rallied behind us.
The camaraderie that we developed as students allowed us to capitalize on our varied backgrounds and experiences to succeed throughout the competition. In fact, while we were holed up in a room with no connectivity during the final 36-hour case resolution, the experience seemed no different than working on a case with our Consequential Leadership (C-LEAD) teammates at the eleventh hour. Even though the material was completely new to us and we would soon be presenting to senior investment bankers from across North America, we were quickly able to coordinate roles based on our individual strengths, assimilate the details of the real-life scenario, turn out a final product, and present our results with confidence.
Competing in the NIBC not only allowed us to distinguish ourselves and attain international recognition from our peers and senior industry professionals, but allowed us to grow individually. We ventured beyond our comfort zone in Durham to develop new skills, which we knew would be essential for our future careers in finance. The NIBC ended up being the perfect culmination of our time at Fuqua.