Often MBA students are bucketed in two categories: career switchers or career accelerators. After five years with Deloitte Consulting, I had a strong feeling that it was the place for me and I was seeking my MBA to accelerate my Deloitte career. However, there was an industry I had considered switching into and knew I needed to explore—high tech.
Because of this professional curiosity partnered with my personal desire to "manifest destiny" and go west to San Francisco, I focused on recruiting for Bay Area tech firms. I targeted large companies that not only focused on creating better worlds through technology but also believed that their talent was their number one operating priority. After several rounds of interviews, I landed my first choice—a LinkedIn internship.
My 12-week internship in Sunnyvale, CA, flew by fast and furiously. While the days varied as much as their (all free!) cafeteria options, my typical day looked like the following:
6:00 AM: The alarm goes off and I roll out of bed with backpack and gym bag in tow. I bike to the headquarters (versus using the company shuttle) so that I could enjoy California's beautiful weather. I park my bike next to the infamous "tech bikes" that cover Silicon Valley and work out in one of the many on-campus gyms.
7:45 AM: After showering, I make my way to the cafeteria for breakfast. While there are several cafeterias across LinkedIn's headquarters, I usually eat breakfast in my building which specializes in "California plated meals," which change every day and feature items like chilaquiles and avocado toast. After breakfast, I go to the coffee bar for some (also free) cold brew with almond milk—you can never be too spoiled as an intern!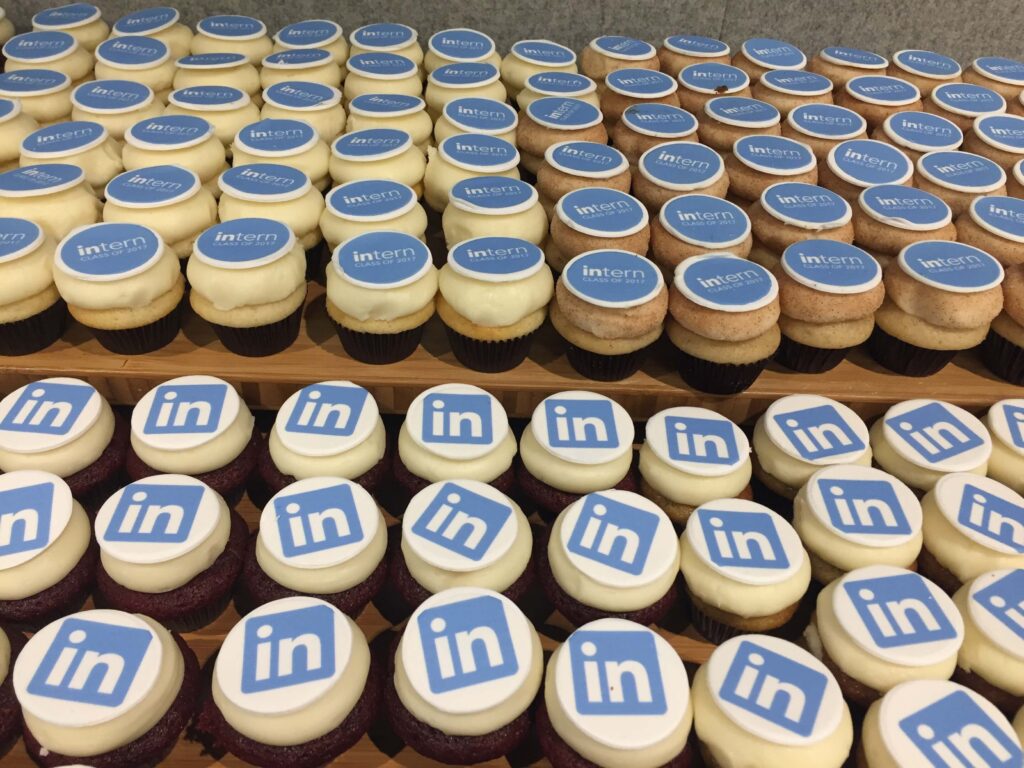 8:30 AM: By now, I've sat at my desk and prepped for the day. From checking my emails to my calendar, I want to be prepared for what's ahead.
9:00 AM: I have a one-on-one with my assigned mentor to discuss how the internship experience and project are going. I am building LinkedIn's first ever in-person career development training for their early-in-career employees.
10:00 AM: I head over to the "Tagalongs" conference room (yes, named after the Girl Scout cookie!) for a program manager team meeting. We start the meeting by sharing our daily gratitude and then dive into important team updates. What a refreshing way to start a meeting!
11:30 AM: Energized by the team meeting, I continue working on the content for the training.
12:30 PM: I head downstairs, hop on a tech bike and go to another building to grab lunch with some other interns. We share how our specific projects are going while chowing down on five-star cuisine!
1:30 PM: I meet with Fuqua alumni at LinkedIn to learn more about their roles at the company. LinkedIn has grown dramatically in recent years and there are so many amazing positions and career transformations you can pursue within the company. I feel inspired knowing my options within LinkedIn are limitless!
2:30 PM: I meet with my manager and vice president of our division to brainstorm innovative ways to bring the training content to life—we want this training to be as energizing, engaging, interactive, and refreshing as possible. The level of brainstorming overwhelmed me at times but always left me excited about how impactful this training will be.
3:30 PM: I bike over to a meeting with…JEFF WEINER—the CEO of LinkedIn! He is meeting with the nine other MBA interns and me to talk about work and life. Wow!! Fun fact—what was scheduled to be a half hour meeting became a 90-minute life session on the criticality of remaining mission-driven, managing compassionately, being authentically you, and learning from failure.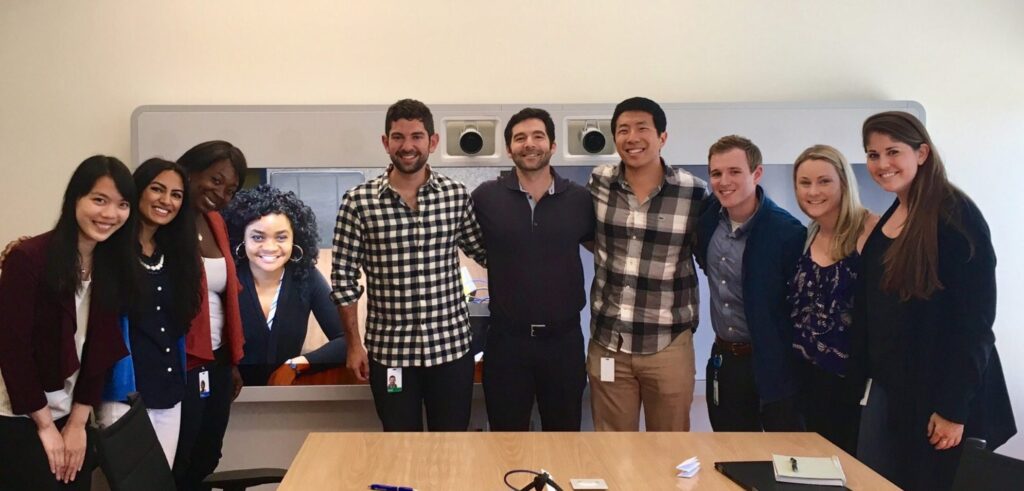 5:45 PM: Still recovering from the excitement created by our meeting with Jeff, I try to wrap up my work for the day…but not without sharing laughs and catching up with other members of the team. We have become a family this summer!
6:30 PM: Sometimes I catch the LinkedIn bus or the CalTrain to San Francisco to meet up with other Fuqua students for dinner. Or other times I head home to Sunnyvale and grab dinner with fellow interns downtown. I like the commute to San Francisco because it allows me to practice mindfulness, something LinkedIn really values, reflect on my career path, as well as plan my next California adventure. Should I visit Lake Tahoe? Muir Woods? Yosemite? Point Reyes? Big Sur and Monterey? I got to check off all of those locations this summer!
LinkedIn was an incredible experience—I felt like I landed an internship of a lifetime. I was able to reflect on so many different aspects of how one can really develop themselves and their career in a transformative environment. LinkedIn truly values its employees and believes in the power of becoming your best, most authentic self, whether it's with them as an employee or through its platform. I'm so grateful to have had the opportunity to test a personal career hypothesis and really validate what path is best for me. I will forever cherish my #LinkedInLife.