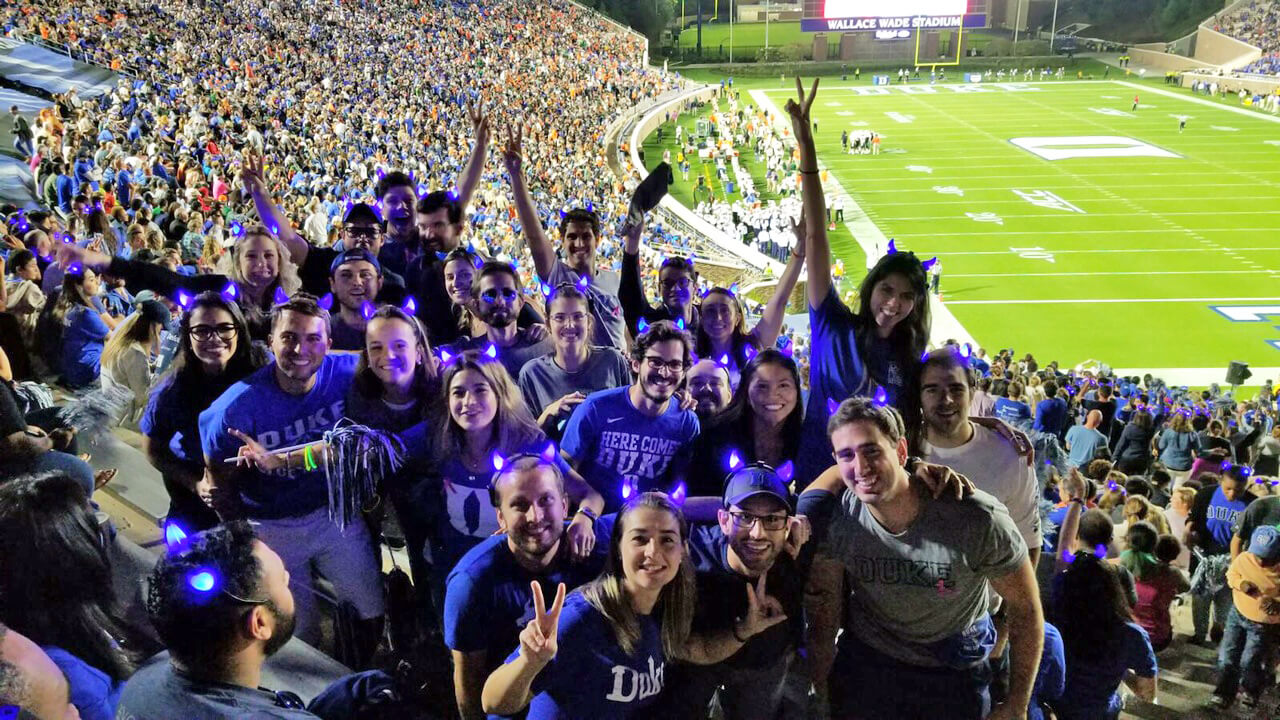 1. As much as you read about it and think you know what "Team Fuqua" is, you don't until you experience it.
I had my first Team Fuqua experience when I was still a prospective student. I reached out to clubs before visiting Fuqua and two people I had never met before kindly offered to host me in their house. This was a unique opportunity that enabled me to have a complete view of the MBA life in Fuqua, and I cannot imagine it happening anywhere else. Now that recruiting season has started, the Team Fuqua spirit of selflessness and collaboration once again makes the difference. Students who are competing for the same internship opportunities prepare together and support each other in the entire process, including exchanging valuable application tips. Almost all second-year students voluntarily engage in the process by donating, on average, 20 hours of their time to one-on-one preparation with first-year students. Amidst the absolute chaos that any MBA student goes through during the fall season, it's reinvigorating to experience the support and push of Team Fuqua.
2. Fuqua thinks of itself as blue, but it's just as green as its institutional color.
The campus offers many options to interact with nature and to simply be outside enjoying the mild temperatures. Duke Forest is a 7,000-acre space privately held by Duke University that contains innumerable trails and recreational options and serves as an open research laboratory. Biking my way through Duke University Road surrounded by huge green trees to get to Fuqua is more than a pleasant daily activity, it's one of the highlights of my day!
3. Fuqua is the best place to prototype your future life.
There's a plethora of leadership development activities and professional paths to explore. Apart from 50-plus professional, diversity and leisure clubs, you can engage with activities through The Center for Advancement of Social Entrenpreneurship, The Fuqua/Coach K Center on Leadership and Ethics, Duke Angel Network, Program for Entrepreneurs, Fuqua on Board, Admissions and several other programs designed to help you discover your own fulfilling career path. Because of its high leadership development standards, some recruiters just prefer Fuqua. This is the case with the Bill and Melinda Gates Foundation (the largest private foundation in the world), that only accepts internship applications from a few MBA schools, including Fuqua.
4. Durham is awesome.
Being from Sao Paulo, Brazil, I didn't know what to expect from this charming city at first. Now I love being here. Durham combines the exciting gastronomic and drinking options of a big city with the camaraderie and closeness of a smaller town. Apart from being named by The New York Post as the foodie capital of the south, Durham is perfectly located: just a 2-hour drive to the beach and a 3-hour drive to the mountains.
5. People bring their full selves to class in Fuqua.
Debates and class participation are strongly encouraged because the community believes it becomes stronger with contributions from its collectively diverse members. As an international student, that aspect of Fuqua's culture is crucial for me. I'm constantly encouraged by my colleagues to voice my opinions, challenged by my Consequential Leadership team to bring new perspectives, and pushed by the whole institution to get out of my comfort zone without fearing failure or rejection. This helps everybody grow not only professionally, but also personally. When I was applying to MBA schools, one of my goals was transforming of all aspects of my life, and I couldn't be happier with my choice to come to Fuqua.