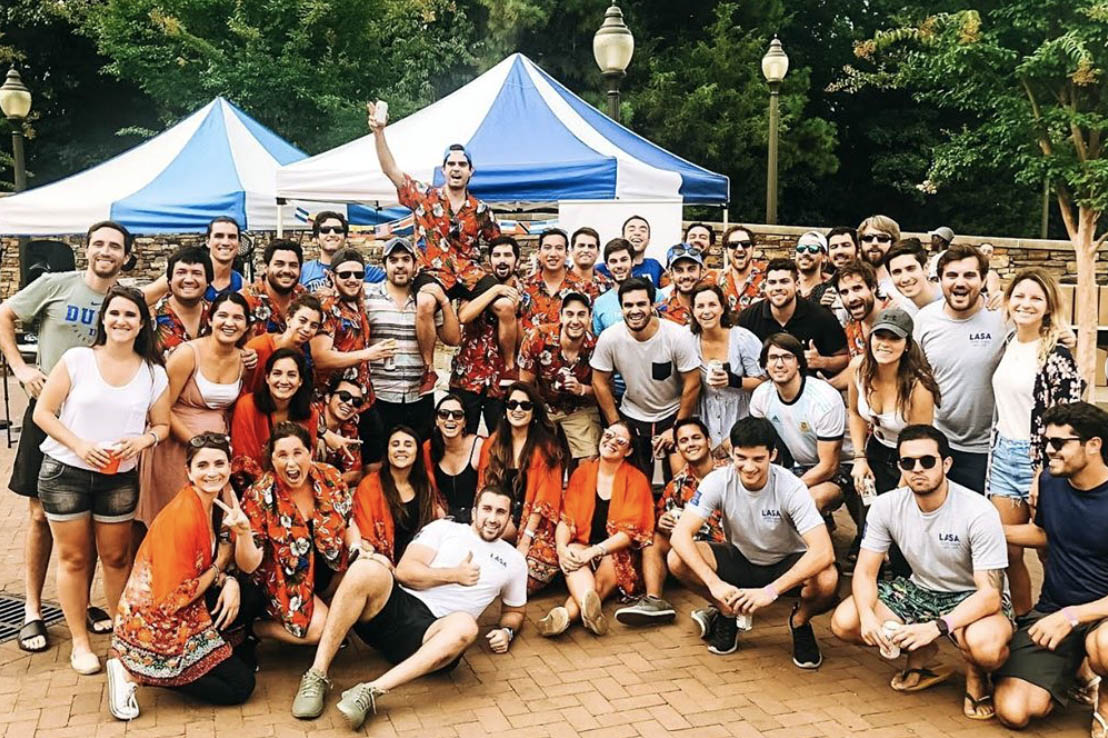 My journey at Fuqua was not linear. I moved from Brazil to the United States specifically to join Fuqua. I've experienced all the feelings and struggles international students usually go through when pursuing their MBA. Just when I thought things were becoming more comfortable, a global pandemic happened.
In the beginning, just like everyone else, I was terrified and anxious about the uncertainty of it all. We spent a great deal of time (and still do) unsure of what will happen next. I'm still uncertain of when I'll be able to see my family again.
Still, on countless occasions, I've noticed a genuine effort from many people to connect, to reach out and to check in on others. I saw unions rising out of hardship. That has greatly impacted my MBA experience because it made me engage more in the many opportunities available here at Fuqua. It made me think about how I could make a difference with my time here in Durham, and it made me considerably more intentional in meeting and reaching out to people. Having the support of this community makes things much better and I feel very fortunate and proud to be a part of this fantastic group of people! In short, the Fuqua community has helped me to become my best self.
Finding Purpose in Hardship
I was encouraged by others to be even more intentional in my actions when I realized we were going through such hard times together. I tried to think about how I could make things a little easier for both me and my community. I couldn't change what was happening, so I began to think about what I could do.
I created the Summer Programming, which was a set of academic, professional and social events organized to help people stay engaged and healthy all summer long. From this experience, I saw the best in my community. With so many people volunteering to help, I noticed many partnerships between students and members of the administration.
The reason behind getting involved was because I've always been so inspired and supported as an international student by the strength of this group. And I felt it was my time to step up. It was in such difficult times that we all grew together, and that I also had one of the best moments of my entire MBA experience. This community helped me find purpose when we all needed guidance. I grew tremendously and I really feel we became even stronger together during these past months.
The Impact of the Fuqua Community on My Growth
Having the support of the Fuqua community helped me understand my strengths and use them for the common good, while also developing myself (big shout out to my wonderful learning team that always pushed me into speaking when I felt insecure about my public speaking skills in English). I took risks and developed initiatives because I felt supported and reinforced each step of the way.
I feel incredibly fortunate for having had the opportunity to be a part of the Fuqua family throughout this tumultuous year. This feeling of belonging didn't stem simply from the leadership opportunities I had, but mainly because of the collective development that occurred.
During a time when the world was experiencing so much social and economic unrest, we came together to discuss challenging issues and ask each other difficult questions. There was always respect and a willingness to learn and teach.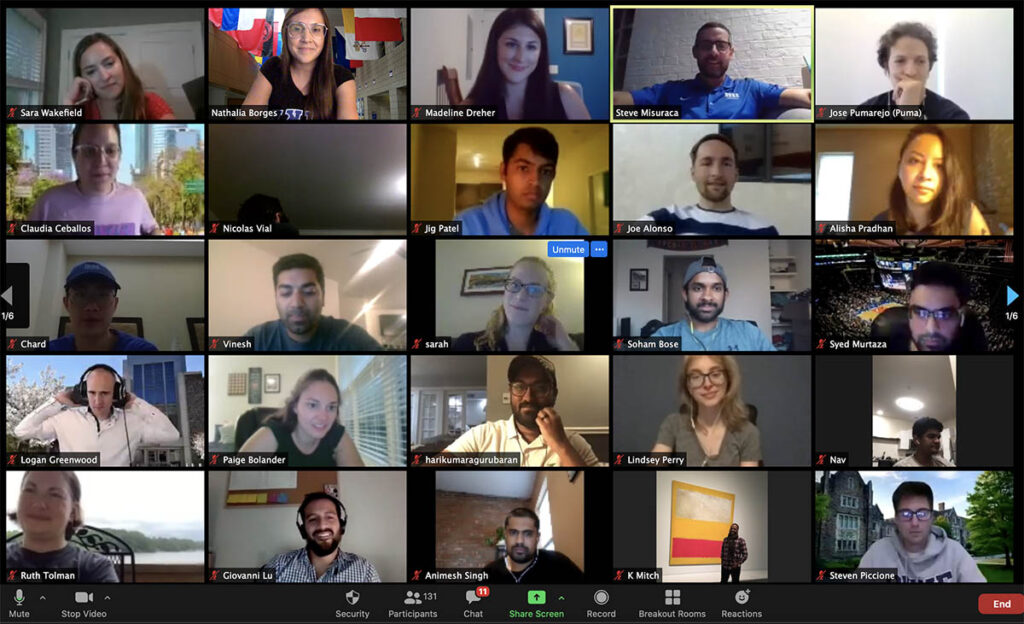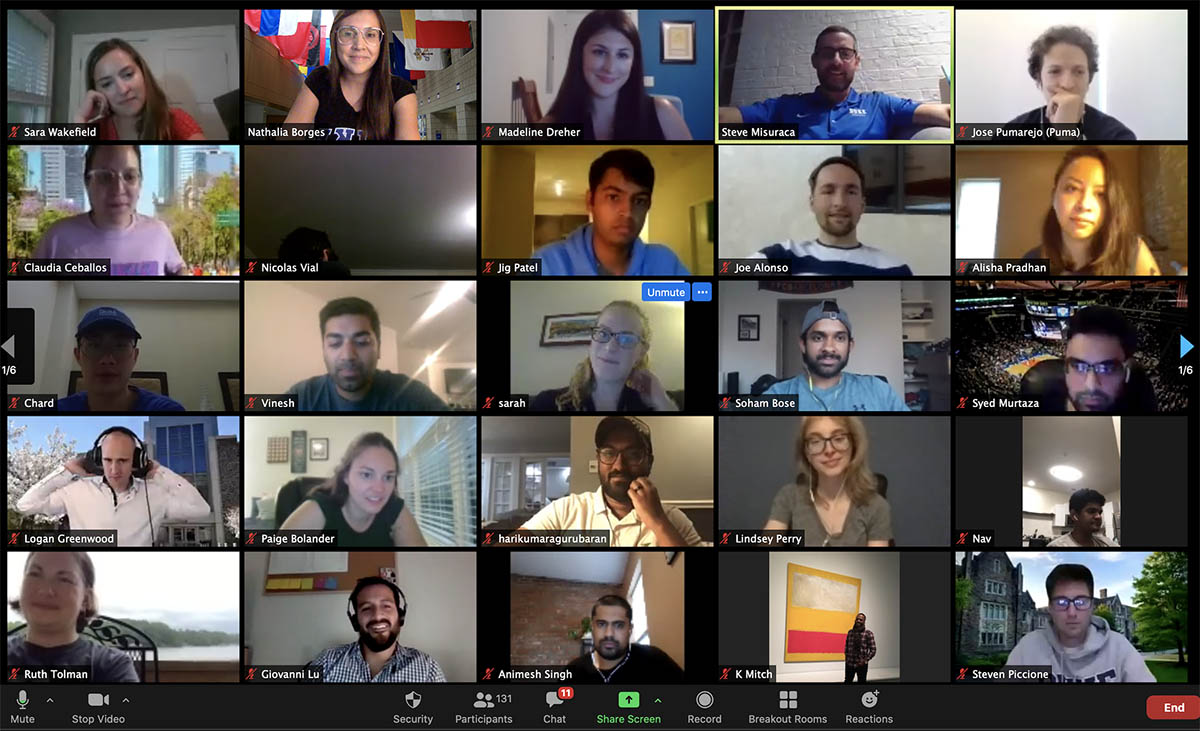 As co-president of the Latin American Student Association, I had to be active in making the community (including new students) feel welcome and integrated, while at the same time witnessing how the crisis was affecting our home countries. This was an incredible task made easier with the support from our domestic classmates. By having this safe space for these interactions, and because of the overwhelming decency displayed by this community, we entered a cycle of improvement. We listened together, made mistakes together and learned together—all with the grace that this process requires.
I feel more proud each day to be a part of this group that I already consider a family. And I wouldn't have gone through this year with anyone else.