Category:

Sports, Entertainment & Media
The Impact of Dr. Kevin White's Sports Business Class on My Career
Growing up, I knew I wanted to attend schools that placed an equal emphasis on academic and athletic success. I pursued my undergraduate degree at West Point but I never forgot about Duke or those, "Cameron Crazies."
Growing up, I knew I wanted to attend schools that placed an equal emphasis on academic and athletic success. Back in 2005, I was lucky enough to have Duke and the U.S. Military Academy both actively recruiting me for a track and field scholarship.
The events of September 11th 2001 and the attack on the World Trade Center led me to pursue my undergraduate degree at West Point, with a commission as an officer upon graduation. But I never forgot about Duke or those, "Cameron Crazies."
While a student-athlete at West Point, I would become a Captain of the Army Track and Field Team. I've long preferred sprinting short distances and javelin throwing to long distance running. But it was a lesson on marathon running to come later that would serve me well in my ultimate career goal.
During my junior year at West Point, I took on an assignment to create my personal BHAG (Big Hairy Audacious Goal…for you non-Jim Collins readers). A BHAG is a bold, powerful, life-changing goal that takes 10 to 30 years of commitment and pushes you to become better each day. My BHAG remains to someday become the athletic director at either Army or Duke.
After graduating and serving 10 years as an Army officer, I was selected to return to West Point as an instructor. This program allowed me to pursue an MBA at an institution of my choosing before returning to teach.
I knew I wanted to attend a top-tier business school with an elite collegiate athletics program. The fact that Coach Mike Krzyzewski, one of the best coaches in the history of college basketball, was also a West Point graduate was the icing on the cake.
As a Fuqua student, I took advantage of the many unique athletic and learning experiences offered. I attended numerous Duke Basketball games (including three Duke vs. North Carolina games). I landed a summer internship with the Duke Athletics Iron Dukes and External Affairs offices. I also co-founded the Fuqua Sports Business Cohort (a student group dedicated to helping MBA students pursue careers in sports business).
When I wasn't taking in leadership lessons from instructors like General Martin Dempsey, a former Chairman of the Joint Chiefs of Staff, you could find me playing 5-on-5 inside Cameron Indoor Stadium against Dean Bill Boulding. On one occasion, I even found myself chatting with Coach K himself, about being a dad of three daughters as well as an Army officer.
Thirteen years after deciding on my BHAG, I was sitting in Dr. Kevin White's Sports Business class learning, "The Brooklyn Theory." This is a life lesson about pursuing your goals set against the New York City Marathon as an example.
Dr. White explained that starting out in the world of sports business is like the start of the race, where 30,000 runners find themselves crossing the Verrazano Bridge. Then you arrive in the first borough of Brooklyn, and you are now running by yourself.
There are only two explanations for why you are running by yourself: 1. you lacked the motivation to withstand a career in sports business and you were passed by the crowd, or 2. you put your nose to the grindstone, worked hard, learned from everyone possible and became a valuable commodity for your organization.
I've also learned that even though you may want to differentiate yourself from the pack, it's equally important to understand that you never run the race alone. A runner (or athletic director) is only as good as the team they put together.
Dr. White's Sports Business class, the Duke Athletics program and the overall Fuqua experience all helped reinforce the idea that there is immense power in having a diverse team that trusts one another and recognizes that all members play an important role in success.
Dr. White made clear that to be a successful athletic director, one must learn how to hire the right people, delegate tasks, and motivate and lead the team towards a common goal of excellence, both on the field and in the classroom.
A big part of the Fuqua identity is family. Whether it was eating dinners with other families at Fuqua Fridays in the Fox Center, taking the family to watch Duke Basketball games, or my daughters experiencing their first authentic Mexican birthday party with one of my international classmates, my family was a key part of my Fuqua experience and success.
My continued friendship with Assistant Dean of the Daytime MBA Program Steve Misuraca, whom I first met in an alumni and students vs. faculty 5-on-5 fundraiser basketball game, further solidifies what it means to be a lifelong member of the Fuqua Family. It was an all too common experience to see staff and faculty members showing a genuine and sincere interest in the students.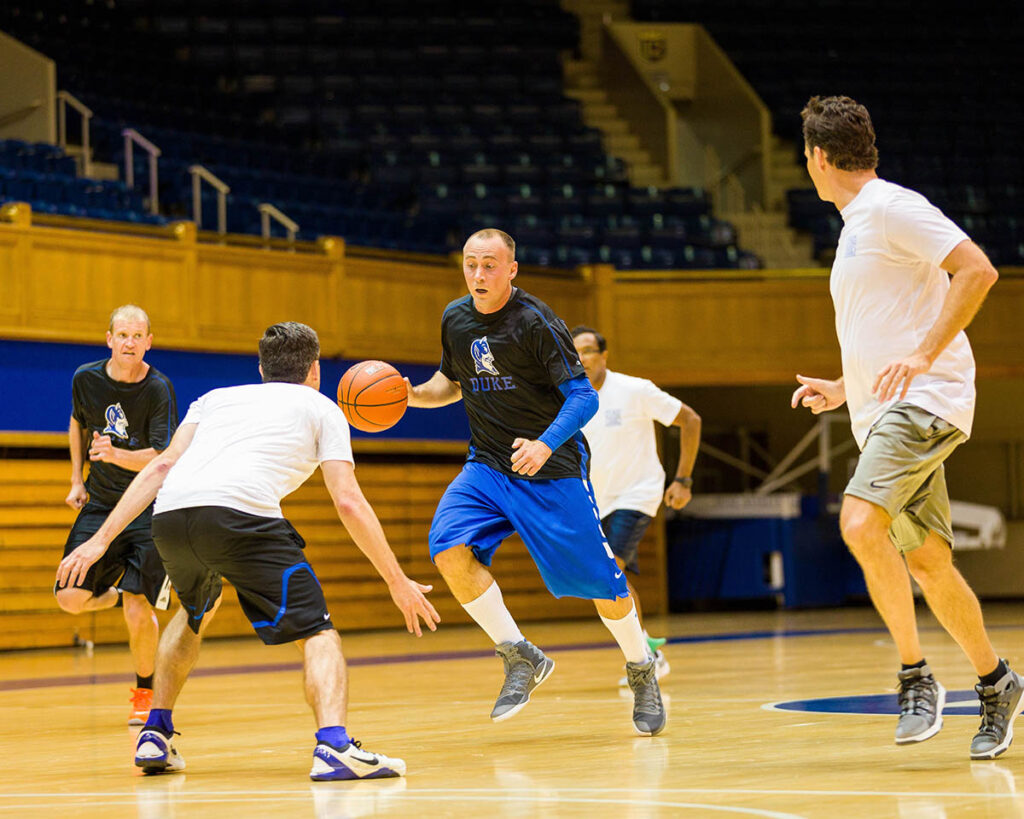 After my last sports business class at the end of the semester, Dr. and Mrs. White invited the entire class and their significant others to dinner at their home. That evening was full of great Italian food, amazing wine and even more amazing stories from a career in college athletics. What I remember most about that night was how welcomed Dr. and Mrs. White made all of us feel.
I was not surprised upon hearing the news of Dr. White's retirement that he would continue as an adjunct professor for his Sports Business class. Both Dr. White and Fuqua share a common set of values and a common ability to make you feel like a member of their family.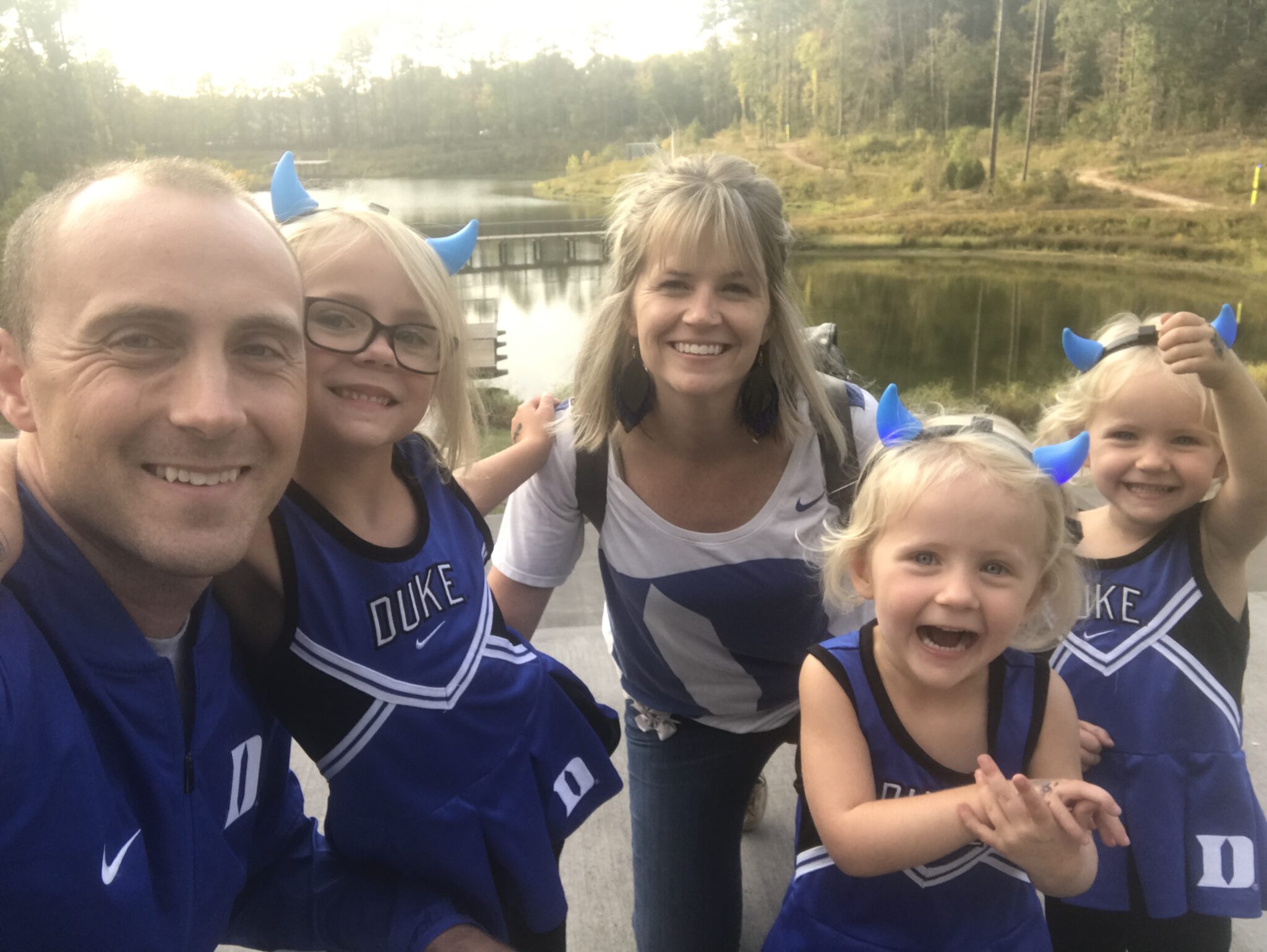 I won't be running the New York City Marathon any time soon, but my interactions with Dr. White and the lessons learned in his class have inspired me to embrace hard work, to value diversity and to strive to do my absolute best in each job.
Someday, when I blink my eyes and find myself running alone in Brooklyn, I'll know that I'm exactly where I need to be.