Category:

Clubs
Empowering Low-Income, First-Generation College Students at Fuqua
My identities made me the person I am but also came with unique barriers to pursuing my MBA journey, whether mental, emotional, or financial.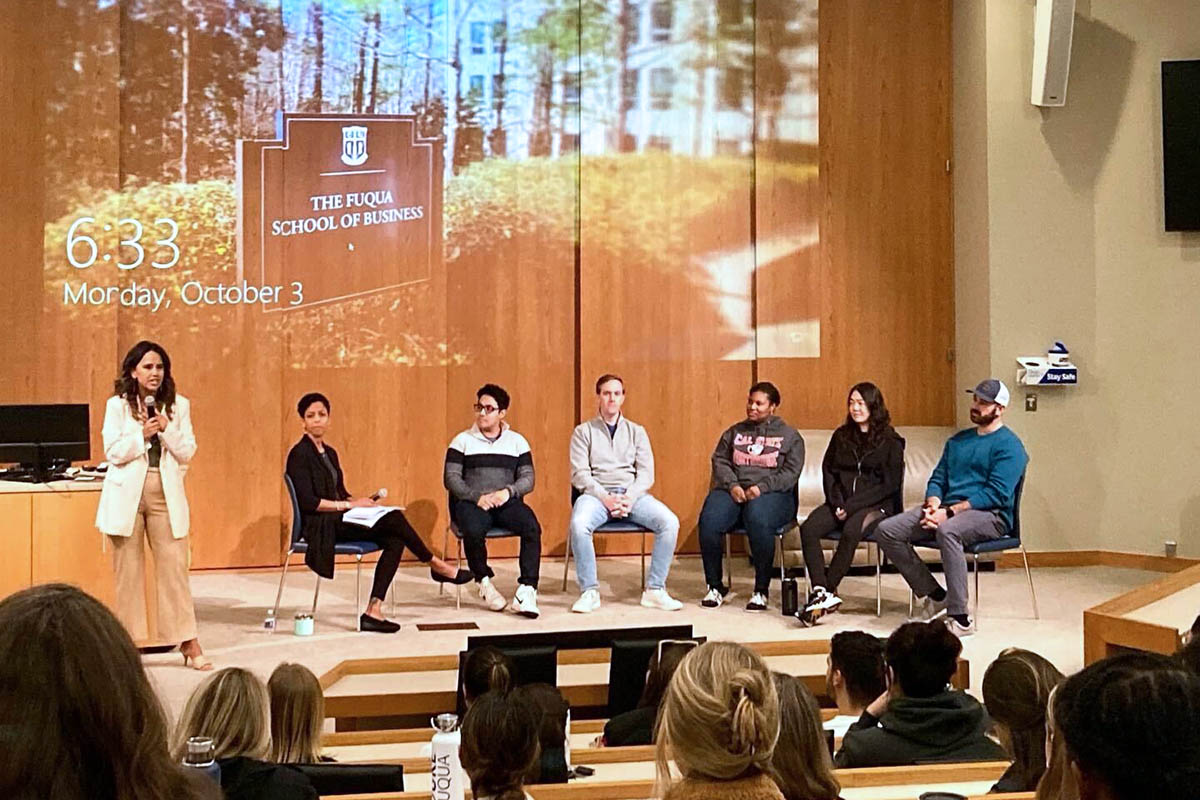 I'm a first-generation college student and a Latinx woman from a low-income background. My identities made me the person I am but also came with unique barriers to pursuing my MBA journey, whether mental, emotional, or financial. The process of researching and applying to business schools took me more than three years and truthfully, I gave up on several occasions. I felt intense imposter syndrome and never believed I would be able to get into an MBA program, especially as a nontraditional candidate coming from the nonprofit sector, with little to no network of MBAs.
And then it happened. Despite my insecurities, I was accepted into six different MBA programs, including Fuqua where I was awarded a full ride as a CASE scholar (now called Fuqua Impact Scholar). What should have been one of the most joyous moments in my life also became one of intense anxiety and fear. As the financial safety net of my family, how was I going to stop working for two years? Would I be successful and actually able to find a job, or was this a mistake? Would I be able to connect with others who shared similar feelings? Little did I know I would find a community of support and space through a new Fuqua club, LIFE (low-income, first-generation experience).
My LIFE Experience
My mother immigrated to the U.S. from Nicaragua during the 1980s due to political unrest, with my brother who was a baby at the time. She took on whichever jobs she could find as a non-English speaker with only a high school education. As a child, my mom worked from 3 p.m. to 12 a.m. at a factory, and on the weekends, I would help her clean houses. We rented apartments and lived paycheck to paycheck, with some especially challenging years during economic downturns.
Education became not only my outlet, but a means to survival. I got a job a week after turning 15 and would work 35 hours a week as a full-time high school student, eventually receiving a full-ride to pursue a degree at my public state university. I graduated, the first in my family, Summa Cum Laude. I knew this was an immense privilege and one that many who grew up with similar experiences would not be able to achieve. I no longer wanted to be an exception to my circumstances, and instead, I wanted to mitigate the systemic barriers for other first-generation and socially disadvantaged people to be able to pursue these opportunities.
Finding LIFE at Fuqua
Navigating my first year at Fuqua felt like a whirlwind experience with plenty of highs and lows: adjusting to a new environment, being a student from a non-traditional background, and going through the recruiting experience. I found out about LIFE from my COLE fellow, Anna Menegais. LIFE was a new club that was being charted by her and Indraneel Dharwadkar, to serve as an affinity group for students who shared in this identity. They had laid the groundwork to form the club and get it approved by the MBAA, Fuqua's student governing body, to become a fully-chartered club for the following school year. At the end of Spring Term 1, I decided to run for co-president of LIFE along with Bill Beaven, a fellow first-year student and friend.
Making LIFE a Community
When Bill and I became co-presidents of LIFE we were tasked with building its mission, vision, and infrastructure. Together we set out to build a cabinet that would drive the initiatives of building LIFE into the space we knew was needed: a community that would empower LIFE students at Fuqua by mitigating structural barriers through efforts in admissions, student engagement, professional development, and alumni.
This past October, we held our first event, LIFE Lens, a panel of five current Fuqua students who shared their experiences with the LIFE identity with our Fuqua student body. It was attended by more than 100 students and administrators. The aftermath was a heightened awareness of LIFE and increased support from our allies, and today we have more than 90 members registered in our group.
The Future of LIFE
We are excited to continue to grow the awareness of LIFE, support our current and prospective members, and hold further programming. We have many initiatives and are excited to leverage our allies within the student body and school administration to continue to expand LIFE's influence. We are hopeful that continued progress will spark other MBA programs and workplaces to create an affinity space for the LIFE identity.