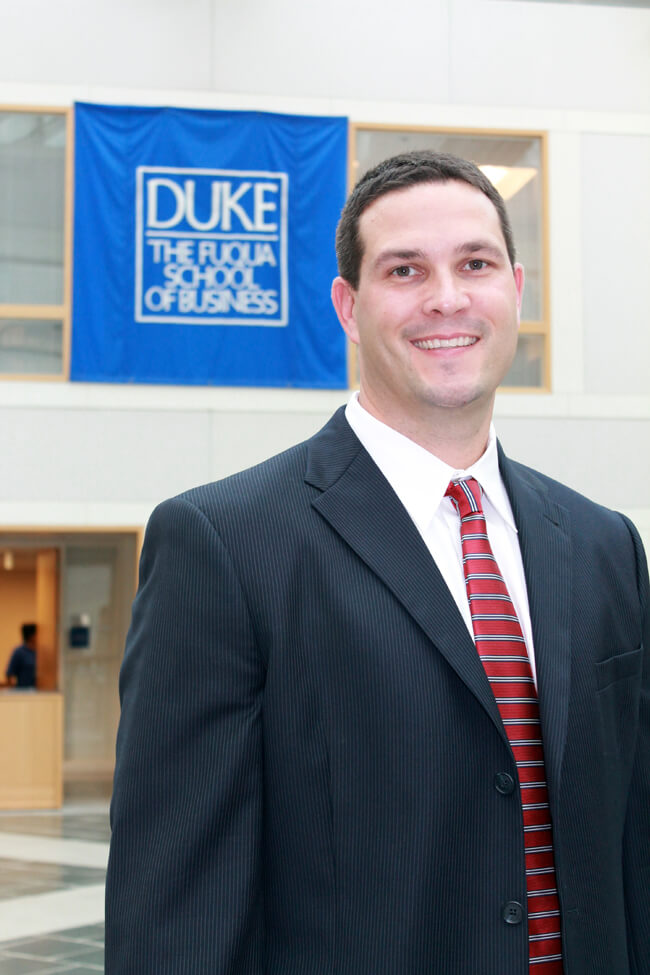 During our time at Fuqua, we've been instructed by several different professors with varying teaching styles. All of the faculty members at Fuqua are great at what they do, and here are a few examples of professors who make the academics at Fuqua enjoyable.
During the summer term, MMS students enjoyed Bill Mayew, our accounting professor. Bill is not just a respected teacher and researcher—other accomplishments include being a former college basketball standout, CPA and senior auditor at Ernst & Young. His vivacious personality and enthusiastic teaching style led to students often quoting his class discussions. "Let's do it, let's do it now" became the favorite catchphrase MMS students would say in and outside of Fuqua whenever there was work to be done.
During the first fall term, Pino Lopomo was the favorite professor of many MMS students. Pino not only kept economics class entertaining with many jokes and class activities, but he was a genuine professor who tried his hardest to make sure all of the MMS students understood the class material. Even after class was over, Pino would still approach the students who had questions during class to make sure he had explained the material clearly.
Jordan Etkin taught Marketing during the second fall term at Fuqua. Jordan is a strikingly intelligent, humorous and fashionable professor who makes learning interesting. One thing I appreciated the most about her teaching style is how thoroughly and clearly she explained the material.
In summary, these three professors illustrate how members of the Fuqua faculty each have their own teaching styles, but are all able to make learning the foundations of business interesting and enjoyable. Even though MMS students still have two more terms left before the end of the program, I'm certain the quality of the faculty members will remain at this high standard for the duration of the academic year.