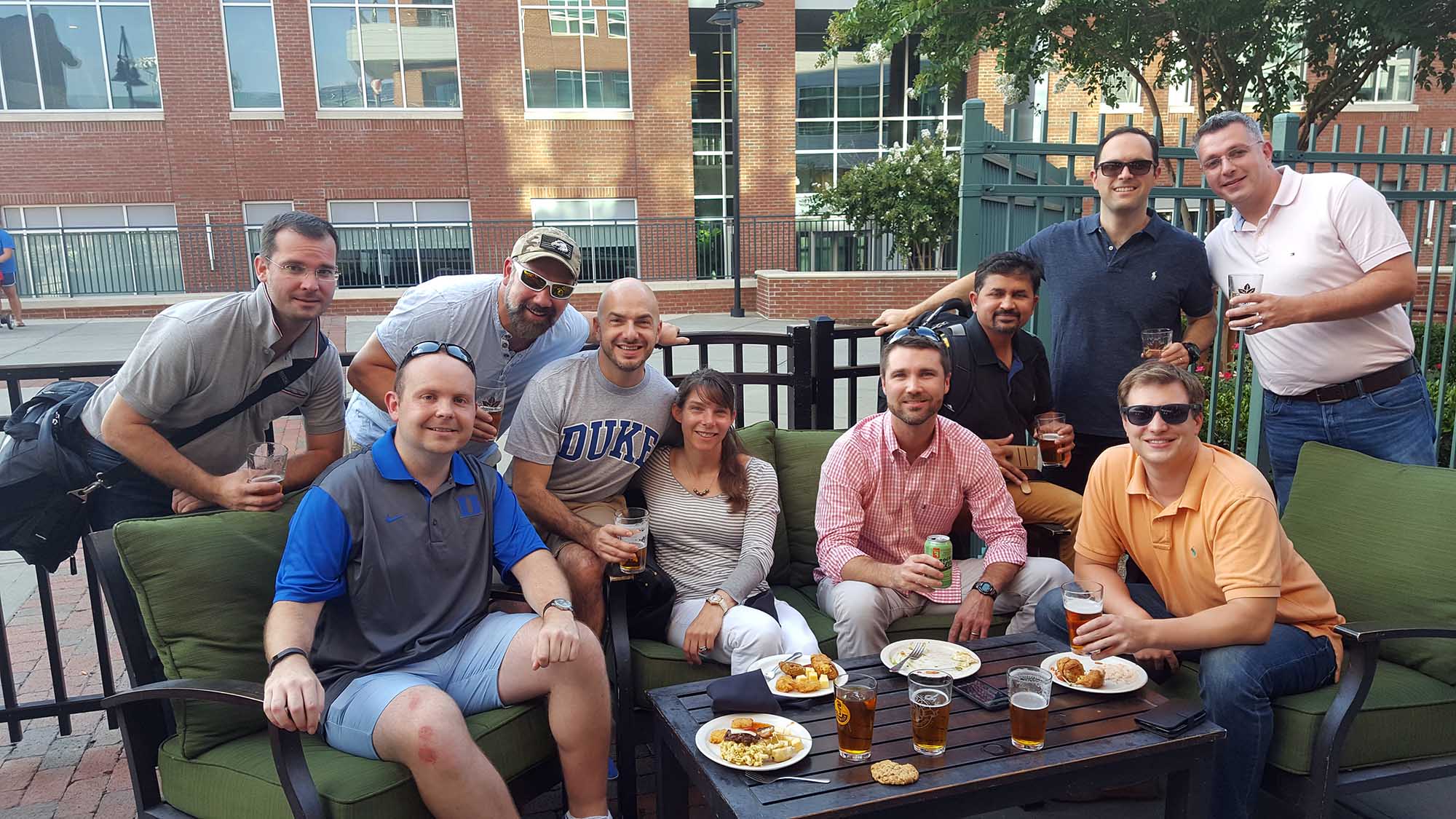 Before starting the Global Executive MBA (GEMBA) program, the recurring advice I received was that much of your experience would be about the cohort and the network you build. This seemed it would be particularly true at Fuqua, given the strong team culture that permeates the experience.
With some time to reflect, I can say that despite the long hours during our residencies and the intensity of the distance learning portion, the one constant of my MBA has been my smart, interesting, and diverse classmates. At Fuqua, your MBA cohort makes everything click.
Functioning as a Team
First, to ensure you bond with your class and can work with your team as a tight functioning unit, the program staff organizes team building and academic projects during the two weeks of the first residency. The activities range from a scavenger hunt around campus, to welcome dinners, to a day at the Triangle Training Center where you mix teambuilding challenges with reflections of what you'll bring to the team and how you'll maximize your contribution. Now two weeks doesn't sound like a long time, but I found we started relying on one another pretty quickly, which is crucial as you head into the first distance learning period that begins after the residency.
Building Your Network
Which takes me to my second point—my new network. The GEMBA cohort has both breadth of geography and industry. They will do anything to help you advance in your career or take it in a new direction. At the end of Term 1, I had the opportunity to transition roles within my company and as part of this, I would be recruiting a new team from within. So, I reached out for advice from a classmate who had a similar experience. He gave me advice on how to build a coherent team identity and how best to share our objectives and team scope with my senior manager and peers. In successfully reaching out to my classmate, I realized that I'll have access to a large network that can provide career contacts and networking advice long beyond graduation.
Competing and Supporting
Third, I'm not exaggerating when I say there is no backbiting or undercurrents of academic competitiveness between my classmates. Instead you tend to compete with yourself to get the most out of your MBA. But even when the realities of daily life take over—a work emergency, a sick child, or a cancelled flight—you know your team has your back which motivates you to work harder for them.
Enjoying the Social Time
Finally, I was surprised at how enjoyable it is to get to know your classmates during residencies. Besides cultural immersion activities and corporate visits, the program staff coordinates social events. In India we had a Diwali celebration, some impromptu cricket matches and shopping in Delhi. We've also gone clubbing, skydiving and can often be found relaxing over a great meal at local restaurants. You're almost certain to find like-minded people who enjoy spending their free time as you do, which leads me to my last point. It's amazing how quickly professional relationships and friendships have developed and how conversations easily move from business and academics to sports, music and families.
The MBA cliché is that "your experience is what you make of it," but in the case of GEMBA, I would argue it's your cohort that makes the experience!