Category:

Residencies
Discovering a New Passion During Our Bangkok Residency
Muay Thai has helped me connect to my Southeast Asian roots I had a hard time identifying with before.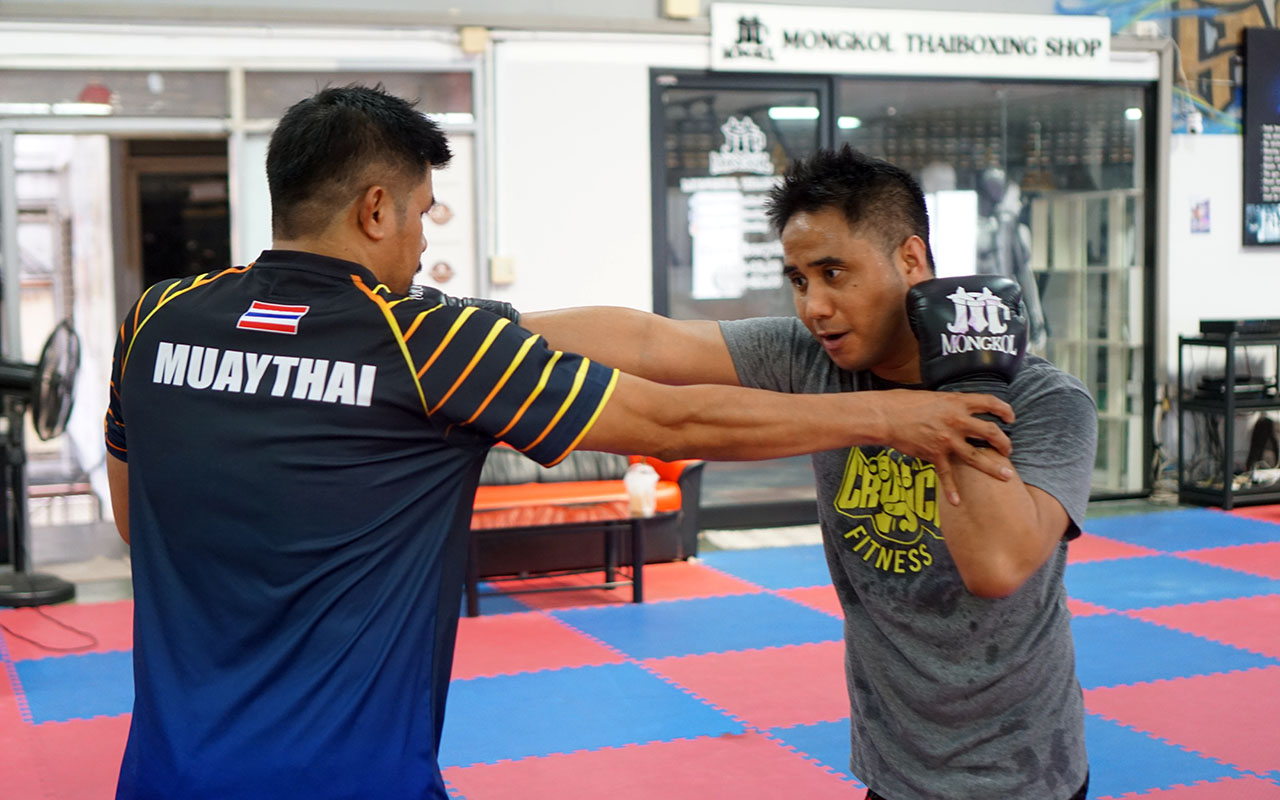 It's Tuesday, April 25, 2023 in Bangkok, Thailand. My Term 4 morning classes in marketing and strategy wrapped up a few hours ago at the very luxurious Siam Kempinski Hotel Bangkok. Although I am intellectually fulfilled after two great classes in the Global Executive MBA program, I have traveled away from the comforts of the elegant business district of Pathum Wan and have commuted across Bangkok into the down-to-earth suburb of the Wang Thonglang district.
I am here to continue my early Muay Thai training at the Jaroenthong Muay Thai Gym. While there is no air conditioning to comfort me inside the gym and the weather outside is sweltering at 102F, I am 100% dialed-in knowing that I am receiving authentic Muay Thai training from one of the sport's greats: Jaroenthong Kiatbanchong.
Cultural Immersion Experience
Master Jaroenthong, nicknamed KruPed, may not instantly ring a bell in casual mixed martial arts circles in the United States, but in Thailand and across the Muay Thai world in Asia, he is a very popular and highly renowned Muay Thai champion. Two days prior to training in his gym, I connected with KruPed as he and his staff held a private group class for me and my Global Executive MBA cohort as part of our cultural immersion experience in Thailand. Although I had trained a few days before at another Muay Thai gym in Bangkok, something about this particular group class helped me understand what the sport was about. I felt an instant master-to-student, martial arts connection with KruPed, and I felt attuned to his guidance and instruction to us.
Fast forward to my training day with KruPed two days later, I remember soaking up every single further instruction and critique that I could learn under him. KruPed and I had a language barrier, and I was grateful that his assistant, Miss Tuithanya, translated instantaneously between us. Both KruPed and Tuithanya helped me feel comfortable in a foreign land and a non-touristy neighborhood district of Bangkok. I could not understand a single word of Thai, but I truly understood what Thai culture is really all about: being kind, being generous to others who want to learn, and working hard in everything that you do.
Tapping Into My Identity
Up until the beginning of my Term 4 residency, if you asked me who I was, I would have considered myself a dual-career professional (tech and entertainment), a creative (hip-hop dancer, former b-boy/breakdancer, musician, stage performer), and an avid fan of philosophy (Plato, Descartes, Nietzsche). Although I had trained in Kenpo Karate as a kid, I had felt that I could only be a bystander in martial arts at best, as I had gotten older.
Today, if you asked me who I am, I would still give you the same answers, but I would also add that I am a year 1 student of Muay Thai. Beyond the striking art itself, Muay Thai has helped me understand that this practical martial art is more about helping you find balance in your life and learn how to think literally on your feet in a self-defense scenario.
Muay Thai has helped me connect to my Southeast Asian roots I had a hard time identifying with before. This self-discovery is rooted in my time in Bangkok, Thailand, thanks to the Duke Global Executive MBA Program.