The coursework at Fuqua is rigorous, and as a student you'll often be worn down from the many assignments and teamwork during the week. So you might find yourself wanting to sleep late on the weekend or even weekdays when you don't have an early class. If you wake up late, you're going to be hungry and in search of a good restaurant that is open in the morning. To ease your search, here are three appealing restaurants where you can enjoy brunch in Durham on weekdays or weekends.
Monuts
Location: 1002 9th Street
Hours: Monday through Saturday 7:00 a.m. – 4:00 p.m.; Sunday 8:00 a.m. – 3:00 p.m.
I'll express it in a word—fantastic! If I had to pick a drawback of this restaurant, it'd be the wait. It's quite long but worth it. Monuts is a busy bakery and cafe located in downtown Durham, less than one mile away from Duke's East Campus. It sells American breakfast and lunch items including salads, soups, sandwiches, coffees, bread, pastries, and of course, donuts with neighborly service and a welcoming atmosphere. I highly recommend you visit Monuts while you're in Durham.
Another Broken Egg Café
Location: 2608 Erwin Road
Hours: Monday through Sunday 7:00 a.m – 2:00 p.m.
The most prominent advantage is that it's quite close to Fuqua. Also, if you live in the Lofts at Lakeview Apartments, The Belmont Apartments, or the Heights at LaSalle apartments, you are within walking distance. Another Broken Egg Café, as the name suggests, offers dishes with egg as the key ingredient. It serves many brunch favorites, like omelets and eggs Benedict, along with waffles, pancakes, sandwiches, and salads. If you are looking for a brunch restaurant close to your home or Fuqua, I recommend this place.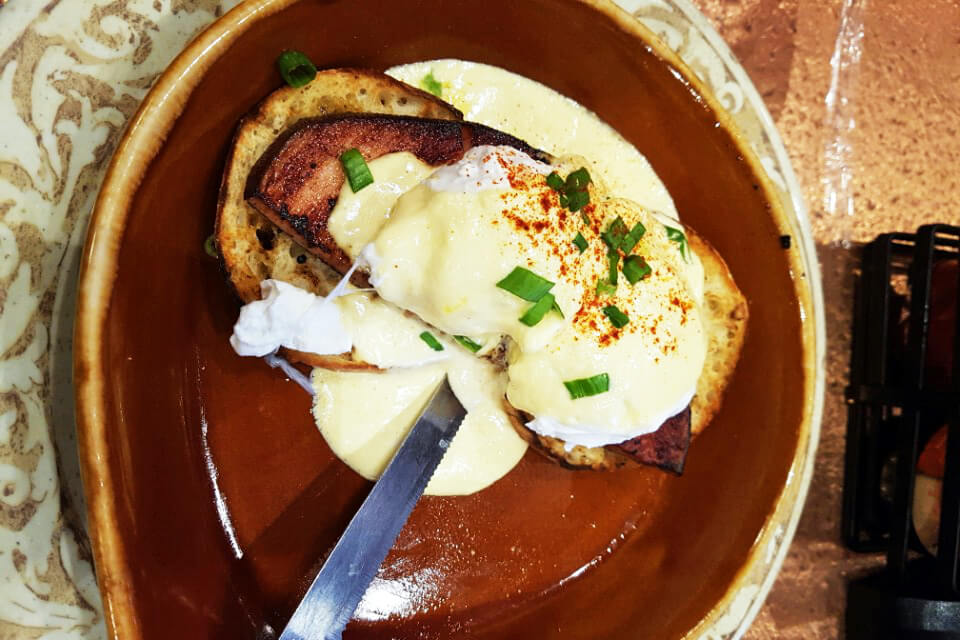 Brigs at the Park
Location: 4900 N.C. Highway 55
Hours: Monday through Sunday 7:00 a.m. – 2:30 p.m.
Here is another fantastic place. It offers various brunch menus such as omelets, waffles, sandwiches, and pancakes using only the best ingredients to create enjoyable meals served in a relaxed and friendly atmosphere. The breakfast specials are great and priced well—an average breakfast is less than $10 with tip. The biggest drawback is that it's farther away, and it takes about 15 minutes by car from school. If you're not too busy and have time to make the trip, I recommend eating brunch here.