FEATURED POSTS
LATEST POSTS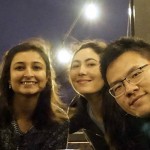 What Are MQM Extracurricular Activities Like?
January 31, 2019 -
-
Students in the MQM: BA program are not only academically driven, but also bring a wealth of extracurricular experience and talent to the program. At Fuqua, almost all of the extracurricular activities and...
Employment Outcomes of the Inaugural Class
January 11, 2019 -
-
With the final employment data in for the inaugural class of the Master of Quantitative Management: Business Analytics program, their career outcomes reveal how successful this cohort has been. These 2018 graduates put...
How My Forensics Track Experience Helps Me in My Job
December 14, 2018 -
-
As I was applying to Fuqua's MQM program and doing my initial research, I didn't have a great idea of what forensics was. However, of the four functional tracks offered in the program,...
How I Use My Finance Track Experience in My Job
December 3, 2018 -
-
When I was considering graduate school, I was looking at both finance and data analytics programs. When I found Fuqua's MQM program and realized I could get a great data analytics education while...
How the Marketing Track Prepared Me for My Career
December 3, 2018 -
-
During my time as a Fuqua student in the MQM: BA Marketing track, much of my coursework focused on the customer—such as my favorite class, Customer Relationship Management. In this class, we took...