Category:

Life at Fuqua
We Tasted the Triangle Area—Here Are Our 19 Favorite Spots
Whether you recently moved to the Triangle, are a tourist, or a local, we have some places that we are sure you would love!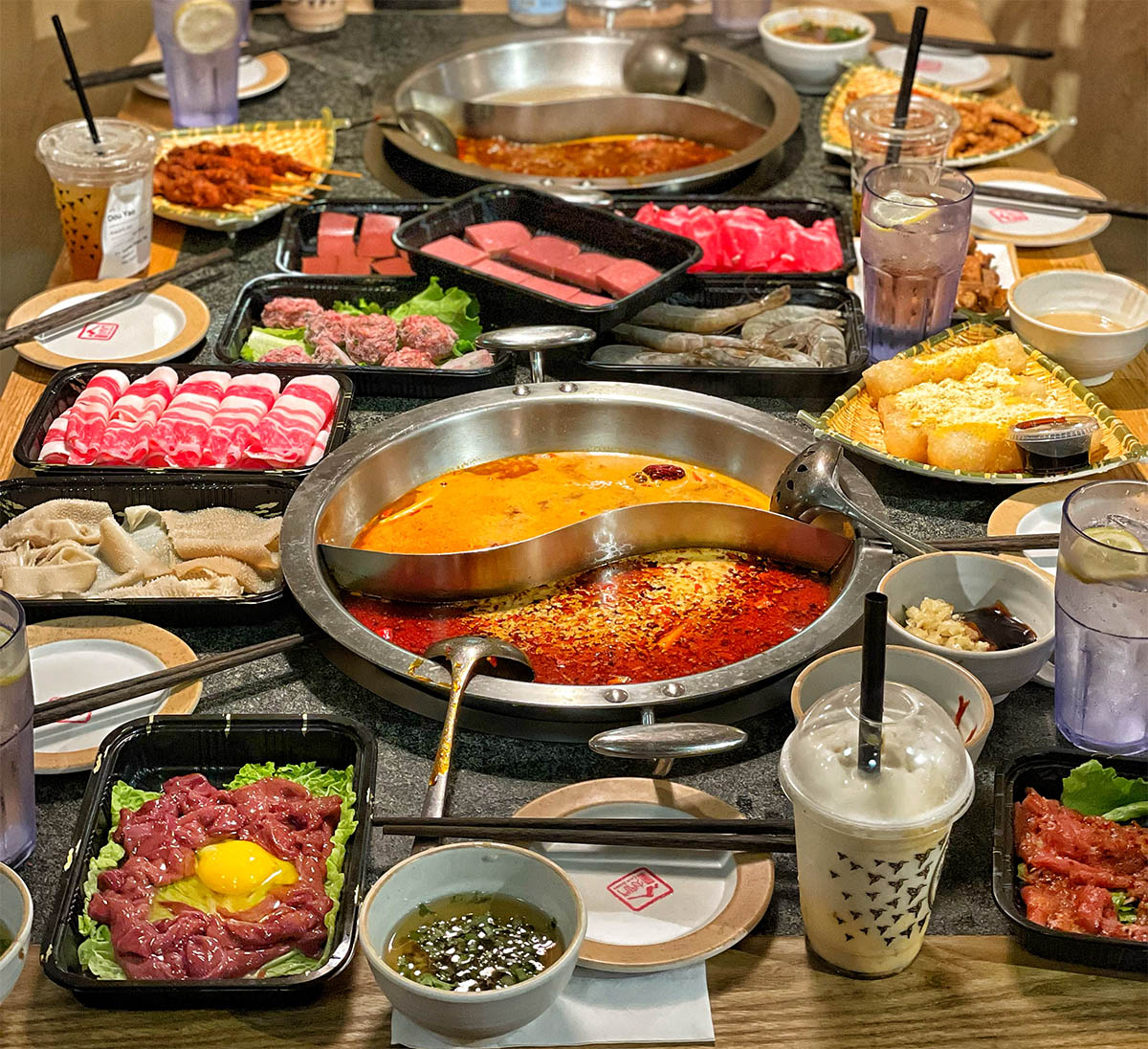 There's much more going on than hoops and studying in North Carolina's Research Triangle Park.
The universities of NC State, Duke, and UNC form the famous Triangle area in the piedmont region of North Carolina. Those universities' respective cities of Raleigh, Durham, and Chapel Hill not only have a rich history of college basketball and tobacco factories but also boast some fantastic southern restaurants and the largest population of lemurs outside Madagascar!
On orientation day, a popular question for the program coordinators was, "what are the best places to eat in the Triangle?" We noticed a lack of central resources and communication in the Triangle regarding food and dining. Moreover, with the pandemic restrictions just starting to loosen, it seemed a great time, better than ever, to create a food blog for the Triangle area. So we created @tastingthetri on Instagram.
The pandemic hit numerous local restaurants hard, and our goal was to promote cross-communication amongst all the Triangle restaurants to increase their exposure. So, the UNC Tar Heels would know what's good in Durham, or the Duke Blue Devils would know where to go to brunch in Chapel Hill. But whether you recently moved to the Triangle, are a tourist, or a local, we have some places that we are sure you would love!
1. Foster's Market
Foster's Market is a family-owned restaurant in the Durham community. Its outdoor ambiance fits the perfect southern spirit. Foster's Market is easily our favorite brunch place, with cute picnic benches and an in-house breakfast menu. Oh, and a hidden gem—the bakery!
Must order: red velvet cake, BLT sandwich, and omelets!
View this post on Instagram
2. Guglhupf Bakery
An artisan German café in Durham, Guglhupf uses local ingredients to showcase southern German roots. Guglhupf has homey outdoor seating, perfect for spring or summer eats!
Must order: buttermilk chicken sandwich, eggs benedict, and chocolate croissant!
View this post on Instagram
3. Press
One of our favorite spots to study is in the heart of the American Tobacco Campus. Press has fantastic coffee and drinks, and the highlight of its menu—crepes. Also, holy crepe get this—the crepe bar is open to watch!
Must order: south by southwest and tres leches crepes!
View this post on Instagram
4. Pineapple Sol
Look no further if you're in the search for an Instagram-able brunch spot to take your BFF (brunch friend forever). Pineapple Sol has a selection of options ranging from aesthetically pleasing savory items to delicious bakery bites.
Must order: coffee board and sunny benny!
5. Carolina Coffee Shop
Locally owned, Carolina Coffee Shop has been serving the Tar Heels in Chapel Hill since 1922, making it the oldest running restaurant in North Carolina. The modern southern cuisine makes it a perfect spot for brunch and first dates!
Must order: signature french toast and eggs Jennifer!
6. Mateo Tapas
Mateo Tapas is the perfect marriage between southern comfort food and Spanish small plates. It's an excellent restaurant for a date night or to take your family out for a special dinner!
Must order: queso frito, pollo frito, and seafood paella!
7. Moge Tee Raleigh
Moge Tee Raleigh is here to fulfill all your bubble dreams! It has a range of flavors of bubble tea and bubble waffles. The icing on top is the special flavors they rotate all year round (like the mango-ficient mango pomelo)!
Must order: grapefruit cheese, strawberry matcha, and strawberry bubble waffle!
8. Sweet Room
Desperate for some sweetness? Head over to the Sweet Room for dessert! It has the best crepe cakes and rolls. Fun fact—the owner started the restaurant as a homage to her son, who lives for Asian desserts (mom goals!).
Must order: durian crepe cake!
9. Szechuan Mansion
You have to check out Szechuan Mansion for the ultimate hotpot experience. Order unlimited broth, meat, and veggies. Oh, and don't forget the dessert!
Must order: fried pork appetizer and golden bun!
View this post on Instagram
10. M Kokko
This cozy spot is located in downtown Durham and serves the perfect pick-me-ups for your 'down' days. Enjoy some comfortable Korean noodles at this chic find!
Must order: spicy ramen and biangbiang noodles!
11. M Sushi
Anything with "M" in the name in Durham never disappoints, thanks to chef and owner Michael Lee's growing empire! Let the good times roll at this vibey restaurant.
Must order: nigiri plate!
12. Tandem
A local neighborhood couple started the restaurant in 2016 (couple goals!). The menu is the perfect Morocco-meets-French-fusion. Fun fact—the chef used to be the private chef for the Hermès family.
Must order: salmon lox and tandem burger!
13. Que Chula Tacos
Who's ready for taco Tuesday? We're actually ready for tacos every day, especially if it's at Que Chula. As first-generation Mexican-Americans, the owners hope to pass down their passion for food through family recipes. And a big plus is the amazing ambiance!
Must order: shrimp tacos and ceviche
14. Brecotea
Brecotea is the perfect place to try out freshly baked Asian pastries. It also offers bubble tea and a serene meeting spot to hang with friends or even study!
Must order: pork buns, taro bun and crepes!
15. Sugar Koi
We say yes to Sugar Koi by default! The owner's childhood in Bangkok inspired this ice cream shop. It has a wide selection of flavors from ube to matcha served in unique fish-shaped Koiyaki waffle cones. It's currently relocating from Durham to nearby Cary.
Must order: fish cone ice cream, duh!
16. Gocciolina
Leave it to Gocciolina to surprise you with a new menu every night! It was voted the best Italian restaurant in Durham for three years straight! The atmosphere paired with the food and wine makes for the perfect dinner vibe.
Must order: gelato and ravioli!
17. Alley Twenty Six
Found this gem in the alley! This local cocktail bar and restaurant lies in the heart of downtown Durham. Its local cocktails are to die for, and the charcuterie board also features local cheese!
Must order: charcuterie board and kiwi daiquiri!
18. Chosun Ok
Chosunok is a low-key gem located in Durham. They have grill-your-own Korean BBQ and special Chinese plates you cannot miss!
Must order: spicy beef soup and bulgogi bibimbap
19. Rose's Noodles
Rose's is an East Asian-inspired bakery and restaurant. They use local ingredients to serve you the taste of east Asia. Perfect spot for a casual lunch!
Must order: vegetable belt noodles!
View this post on Instagram
These 19 places definitely aren't all the Triangle has to offer. If you want to know more about the area's dining scene, don't forget to follow our account on Instagram.