Category:

Life at Fuqua
Bolstering My Fuqua Experience Through Playing in the Duke University Marching and Pep Band
Ever since I was eight years old living in the dense cornfields of Greenwood, Indiana, I have never missed a nationally televised Duke Men's Basketball game.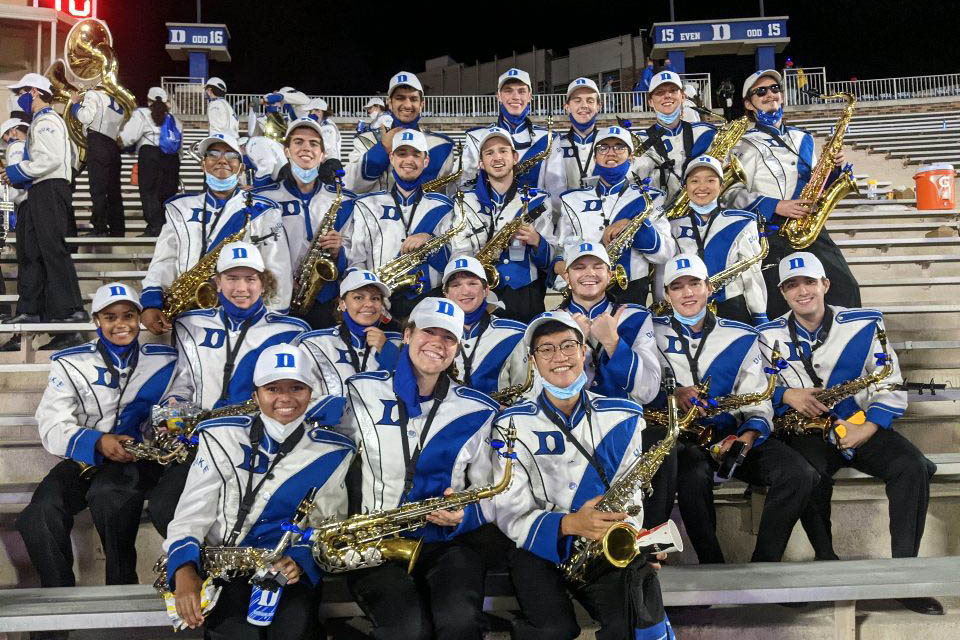 Ever since I was eight years old living in the dense cornfields of Greenwood, Indiana, I have never missed a nationally televised Duke Men's Basketball game. Players like Kyle Singler, Jon Scheyer, Quinn Cook, Mason Plumlee, and Jahlil Okafor are forever immortalized in my ever-growing fandom of Duke Basketball. I first got introduced to Duke Basketball through my parents; when they immigrated to the United States, Duke University was their serendipitous first home. In fact, their first apartment is directly adjacent to the apartment complex where I currently reside! Their fondest memories of Duke were being Cameron Crazies themselves and cheering on the team at home games in Cameron Indoor Stadium.
When I received my admission letter to Fuqua to become a member of the MQM program, I knew I had to accept the offer and finally live out my childhood dream of being one of the Cameron Crazies. This decision was made even easier when Coach Mike Krzyzewski (a.k.a Coach K) announced this would be his final season at Duke.
Throughout my high school and undergraduate career, I was a member of the Concert, Symphonic, Jazz, and Pep Bands, where I played both alto and baritone saxophone. Being a member of the pep band was always my favorite extracurricular activity as it seamlessly integrated my passion for sports and music. My favorite pep band to watch as a child was the Duke University Marching and Pep Band (DUMB) as they always seemed to be the Energizer Bunnies that made Cameron Indoor and Wallace Wade Stadium the electric atmospheres that they are.
The day I submitted my deposit to join the MQM program, I wrote an email to Jeff Au, Director of DUMB, stating my interest in joining. Based on my prior experience in playing for a variety of bands, I joined DUMB as it is open to all Duke students who can play a musical instrument or through a tryout where a musical piece must be performed.
Upon arriving to Duke and starting the Summer Term, I attended Band Camp: a week-long band retreat where first-year members learn the basics of marching, memorize the Duke fight songs, and begin learning the choreography for our dance number for the football halftime shows. In the beginning of camp, there was a steep learning curve as I had never marched before, but with the help of my saxophone section leaders, I was able to effectively play and march simultaneously.
During the Fall Term 1 semester, the band performed at several sporting events, including home games for the Duke Football, Soccer, and Volleyball teams. My favorite memory during this time was getting to perform at the Duke Football Homecoming Game against North Carolina A&T. This was my first time ever performing at Wallace Wade Stadium and all my MQM friends came out to support me. Nailing the famous "Jeff Au split" during our halftime show performance on the field and hearing the crowd's subsequent reaction is a moment I will never forget.
When the Fall Term 2 semester began, the band continued to perform at all the home football games and we even got to learn a new performance with new songs and marches. Some of the songs we played this year included "Toxic" by Britney Spears, "good 4 u" by Olivia Rodrigo, and "Dynamite" by Taio Cruz. The Fall 2 semester also marked the beginning of the Duke Men's and Women's Basketball season with the first event being "Countdown to Craziness" where all members of the current basketball team were introduced and a scrimmage between the players occurred afterward. Attending my first basketball game at Cameron Indoor Stadium was an out-of-world experience as I have never been in a stadium that loud with so many people packed into one area. I now fully appreciate what ESPN college basketball analyst Dick Vitale means when he says "Players and coaches dream of moments like this. This is why you go to a school like Duke!"
Following our month-long winter break, I returned to Durham and continued playing at all the basketball games I could attend. I quickly learned all the traditions at Cameron such as the chants yelled to the opposing team during the game, dancing to "Everytime We Touch" by Cascada, and playing "Dear Old Duke" after every game. I even got to bring my family to home games against Florida State and Boston College to have them also experience the exhilarating adrenaline rush.
Being a part of the band also gave members the opportunity to travel with the team and perform. For the ACC Men's Basketball Tournament, the band traveled to New York where they got to perform at the Barclays Center in Brooklyn. For the NCAA Men's Basketball Tournament, venues included the Chase Center in San Francisco and the Caesars Superdome in New Orleans. Looking back, it was a magical season for the Men's Basketball team as they were the ACC regular season champions and made it all the way to the Final Four of the NCAA Tournament.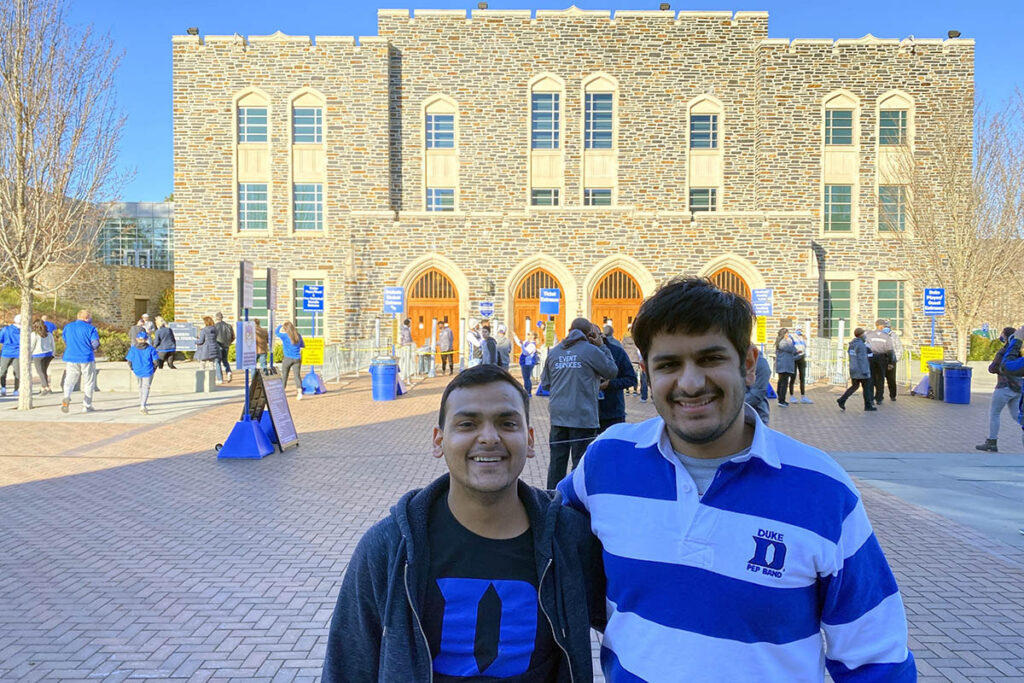 Overall, I would highly recommend any Fuqua student who has an interest in band to join. It is a great community filled with Duke students that are passionate and enthusiastic about Duke Athletics. As a member of the band, I have taken part in many social activities like rock climbing at Card Gym, participating in the annual section war, and attending a watch party for Duke versus UNC when they played in Chapel Hill. I hope more Fuqua students become a part of this cohort and I can't wait to hear the band perform next year!