by Horatio Jones, IV, Weekend Executive MBA '13.
Learning about the Global Academic Travel Experience (GATE) is part of what excited me about Duke's Weekend Executive MBA program. After hearing the experiences of previous participants while I was applying for entrance into Fuqua's MBA program, I decided that if admitted, I would participate in GATE, assuming it was in a region that impacted financial markets on a global scale. Our class had the option to go to China—which fit that criteria—so my plans were set in motion.
The Preparation
At the beginning of my MBA journey, I sat down with my boss and discussed the days that I would need to be out of the office while at Fuqua. I was very upfront with my employer about my intention to participate in GATE, which lasts about two weeks, and included the tentative trip as time that I expected to be out of the office. Fortunately, my manager was supportive of me obtaining my MBA and as long as I completed my required deliverables, he did not have any issue with the additional time I spent out of the office while in China.
Prior to the trip, the GATE faculty advisor—who had an intimate knowledge of the Chinese culture—oversaw a required course that helped acclimate students to the history, culture, and business climate of China. This was a great way to assist my 12 classmates and I in preparing for our upcoming trip, and it provided a rich perspective on what to expect when we arrived in the region.
Initial Reflections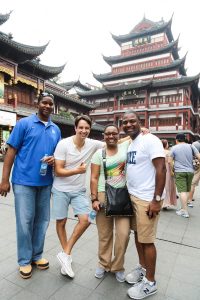 This was my second trip to China, as I had previously visited in 2002. During my last trip I stopped in Hong Kong and Shanghai. It was amazing to see the difference just over 10 years could make in Shanghai. The additional infrastructure and capital improvements, fueled through the alignment of government influence and business interests, are apparently a force to be reckoned with. I'm a commercial real estate professional, so it was pretty incredible to see the magnitude of development that was occurring in each of the three cities we visited—Shanghai, Beijing and Xi'an. Overall, I thought that from a commercial real estate perspective, there are significant supply side concerns that, if not managed properly, will cause value erosion and downward pressure in rental rates. While this is yet to be proven, I think it will be interesting to see how the country is able to utilize all of the recently constructed commercial buildings over the next decade.
Commercial real estate aside, China's history is incredible. The trip served as a reminder of how young the United States is as a sovereign state in comparison to China and some of the other Asian countries that can trace their cultures and governments back thousands of years. It is pretty funny to me that there are Chinese dynasties that were in power longer than the United States has existed. I firmly believe that the U.S. has the ability to sustain its current position as a global super power, but based on what I experienced during GATE, it is clear that China will continue to improve its financial, political, and legal infrastructure in a manner that will heighten its already immense global presence.
The Experience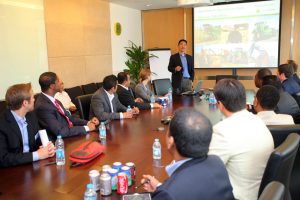 Fortunately, when we arrived in Shanghai, I knew what to expect because of my previous travels and the prep course. The people were just as kind as I remember. The local population was well educated and seemed to be fairly "westernized."
Our first day of corporate visits was very well spent. It was interesting to learn about Grant Thornton's experience as an audit, tax and advisory firm trying to impose U.S.-based regulatory reforms and rules on multinational companies that are headquartered in China. It was clear that while maximizing profitability is a mindset that is shared by both societies, the methods used to accomplish this were sometimes quite different.
I thought that the visit to Foxconn, one of China's largest private employers, was one of the most eye opening experiences of our trip. Prior to arriving onsite, my impression of the manufacturing company—whose clients include several global electronics firms—was heavily influenced by the media's portrayal of it. Due to reports of poor working conditions and employee suicides I thought that everyone that worked at the company was unhappy which was not the case.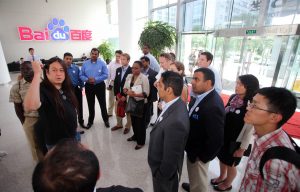 The Duke Kunshan University tour was great. The professor leading the charge was very charismatic and knowledgeable regarding lessons learned as a United States expatriate working in China and more importantly, working with the Chinese government. It was good to see the campus in the development and construction stage, and I look forward to going back to China in the future now that the campus is operational!
Xi'an was a very interesting city. I was amazed by the number of high-rise residential projects that were currently under development. While in Xi'an we visited the Terracotta Warriors Museum which was one of the highlights of my GATE experience. Developing an appreciation for the level of detail used to craft each of the warriors, and seeing the immense number of well-preserved statues was a once in a life time experience.
Finally we arrived in Beijing, where I enjoyed our time at JD.com (a Chinese e-commerce company) as well as Lenovo. I thought the hardware and software developments of both companies were pretty incredible. However, Baidu—a Chinese company similar to Google—was clearly my favorite corporate visit. I thought it was interesting what the company had accomplished in less than 15 years of existence, and I was also very impressed with the candor of our tour guide. He answered our questions about the growth of the firm and provided us with insight into working with the Chinese government. Overall, I walked away thinking that as long as you recognize and play by the rules of the game, business owners have the ability to thrive and operate profitable enterprises. This was a 180-degree shift from my impression before the trip that the Chinese government's restrictions made in nearly impossible for citizens to run a successful business.
Overall, my GATE experience was nothing short of incredible. Fuqua did a masterful job of planning a solid international experience. In addition to the great corporate visits and cultural experiences, I further cemented life long relationships with my classmates over dinner and drinks in one of the most fascinating countries in the world.