Category:

Life in the Program
Why Duke Fuqua Was the Right Choice for My Executive MBA
My experience here was absolutely amazing and I would like to share it with you.
I am sincerely delighted to express my warmest gratitude to Duke University's Fuqua School of Business where I recently earned my MBA degree in the Weekend Executive MBA program. I am a proud alumnus now. My experience here was absolutely amazing and I would like to share it with you.
My professional background is in management. I have 15 years of work experience in managerial roles in different projects in Kazakhstan. For the last four years I've been building my career in the U.S. Currently, I work for AES, a Fortune 500 global energy company.
I am a life-long learner. Therefore, two years ago I decided to obtain an MBA degree that would help to further achieve my career goals. There are several reasons why I ultimately chose Duke Fuqua.
Overall Fit
First, and the most important, was that this program was a perfect fit for me because I was able to continue working full time and at the same time expand and polish my hard and soft skills in the business sector. I knew I wanted to be on the East Coast. Duke University perfectly met my requirements. I believe its proximity to the main political and financial hubs makes this university so attractive to businesspeople. Duke Fuqua is one of the top business schools in the world. For busy professionals like myself, it is something that plays a significant role when choosing a school.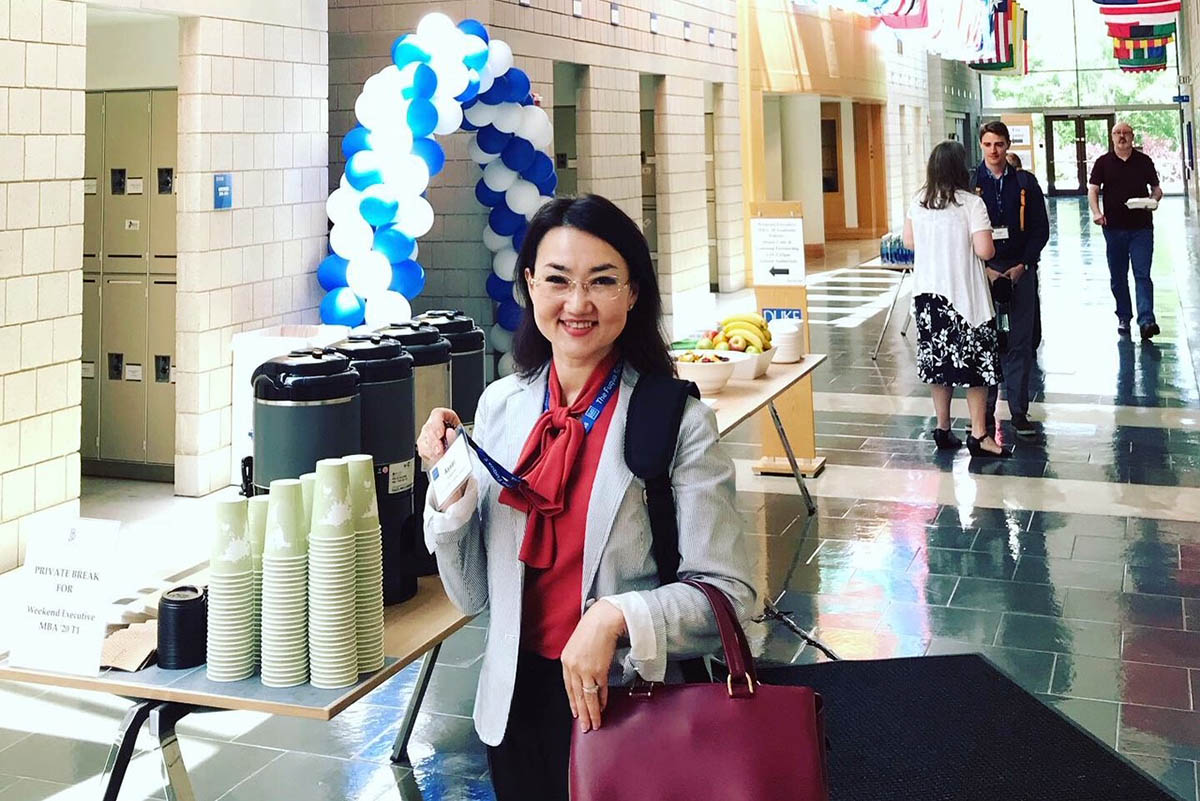 Differing Perspectives
Next, I absolutely loved the cultural diversity in my group. I am from Central Asia. Seemingly, everybody was from somewhere different and it gave me the feeling that I was part of an international, globalized environment when taking live or online classes. Professors, staff, and my class group mates were always supportive when diving deep into understanding trends and catalysts that cause change in the rapid business world. It was helpful to get a combined approach of theory and real-life practice. I had a chance to see the perspectives of different opinions on management issues and solutions during our discussions of readings and case studies. We, as business professionals and experienced executives, definitely brushed up on training that we all needed for our career advancements.
The Campus Experience
Finally, what was so appealing personally to me, was the campus. Whenever I traveled to take classes, I would always stay on campus. The atmosphere there was fabulous. I loved the university's historical and elegant buildings that truly gave an impression of a special vibrant place. Of course, the university provided great opportunities for networking. I made new friends and got to know potential future business partners while earning my degree. This is one reason why experienced managers go to study again. Many of us shared common values and had similar visions on life.
Last, but not least, I would like to leave a message for prospective candidates who are considering an executive MBA program and looking for good universities. Please do not hesitate to check out the options and opportunities that Duke and Fuqua can offer you. I am sure everyone can find something appealing too. I wish current and future students all the best and good luck on their academic and career journeys.