At 9:21 last night, I hit the submit button and turned in my last take-home final and as easily as that, I said goodbye to Fall Term II! After I managed to survive Fall I with both of my arms and legs, I thought that I was in the clear for the rest of my first year at business school. Little did I know … Fall Term II was much busier than Fall I.
During the second fall term, I took Marketing, Strategy, Management Communication, and Managing Human Assets and Organizational Change. My courses were very different from my quantitatively heavy classes from the previous term. I learned a lot about case preparation, teamwork, and leadership.
Throw in recruiting, cover letters, mock interviews, strategy papers, 2 study teams, more mock interviews, presentations, cases, and more cover letters, and somehow Fall Term II came and went. The term was a whirlwind and at times, I was a bit overwhelmed with some things on my plate, but I made it through. I like to believe that surviving both fall terms at Fuqua will make me ready for my first spring at business school!
Aside from the academics and career activities, I also participated in fun traditions including Fuqua Prom and the Duke MBA Brand Challenge. I watched the Duke Start-Up Challenge and won an Apple TV in a raffle!!! I also heard fantastic guest lecturers in my Managing Human Assets course, including my fellow blogger and Brandeis alum Deidre-Ann Nelson and P&G CEO Bob McDonald.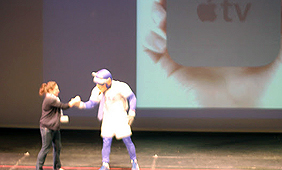 But, there's still plenty to look forward to until January 19, when Spring Term I starts:
A holiday party with my Section 3 classmates!
A Section 3 dinner!
Mock interviews during the winter break. My unknowing friends will be asked to test me on my STAR stories.
Reading for fun.
Shopping.
Traveling to NYC, NJ, and Boston.
Improv class at Fuqua. Yes. And for those of you who know me and are shocked that I am taking it, so am I. I am trying to do things outside of my comfort zone and this, is one of those things.
And lastly, interviews in early January.