Bonjour!
We are on a little family vacation in France, and I am writing from the Hotel Left Bank in Paris. While I am a part of a global business school, I am now reminded that my language skills are quite local. It has been almost 30 years since I took French, and I was admittedly not very proficient even then. I am left with being able to only recall the French words for window, pen, and pencil. It's unclear why those words were locked into my memory, but it turns out none of them are proving very useful for this trip. It is also beyond me how the French came up with the word "chaude" for hot — sounds like shivery cold to me (as in, brrr, it is very chaude today). As much as I want chaude to mean "cold," I have learned it is not so good to rely on my instincts, "mon ami ameriat une autre la biere chaude," ends up not working out so well.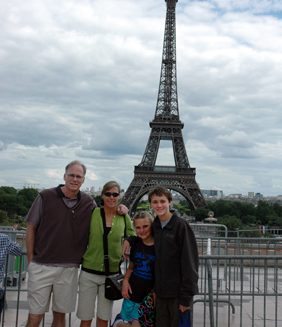 It has been busy since graduation, but I now have a little time to reflect on last year's Daytime MBA experience. The year was one of change, mostly positive I hope for everyone, and one with terrific accomplishments. Unfortunately, we have also had a terrible loss to our community with the recent death of rising second-year student Jessica Caroe.
All of this is a reminder to me that we really are a community and that our community is very much like a large extended family. As in other communities, ours is active and complex and while we have numerous individual experiences, we also have a large number of shared experiences. While we have faced challenges, and have struggled with the loss of a fellow student, our support for each other and the positive experiences over the past year make me optimistic that the coming year will be a good one. There have been so many positive exhibitions of talent from Fuqua students — from case competitions, to the organization of conferences and symposia, the Iron Chef competition, Fuqua Idol, and more — that I have to be encouraged.
Just prior to graduation, we announced the second-year class awards to outstanding students, clubs, faculty, and staff as part of the Second-Year Fuqua Finale. This was a terrific celebration of the best of Fuqua, and only scratched the surface in recognizing all the outstanding people who have contributed to making Fuqua a better place. For those who have not yet seen the announcements, I have listed below the awards to graduating students and clubs. Videos were produced for a number of the awards, and I encourage you to click through and review the videos as well.
Student Awards
The Club of the Year Award is given to a club that has shown collective and exemplary leadership in building relationships and opportunities with a variety of constituents to include students, alumni, companies, and faculty. This year we had two club winners: one professional and one non-professional club were recognized. This year's Club of the Year [professional] is the Consulting Club, which was presented to the club's co-presidents Gabe Rodrigues and Anuj Patel. Honorable mention for this award is the High Tech Club. This year's Club of the Year [non-professional] is the Beer Club, which was presented to the club's founder and president Hudson Moore. Honorable mention for this award is the Association of Women in Business.
The Breeden Award in Finance was established by Smith Breeden Associates, in honor of Doug and Josie Breeden, and is in keeping with Dean Breeden's passions for both finance and academic excellence. The award is given to the top second-year finance student, as determined by our finance faculty. Doug was not able to attend the celebration but David Robinson, area coordinator for Finance, made the presentation to this year's winner, Christina Rausch.
The Deans' Recognition Award was established in 1998 by former Dean Rex Adams. This award is given annually to students who have provided truly exemplary service to the school. Please join me in thanking and congratulating the following award winners for their exceptional contributions to the school: Brad Besel, Patrick Campion, Kate Freund, Alicia Hummel, Allison Kidder, Ivan Kotzev, Kelly Munroe, Matt Portner, Sarah Varki, and Sara Walcott.
The Asa T. Spaulding Sr. Award for Leadership is given annually to an outstanding member of the second-year MBA class, and is considered our highest leadership award. This award honors one student who has been recognized by his or her peers as "having gone above and beyond the call of duty to have a long-lasting impact on the community through his or her leadership efforts." This year's winner is Joe Mancini.
Video for the Spaulding Award for Leadership.
This is the 23rd year we have awarded the Distinguished Service Award, which recognizes a second-year student who "has provided outstanding service to the school or the greater community through clubs, symposia, volunteer work, or elected positions, and who have done so in a respectful and courteous manner." Please join me in thanking and congratulating the winner, Alex Ambroz, for his remarkable contributions, achievements, and non-stop efforts on behalf of the school and the greater community.
Video for Distinguished Service Award.
The Alan D. Schwartz Award for Mentorship is named in honor of Alan Schwartz, who is Executive Chairman of Guggenheim Partners, LLC and previously was Chairman of our Board of Visitors. This award was established in his honor by an anonymous donor to encourage mentorship among the entire Fuqua community in keeping with Alan's personal interest in mentorship. Please join me in thanking and congratulating J.P. Higgins, for his mentorship of fellow students as well as his commitment and service to the larger Durham community.
Video for Schwartz Award for Mentorship.
The final student award is the Keohane Award for Leadership, which was established in 2004 in honor of the inspirational leadership of former Duke President Nan Keohane. This award is to be given to the MBAA President and Vice President only in the instance of exceptional leadership. Clearly, the recipients this year, Fallon Ukpe and Mark Stern, met and exceeded that threshold many times. Many thanks and congratulations to Fallon and Mark for their tireless leadership efforts and accomplishments on behalf of the school.
Video for Keohane Award for Leadership.
Faculty & Staff Awards
In addition to the students, we also recognized a few faculty and staff. The Award for Innovation and Excellence in Teaching – Core went to Jennifer Francis, who taught the entire second-year class singlehandedly when they arrived at Fuqua and even with that amazingly intense teaching task, still managed to wow the class with her teaching excellence. Congrats, Jennifer! Congratulations also go to Yonca Ertimur, who was the runner-up for this award.
The Award for Innovation and Excellence in Teaching – Elective went to Shane Dikolli. This is the fourth year in a row that Shane has received the elective teaching award. Great job, Shane! Congratulations, also, to John Graham, David Robinson and Manju Puri who were runners up for this award.
The last award I will mention first by thanking everyone who helped me in my first year as Associate Dean. I was awarded the Students' Choice Staff Award, which is given to a member of the Fuqua staff for outstanding service to the members of the student body and to the school, day in and day out. While I am honored, I know there are so many deserving people and want to make sure we also congratulate Mary Beck White-Sutton, a beloved Career Management Center member who received well-deserved honorable mention for this award.
Blue Devils in France
As I sign off from Paris I thought I would leave you with some trivia that all good Dukies should already know, but just in case you don't, I thought being in Paris would offer me the opportunity to detail the story of the Duke "Diables Bleu."
During World War I, the Chasseurs Alpins — nicknamed "les Diables Bleus" — were well-known French soldiers who wore distinctive blue uniforms with flowing capes and berets. When the United States entered the war, units of the French Blue Devils were in the public eye in the US as they toured the country helping raise money in the war effort.
After WW I ended in Europe, Duke (then Trinity College) started playing football again after a multi-decade hiatus, first at the intramural and then at the intercollegiate level in 1920. That first year the team was known as the Trinity Eleven, the Blue and White or the Methodists. Clearly in need of something better, in 1921, the student newspaper launched a campaign for a "catchy name, one of our own possession that would be instantly recognizable nationwide in songs, yells and publicity." Although none of the nominations was a clear winner, the use of Blue Devils apparently was somewhat popular, but generated criticism on the Methodist campus "for obvious reasons." So, the football season passed with no official selection of a name. However, the school newspaper began the 1922-23 academic year referring to the athletic teams as the Blue Devils and through continued use and repetition, Blue Devils eventually caught on.
So, there you go. Fight, Blue Devils, Fight! (Lutte, les Diables Bleu, Lutte!) For a longer version of the Blue Devil story (which I relied heavily on) read the full tale from the Duke Libraries.
Au Revoir!