Sadly, it's over. After two amazing years, I've now officially graduated.
It's funny to think that three years ago I was contemplating whether to apply to schools in Europe that offered 1-year MBA programs. It seemed more efficient. Going back to school sounded depressing. Why would I want to do in two years, something I could do in one? Following that logic could have been a horrible mistake. I can now attest that these two years at Fuqua were among the best years of my life.
After working for a few years in the Israeli political system, I felt it was time for a change. In my last role, I was working as a director of communications for an Israeli Parliament Member who was serving in the finance committee. I loved what I was doing, but I felt I had much more to learn in two specific topics: business, to better understand finance and the private sector; and marketing, which would be the natural next step in my career following my work in communications.
Comparing business schools, I knew I wanted a school that had strong marketing faculty. Therefore, once I was accepted to Fuqua, the decision was easy. With world renowned faculty such as Christine Moorman, Gavan Fitzsimons, Carl Mela and of course Dan Ariely, who is a household name in Israel, it was obvious why Fuqua is considered a top business school for marketing. After two years at Fuqua, I can't stress enough how much I learned from these professors. This was not only in class, but also in personal conversations I had with them, where they gave me valuable advice about following a career in marketing.
I remember during orientation, Dean Bill Boulding, also a professor for Marketing, spoke to us for the first time and explained how Fuqua is a place where "we take our work seriously, but not ourselves." Little did he know how literally I would take that remark by the end of my second year when I dressed up as him, including his famous grey goatee, for the school's Stache Bash tradition.
As I mentioned, I came to Fuqua to learn more about business and marketing, but as you learn from day one at Fuqua, this is not a transactional experience, but a transformational journey. Indeed, I studied finance, operations, accounting and other classes you would assume every business school has, and yes, I feel more competent in understanding the business world thanks to these classes. Nevertheless, learning the material itself is only a small portion of what I learned at Business school. At Fuqua, you don't just learn, you experience.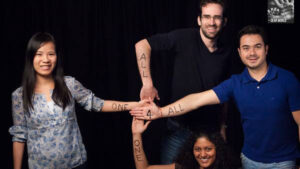 I experienced teamwork, working with my Integrated Leadership Experience (ILE) team from day one through the first two terms. I also continued working on teams for most of the classes I took afterwards.
I experienced diversity as well as community, working with highly talented people from a variety of different backgrounds, functions and industries. I am certain that I will stay friends with many of them for the rest of my life.
I experienced persistence, deciding for the first time in my life to prioritize my physical health by participating in, and eventually winning, the Fuqua Fit challenge where I lost 19 pounds in one month.
I experienced leadership, serving as the co-president of Fuqua Speaks, a student-run club that focuses on improving public speaking abilities, and was also as the VP of Marketing for the High Tech Club. These experiences were key in developing my leadership skills, which came into practice when I initiated and co-led a 10-day trip to Israel for 44 of my classmates during Spring Break of my 2nd year at Fuqua. The gratification I got from it was totally worth all the hard work I put in it.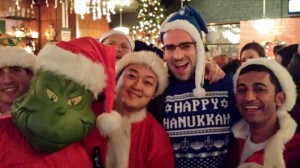 In conclusion, if you decide to go to business school, why not do it in a place that is going to help you grow as a person and also will be a lot of fun?
 Follow guest blogger Aviv @avivdc