When I decided to go back to grad school, I wasn't sure which program to enroll in. Coming from the nonprofit sector, I knew that I eventually wanted to manage a large nonprofit or maybe run for office, but I wasn't sure whether to get a Master of Public Policy (MPP) or a Master in Business Administration (MBA).
The best MPP programs offered classes in things I was really interested in like international development and nonprofit management but offered few classes in strategy, accounting or finance—all necessary to run an organization effectively. Similarly, the best MBA programs, including those with a social impact focus, offer lots of classes in these business areas, but don't delve into policy topics as deeply as the MPP courses do nor provide the same level of analytical examination. And by that I mean that MBA courses typically approach issues through cases rather than examine the science behind why something works and other things do not.
That's when I learned about the MPP/MBA dual degree program. Top schools like Duke, Harvard and Chicago have long recognized the importance of training leaders in policy and management but could not train students effectively in both areas in two years without sacrificing quality. But, by streamlining core classes and reducing the required number of electives, they could effectively train students in three years. The MPP/MBA degree is now so popular that many top universities without policy schools like Stanford and MIT offer the degree in partnership with other universities.
At Duke, I applied to both schools separately (the Sanford School of Public Policy and the Fuqua School of Business) and had to be admitted by both schools' admissions committees. It's a pretty daunting task since competition is fierce and the acceptance rates of both are roughly the same (about 20-25%). Once I was admitted into both programs, I could then declare myself a dual-degree MPP/MBA candidate.
My first year at Duke, I matriculated into Sanford as a first-year MPP student and took the standard core courses. This included a quantitative boot camp of economics, statistics, economic policy, econometrics, and public policy analysis that completely changed the way I thought about the world. By the end of the year, I could not only read academic papers with ease but could also design statistical regression models and quantitatively measure the effectiveness of policy intervention—not bad for a guy who majored in political science and took the minimum number of math classes to graduate from undergrad.
I also appreciated other aspects of Sanford. The program has around 65 students so everyone becomes very close. Over fall break, one of my classmates invited me and some others to stay at her boyfriend's family's cabin in Asheville, NC, and over spring break another had me over to her family's vacation home in Palm Springs. Additionally, Sanford is on a semester system and like all policy schools, has a less structured recruiting calendar than most business schools making it easier to delve more deeply into course material. That gave me time to master concepts without having to balance the demands of interviewing, attending company events or going to club sponsored activities that many first-year MBA students have.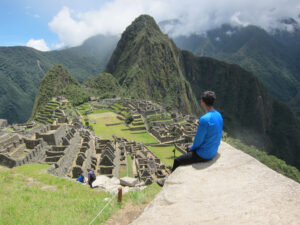 My second year, I started at Fuqua with the incoming MBA class. Because I had already taken some of the quant courses, I was able to place out of some core requirements that most MBA students begin with and took more electives instead. Other than that, there was no difference from the usual Fuqua timeline—I recruited in the fall, did my business school internship in the summer and participated in club activities. The third year, I took classes both at Fuqua and at Sanford and worked on my capstone master's policy project. This meant that my combined schedule was more demanding than my business school classmates but that didn't stop me from doing anything I wanted to do—I even managed to study abroad in Chile and hiked the Inca Trail afterwards.
Having completed the dual degree program, I can say it was the best decision I've ever made. Business school taught me how to analyze data and make decisions quickly and how to manage an organization. Policy school taught me how to analyze data and issues thoroughly and understand the reasoning and math behind the tools that are used in both policy and business. Because of the complementary nature of the programs, I am just as comfortable presenting in a company boardroom as I am conversing with PhD's who are generating the data that make the world go round.
Lastly, being in two graduate programs for three years enabled me to make great friends and build a network at two schools that will no doubt assist me as I move forward in my career. But more importantly, the dual-degree program enabled me to fully embrace my time at Duke and to take classes that fit a variety of my interests. I was able to stretch my limits, expand my knowledge base and take the additional time to listen, to talk, to think and to grow. And that is worth far more than any one program or school could ever provide.