Category:

Clubs
Adam Smith and J.B. Fuqua—Champions of the Free Enterprise System
"What effects do the Federal Reserve and European Central Bank interest rate policies have in the developing world?"
"What are the economic consequences of unprecedented monetary expansion to U.S. businesses?"
"What happens when some firms are 'spared' at the expense of secured creditors during a financial crisis?"
These are the types of questions the three of us set out to answer when we founded The Adam Smith Society chapter at The Fuqua School of Business in the fall of 2013. As we set out to scale these discussions from the school's small team rooms to a larger forum, we set three guiding principles: Team Fuqua is paramount; economics is center; and value creation is key.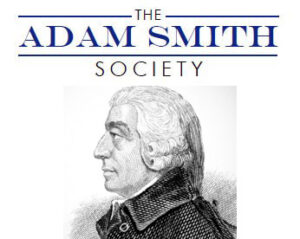 Our solution was to examine Fuqua's history and focus on its namesake, J.B. Fuqua, who celebrated free markets on a global stage, partner with an organization that is actively working toward similar ends as he once did, and to create a unique forum where students are able to explore the benefits of free market economics and the links between the economy, government and society.
Team Fuqua is Fuqua, and to stay true to our community we agreed that any initiative we created would be explicitly tied to our school's culture and heritage.
During the beginning of our second year, we had all read Fuqua: A Memoir, by J.B. Fuqua, and were inspired by the story of our school benefactor building relationships in the midst of the Cold War in order to exclaim the virtues of free markets. J.B.'s mission to cultivate a relationship with Russia predicated on free-market system education, was as visionary as it was successful. And it was his passion and unprecedented success at using philanthropy to create global change that is inspirationally 'off the charts.'
"… this program [with Russian managers] has been the most satisfactory philanthropy I have ever done." – J.B. Fuqua
Every time you walk by J.B. Fuqua's bust in the main Fuqua hall, one can see and read his vision: "Benefactor, advisor, champion of free enterprise and business education, and valued friend whose magnificent generosity and keen vision have contributed to the legacy that is The Fuqua School of Business, Duke University."
As we celebrate Fuqua's 25th Anniversary of involvement with Russia, we are reminded that about this time last year we were working to build a system with The Adam Smith Society that is very much a continuation of J.B.'s original mission.
"Capitalism, or the free enterprise system, is often said to produce an unequal distribution of wealth. Frankly, I have been one of the very fortunate. While the wealthy are seldom applauded in this country, without the donations of some very generous people we would be short on educational institutions, churches, museums, hospitals, and many other things that enrich and distinguish our society from those of socialist countries." – J.B. Fuqua
Economics is the center of the discussion because it is the language that enables one to understand, and more to the point, apply lessons from the likes of Smith and F.A. Hayek, across industries, functions, and situations.
And this is why The Adam Smith Society is so popular at Fuqua: no matter where you came from or where you are heading, the discussion is there to educate, challenge, and inform you.
Value creation is a core tenant for each of us. We strive to create value in everything we do, and this principle is our foundation as well as guidepost, throughout our lives.
The Adam Smith Society was very successful during its first year. We welcomed speakers to campus that included Marilyn Fedak, vice chair emeritus at AllianceBernstein and founder of The Marilyn G. Fedak Capitalism Project, as well as John Stossel of Fox Business Network, and James Copland, director of the Manhattan Institute's Center for Legal Policy. These were impactful events that encouraged additional dialogue about the free-market approach via Smith's "invisible hand" methodology, as well as created unique opportunities for people to enjoy one-on-one meaningful discussions with such accomplished people.
As a result, Paul Singer, founder and CEO of hedge fund Elliott Management Corporation & chairman of the Manhattan Institute, presented our team with the "Best New Chapter" award at The Adam Smith Society National Meeting in New York. Subsequently, our club's success became nationally recognized and we were invited to the SkyBridge Alternatives Conference (SALT) in Las Vegas as members of their "Leaders for Tomorrow" delegation to see, hear, and meet some of the most influential global leaders and thinkers in business, politics, and philanthropy.
As we worked to learn from these rich experiences, one thing was clear: the culture of "Team Fuqua" helped make this happen. None of this could have been possible without listening to the wants and needs of our peers, collaborating with fellow classmates, and leveraging Fuqua's engaged and supportive faculty.