We are three weeks away from finishing the academic year, and I have a lot of mixed feelings about what my first year at Fuqua has been. In my first day at business school, one of the things most people repeated to me was "the two years are going to pass so quickly," and I always thought they were exaggerating. The other common phrase was "these are going to be the best two years of your life." After a year has passed, now I know they couldn't be more right about both.
Coming to business school was a big decision. As an international student, for me it represented leaving behind my country, my family, my friends—everything I loved and knew. I had to be sure that if I was leaving all that behind, it was to go to the best place possible for my MBA journey. Now, after almost a year, and reflecting on what this experience has been for me, I cannot be more confident that it was.
Summer Term
The first day of school was part of orientation and I remember it as if it were yesterday. During orientation I started to meet my new classmates, my section mates, and my Consequential Leadership (C-Lead) team. Everything was new, and sometimes a little confusing. Why do we have lunch at 11:15 a.m., what is a course pack, and why do table bangers never get tired of banging the tables? You'll get that last reference once you're in the program. Soon everything started to clear up, and I realized how lucky I was to be surrounded by such amazing and accomplished people. This time of the school year before the Fall 1 term started was my favorite, because we were all starting to get to know each other and making new friends, there were many social events, and classes were not that intense yet.
Fall 1 Term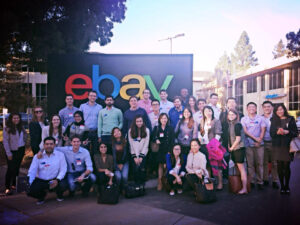 After an awesome pool party to close out the summer term, Fall 1 started and with it the core classes with my section and my C-Lead team. Everything in Fuqua is done in teams, and I am confident that is the best way to learn about collaboration and leadership. This Fall 1 term was very quantitative and a bit challenging for me, but with the help of my C-Lead team and my classmates, everything turned out great. During Fall 1, one of my favorite activities was Campout—the annual event where you hope to secure season basketball tickets. Even though I was stung by a bee and I didn't win tickets, the experience was totally worth it and I recommend that all students do it at least once. At the end of Fall 1, I traveled with 90 classmates to Seattle and San Francisco as part of the Week-in-Cities trip. We visited Amazon, Microsoft, Apple, Google and eBay, among other companies. Fuqua is becoming one of the top business schools for technology so this 'Tech Trek' is becoming increasingly popular every year.
Fall 2 Term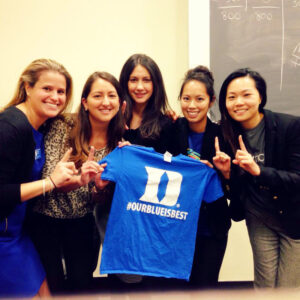 Looking back now, if I thought Fall 1 was hard, I was very innocent then. Fall 2 was at times overwhelming: classes, recruiting, club activities, and social events. This is the time when my multitasking and organizational skills were tested. Also, my classmates were very supportive with everyone, and Team Fuqua stood out. Some of the best moments of Fall 2 for me were when Fuqua was announced as the #1 school in Businessweek's MBA rankings, the J&J Marketing Case Competition at the nearby University of North Carolina (which my awesome team and I won), the auction date night, and the Fuqua Prom.
Winter Break
During winter break I travelled home to Peru for Christmas and New Year's Eve. Even though I was on "vacation," recruiting was one of my main concerns, so I had to conduct some mock interviews for practice. I am so thankful to all of the people that paused their vacations to help me with mock interviews virtually. Believe it or not, there were people in other continents scheduling mock interviews with me with a time zone difference of 12 hours. More proof of what Team Fuqua really is.
Spring 1 Term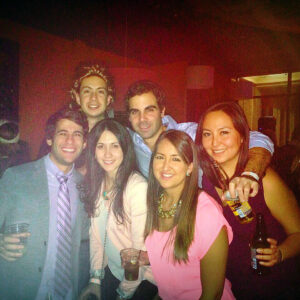 When Spring 1 started, with it came the joys of first-year students getting their initial internship offers. Seeing everyone helping each other and motivating classmates to achieve their goals or to overcome the failure of a rejection was very inspiring. I loved Spring 1 because it made me realize again that I had made the right decision to come here. Some of my favorite moments during this term were when I got my first internship offer, the snowy days in Durham, and the end of term party.
Spring 2 Term
So now we have reached Spring 2, and it came faster than expected. Classes are great because we are taking only electives now, so everyone can concentrate on what they really want. However, it is sad to not have class with your section anymore. This term is going away very fast, and as it marks the end of the academic year, there are many social events. The best experiences I have had during this term have been the Leadership Cohort Experience (LCE) and when Duke won the NCAA Men's Basketball Championship! I am also looking forward to my trip to China in May as part of GATE.
These are some of the things that have made my first year an awesome experience at Fuqua, and even though I am happy to be here, I can't help but feel sad that I have only one year left. To all of the newly admitted Fuquans: You are so lucky!! Get ready for the best two years of your life, but beware, they are going to pass very very quickly.