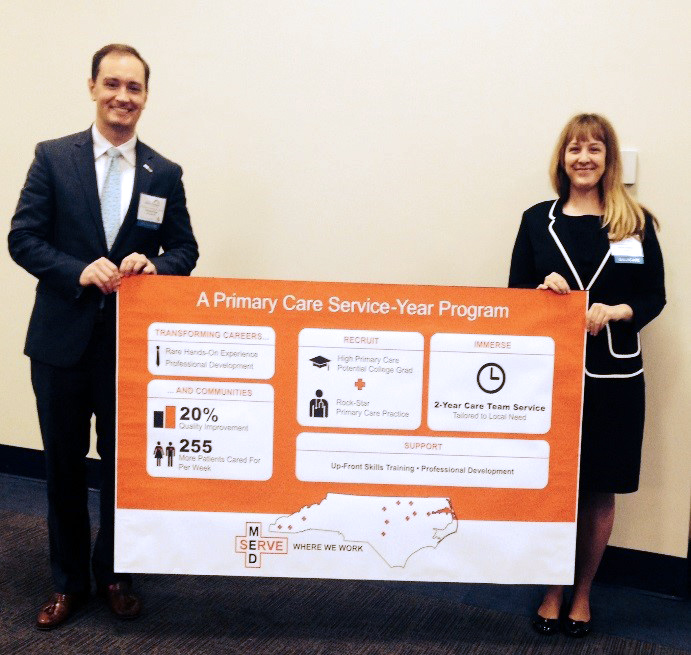 A few weeks ago, a number of newly admitted students descended on Fuqua for Blue Devil Weekend. I was reminded that 2 short years ago, I was the newly admitted student trekking to Durham to find out if Fuqua was a place that could fuel my dreams.
Many of those dreams were written down on a scrap of paper I kept in my white coat during my third year of medical school. That scrap contained a list of problems I saw in health care that, if solved, would improve our field for both patients and physicians. That scrap of paper also formed the core of my business school admissions essays—I was truly looking for the school that would help turn those ideas into action.
From Idea to Impact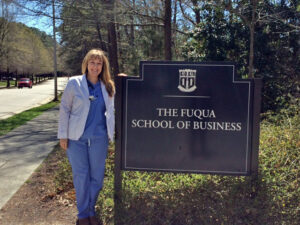 At the top of that list was, "Put the service back in medicine."
I'd gone to medical school after doing health policy work and shadowing physicians in my native West Virginia, where community service felt synonymous with medicine. Somewhere between the intense volume of scientific material I consumed and the long hours I kept in the hospital as medical student, I became increasingly frustrated that my work felt separated from the impact I wished to have in the world. I'd even said to a physician mentor that there should be a 'Teach for America' type pathway for health careers so students like me didn't end up feeling so lost. Still, I came to Fuqua thinking that solving that problem was a 'someday' idea and probably not an endeavor for me to lead.
Two years later, I'm the co-founder of MedServe, a service-learning program in primary care medicine for pre-health students. We call ourselves, of all things, the "Teach for America" for healthcare. Clinics have signed on and invested money in a pilot project; real college seniors have submitted applications to give 2 years of their lives to participate. What happened between my scribbled frustrations with the health care system and a real company? Fuqua. In particular, Fuqua gave me the concrete skills and supportive environment to make something that seemed only tangible in the distant future a short-term reality.
The Skills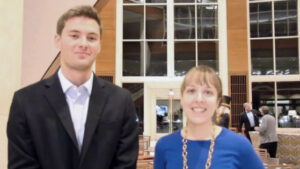 As a first-year MBA, my very first event as an official Fuqua student was the annual Kickoff Pitch Event for Duke's Program for Entrepreneurs (P4E), a multi-term course on entrepreneurial execution. As I recall, I sat in the back of the room silently through the whole event, too nervous to pitch any of my white coat list ideas. However, I was inspired by the curiosity and creativity of my peers and started talking to them, eventually enrolling in the course with someone else's project that closely overlapped with an item on my list.
Over 3 terms, P4E didn't give me the magical toolkit for starting a company. Instead, it gave me the series of questions to ask during that process and a broad understanding of what can go wrong (and how to prevent or survive a problem). It also gave me the opportunity to get in front of a number of seasoned entrepreneur mentors and give voice to my ideas (and those ideas' strengths and flaws). What it gave me, really, was the confidence that problem-solving through entrepreneurship was, as Fuqua's Center for the Advancement of Social Entrepreneurship (CASE) Senior Fellow Dan Heath would say, extraordinarily difficult but not mysterious in its core components.
The Support
As is the case for many entrepreneurs, my first effort ended in failure and I was faced with trying to make a radical pivot. I ultimately chose to pivot to the medicine-meets-service idea that continued to haunt me and that formed the nugget that has grown into my current startup. The skills I built in P4E gave me some of the confidence to pivot, but really that choice was driven by the supportive community of Fuqua. Chiefly by CASE and Executive Director Erin Worsham, who actively mentored me throughout my first project and walked me (in the depths of mid-pivot despair) through my next steps forward.
It was also CASE that took a chance on me and my second idea through their Launch Pad Prize—seed funds for MBA students to launch social enterprises—and a summer of mentorship from business author and CASE Senior Fellow Dan Heath. In true supportive CASE fashion, Dan stretched his summer of assistance through most of the fall to help me accelerate my progress. Similarly, Fuqua's Career Management Center (CMC) assumed a continued supportive role even during months when I was working on the project largely as a solo venture. The CMC's Entrepreneurship Counselor Jennifer Fink has grown accustomed to periodically emailing me and asking how I am doing and if she can help. This network of continuous support has proven as crucial to my entrepreneurial education as the complimentary coursework I've completed as a Fuqua student.
The Result
Fuqua has given me the rare opportunity to see a dream of mine turn into a tangible reality. My medicine-meets-service notion has evolved into MedServe. My team—including fellow Fuquans, medical students and undergraduates—has expanded my vision of the potential for a program like this. We've been able to sell our dream to a dozen clinics across North Carolina for pilot in 2016, and we've received about double the number of interested students than we'll have capacity to accommodate this year. We've raised about $200,000 towards making our pilot a reality. And we've had the great pleasure of being recognized for our work, recently winning the 2016 University of North Carolina Social Entrepreneurship Contest.
I'm excited for the potential opportunities that lie ahead for this year's admitted students in the Class of 2018 and current applicants. The past 2 years have taught me that, if you fully engage in the Fuqua process, this can be a place that transforms your sense of your own capabilities. For my own personal and professional development, I see the tangible product of that transformation every time I work on MedServe.
You can learn more about Anne's startup, MedServe, in the video below and the team's Indiegogo campaign here.