A visitor to Fuqua would be forgiven for wondering why the word "fox" is uttered so frequently by students, faculty, and administration alike.
A year into my Duke MBA, I could not possibly tell you how many hours I have spent in the Fox Center. It truly is the hub of our business school, and where students meet up to eat lunch, where informal team meetings and coffee chats occur, and where friendly games of table tennis take place on an ostensibly constant basis. During the warmer months, students take advantage of the gorgeous North Carolina sunshine by spending breaks in between classes relaxing or studying on 1 of the 2 outdoor terraces.
Fox is also, of course, the home of Fuqua Friday. I firmly believe that the opportunity to leverage the informal setting of the Fox Center to kick back and relax with classmates and faculty over a beer is an irreplaceable and unique part of the Duke MBA experience.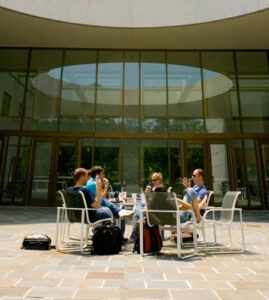 Looking past the 'daily grind' of life as an MBA student, the fantastic space plays a critical role in extracurricular life at Fuqua. As one of the co-chairs of Blue Devil Weekend, I was part of the team that organized the club and housing information fair, held in the Kirby Winter Garden—the large open area that is part of the Fox Center. This involved inviting all of the professional, diversity, and activity clubs at Fuqua, as well as numerous Durham housing complexes, to showcase themselves to prospective students over the course of the weekend. Separately, I helped organize a world trivia event in the Fox Center as part of my duties as global awareness representative for the International Business Club.
Clearly, a great deal of learning occurs at Fuqua on a daily basis, perhaps most obviously in each of the classrooms that line the main hallway. That said, I'm constantly astounded by the sheer amount of collaboration, knowledge transfer, and enjoyment that takes place in the Fox Center—which is why I genuinely believe it is Fuqua's social hub.
Watch what a relatively quiet day looks like during lunch in the Fox Center: