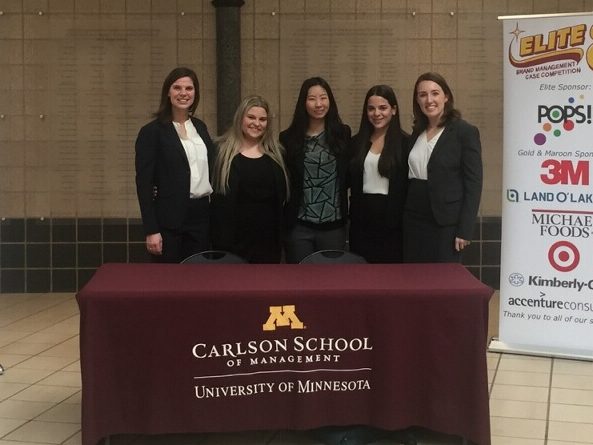 As a student at Fuqua, I am privileged to have the opportunity to learn from amazing professors in the classroom and then apply that knowledge outside the classroom. I recently had the opportunity to further develop my marketing skills by representing Fuqua at the Elite Eight Brand Management Case Competition.m
My journey started when the Marketing Club hosted an on-campus competition to allow teams to practice their casing skills. I formed a team (the "Marketing Mavens") with four first-year sectionmates also interested in marketing so that we could all gain additional real-world experience together. We had a great time brainstorming and forming our marketing plan and presented the plan the following day. To all of our surprise, we won the internal Fuqua competition and were picked to move on to the Elite Eight competition in Minneapolis, Minnesota.
The five of us (Nicole Barefoot, Megan Margel, Tammy Lee, Kristi Conklin, and I) were so honored to represent Fuqua alongside some of the best marketing programs in the country. When we arrived in Minneapolis, we were tasked with creating a full marketing strategy for a new healthcare product hitting the market next year. As none of us had healthcare marketing experience, this was a big challenge for us. We had to learn all about the disease the product would address before creating the plan to market it.
Two long days later, after many cups of coffee, we were ready to present our plan. During the presentation, each of us brought something different to the table and our unique combination of skills allowed us to deliver a presentation and plan we were proud of. In the spirit of Team Fuqua, we also had a lot of fun, taking this learning opportunity to get to know each other better.
While we ultimately did not win the competition, we came away feeling like we had done our very best and represented Fuqua well. Case competitions are very valuable, as they provide an opportunity for students to apply their newly acquired MBA knowledge to a real company and gain realistic feedback on their performance. I know our team is grateful to have had the chance to represent Fuqua.