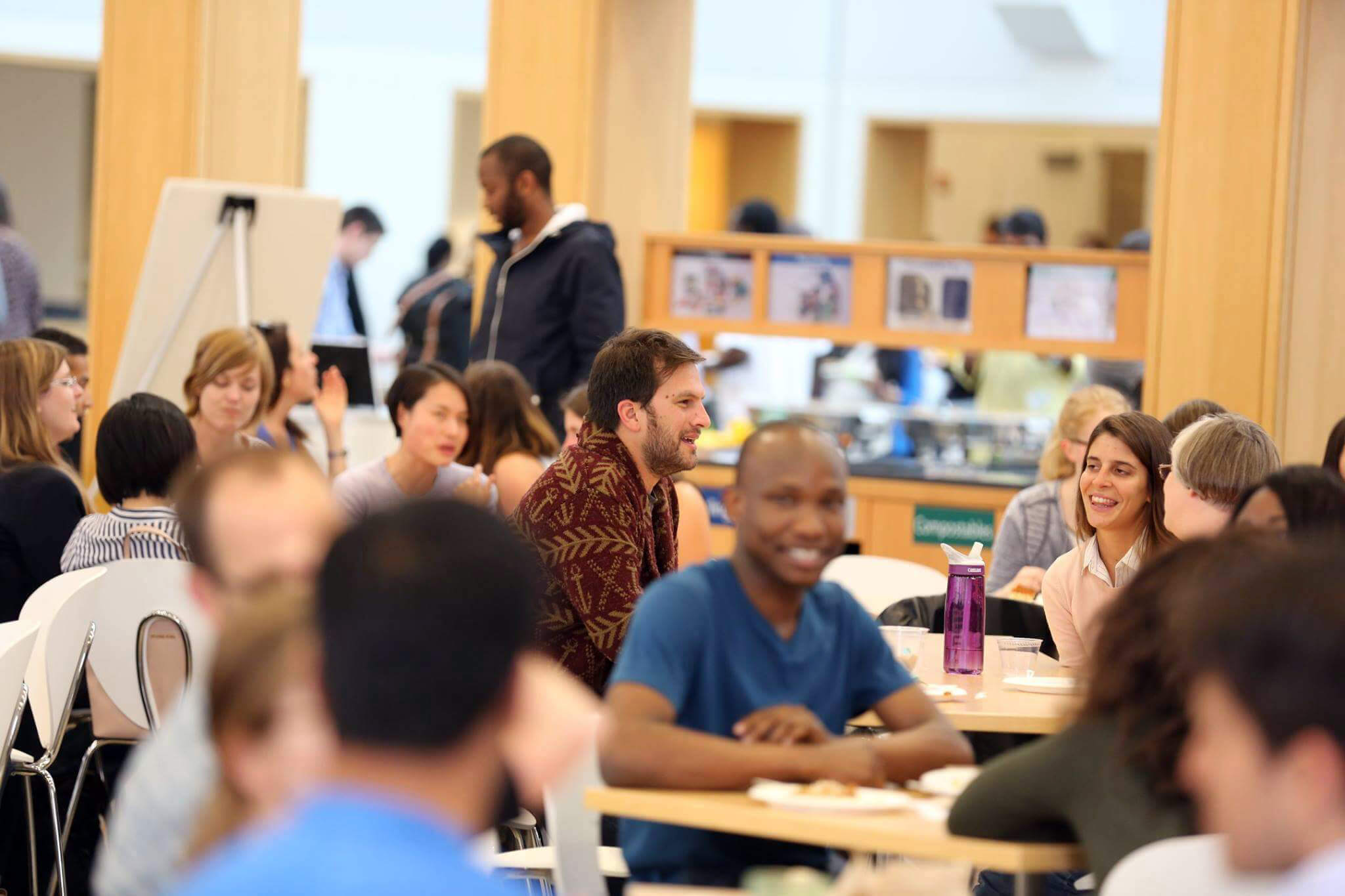 At Fuqua, we wholeheartedly believe our community grows stronger as our diversity increases. Thus, we intentionally seek to build a diverse student population—one that's truly representative across experiences, backgrounds, cultures, beliefs, nationalities, citizenships, and various demographics. Our goal is to broaden collective perspective and facilitate more innovative thought and discussion in your program.
International students are a vital part of our Fuqua community. Having a Daytime MBA population where , we understand some of the challenges and obstacles international students sometimes face as they acclimate to a new school, a new environment, and a new culture. Here are some resources to help smooth your transition—tools for everything from helping you navigate the visa process to assisting with your adjustment to life in a new country.
Get Help Financing Your Degree
We have several options for international students looking for help financing their MBA. All Fuqua students are eligible for merit-based scholarships, a number of which are designated for students from Asia, Europe, Latin America, Africa, the Middle East, and other regions.
We also offer loan programs for international students, including programs that do not require a U.S. cosigner. Check out this detailed guide to financial aid and a list of FAQs.
Find On-Campus Support
Have questions about the student visa application process? Duke Visa Services has a dedicated team who can help you ensure you don't miss any steps when applying for your student visa.
Once you're here, the Duke International Student Center (DISC) has a variety of support services available to you, including help applying for a driver's license and social security number, finding housing, and connecting with a network of international graduate students for advice and support.
You'll also find opportunities to connect with other international students at Fuqua and share your culture through clubs like the Business in Africa Club, Asian Business Club, European Business Club, and the Latin American Student Association.
Connect to Other International Families
If you're bringing your spouse, partner, or family to Durham, you're not alone. We have a robust support network with Fuqua Partners and Fuqua Families, giving your family opportunities to participate in activities and form connections.
DISC also offers an orientation geared toward international spouses and partners, a children's playgroup, English conversation practice, and more.
If you have children who'll be attending school, Durham Public Schools offer English as a Second Language (ESL) support and other academic support services. If your spouse or partner also wants English learning support, Durham Technical Community College offers a number of free and affordable ESL classes, and several organizations in Durham host English conversation classes.
Enjoy Cultural Activities Across the Triangle
Durham and its neighboring cities Raleigh and Chapel Hill make up "The Triangle," a bustling metro area. The Triangle attracts many expat communities thanks to international corporations based in Research Triangle Park and a strong network of universities in the region. You can connect with other international professionals through organizations like the Japan-America Society of North Carolina.
The Triangle is also home to many cultural festivals and events throughout the year, including the NC International Festival, Cary Diwali Celebration, and the Bimbé Cultural Arts Festival.
Gain Support for Your Next Career Move
Our Career Management Center (CMC) advisors coach you through finding the right position after graduation. Advisors work closely with international clubs at Fuqua, guiding you to identify opportunities, develop relationships with organizations, and land an offer.
To what extent will you have access to employment in the U.S. in the current environment? We can help you understand current challenges, identify employment opportunities that have historically been available to international graduates, develop strategies tailored to your interests, and guide you through visa sponsorship for working in the U.S. after graduation. A successful career search requires a lot of work, but our process is thorough, methodical, and tailored to your ambitions.
Overall, you'll find a welcoming and supportive community here at Fuqua while also building the skills you need to become a global leader in your industry. We look forward to seeing you soon!
Editor's note: This blog was updated in December of 2022 to update wording and links. Also of note, the entire Daytime MBA program received Science, Technology and Math (STEM) designation since the blog initially published in 2017. STEM designation can have positive visa benefits for international students aspiring to work in the United States after graduation.