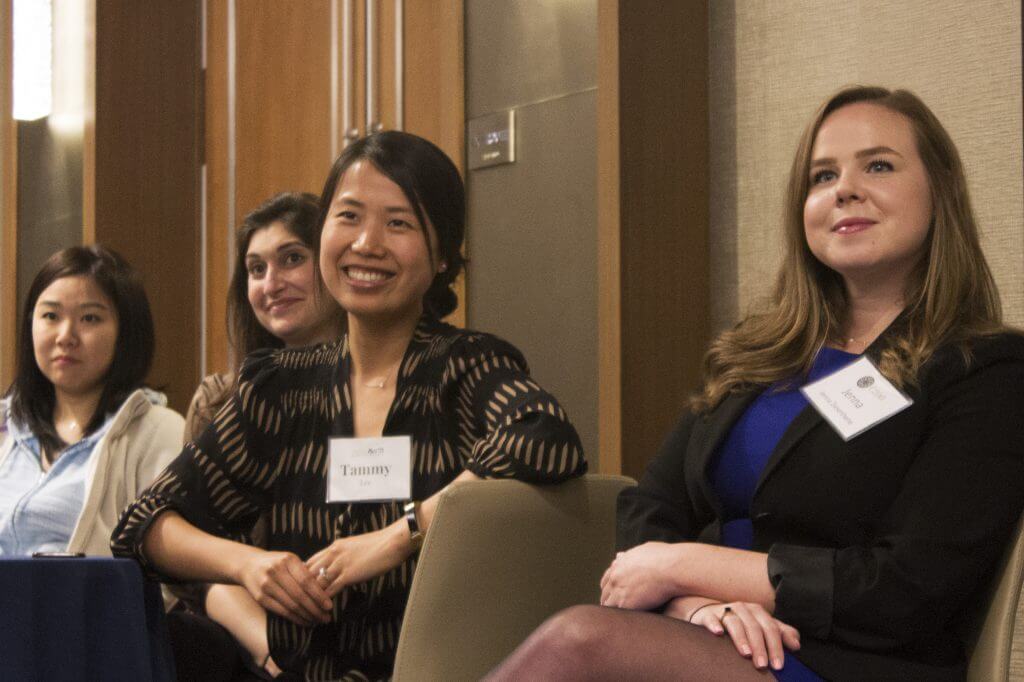 Recently, we were fortunate to welcome members of the preeminent women's executive leadership organization, C200, to Fuqua for an all-day leadership conference.
The event, called "Steering the Way Forward: Be Fearless, Transform & Inspire," was organized in partnership between C200 and Fuqua's student-led Association of Women in Business (AWIB). Attendees received the valuable opportunity to attend panel discussions and hear from female role models on a wide variety of topics, including taking risks, feminism in the workplace, and the path to the executive suite. It was also fitting that the two keynote speakers delivered messages that resonated with the values that are most important to our Fuqua community.
Carla Anderson Skogland, Director of Finance at Amazon
Carla promoted the importance of life-long learning. Although she's held many senior leadership roles at companies ranging from Starbucks to T-Mobile, she said she took her current role so that she could learn the skills necessary to eventually become a chief financial officer.
"Some people think I'm at the end of my career, but I still feel like I'm at Day One and learning all the time," she said.
Carla also gave great advice for women in the workplace. Some of her most salient points: Often people fear giving women feedback, so women must be proactive and ask for feedback. Women also have fewer networking opportunities than men, she said, so women must be networking all the time—for example, she met the person who eventually brought her to Amazon in the stands at one of her son's softball games.
Here at Fuqua, we believe in the power of these everyday encounters that can lead to great opportunities; with a tight-knit community of more than 21,000 alumni who all embody Fuqua's team mentality, we often hear similar stories from alumni.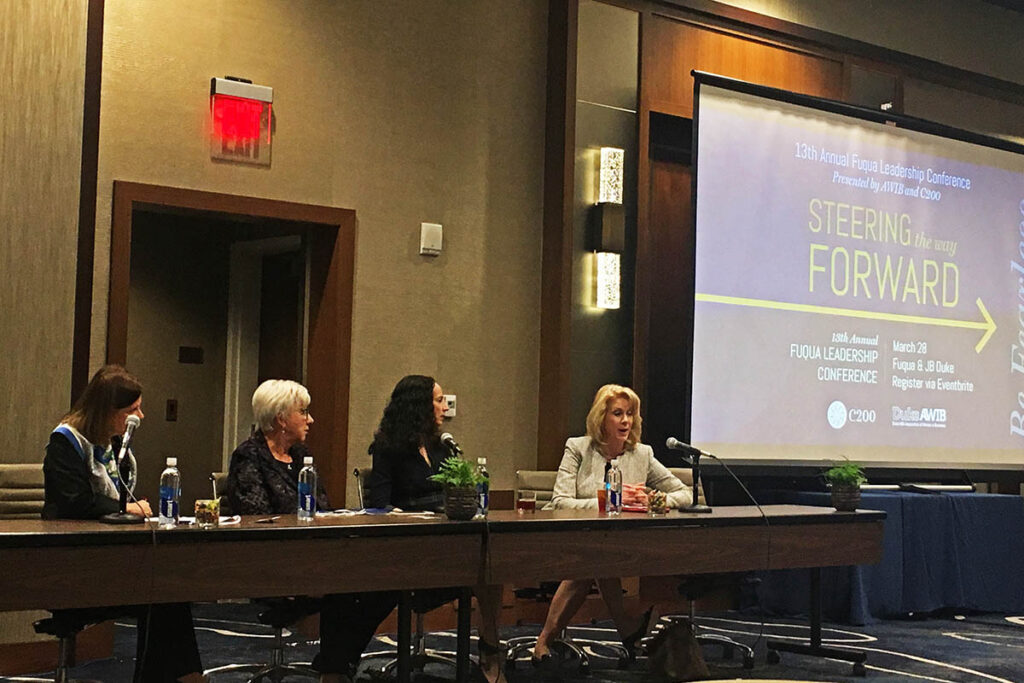 Joyce Russell, President of Talent and Leadership at Adecco
Joyce emphasized both talent and leadership in her keynote. The one factor that contributes to both: people.
"I like to say the key to success in business is three words," she said. "People, people, and people."
Joyce knows that the people she chooses to hire, mentor, and promote are a direct reflection of her and the legacy she will leave at her company, where she worked her way to the top over a 30-year period.
She also listed qualities that all great leaders share: generosity, personal courage, and grit and resilience.
We hold these qualities close to our heart at Fuqua, and we look for them in each student we admit. This is a place where both students and faculty work hard and are generous with their time, willing to go out of their way to offer support and help others understand concepts. It's also a place where students learn to value winning the right way, finding the courage to be the future leaders who do better while doing what's best.
Our commitment to these qualities is part of the reason why we so highly value diversity in all forms—diversity of culture, race, gender, and background. Our typical Daytime MBA class is 35 percent women, and we'd love to welcome even more women to Fuqua in the future. I'm so glad that our female students had the opportunity to learn from these impressive female executives and to learn about the paths they can take to become the future members of C200.
A number of our male students, who are part of AWIB's Male Allies program, also took the opportunity to engage in the conference. As Dean Bill Boulding pointed out when he kicked off the day's events, we cannot have productive conversations about gender without engaging all parts of the gender spectrum. We will only begin to see changes in the workforce for our women once we get men involved in the problem and create even more male allies.