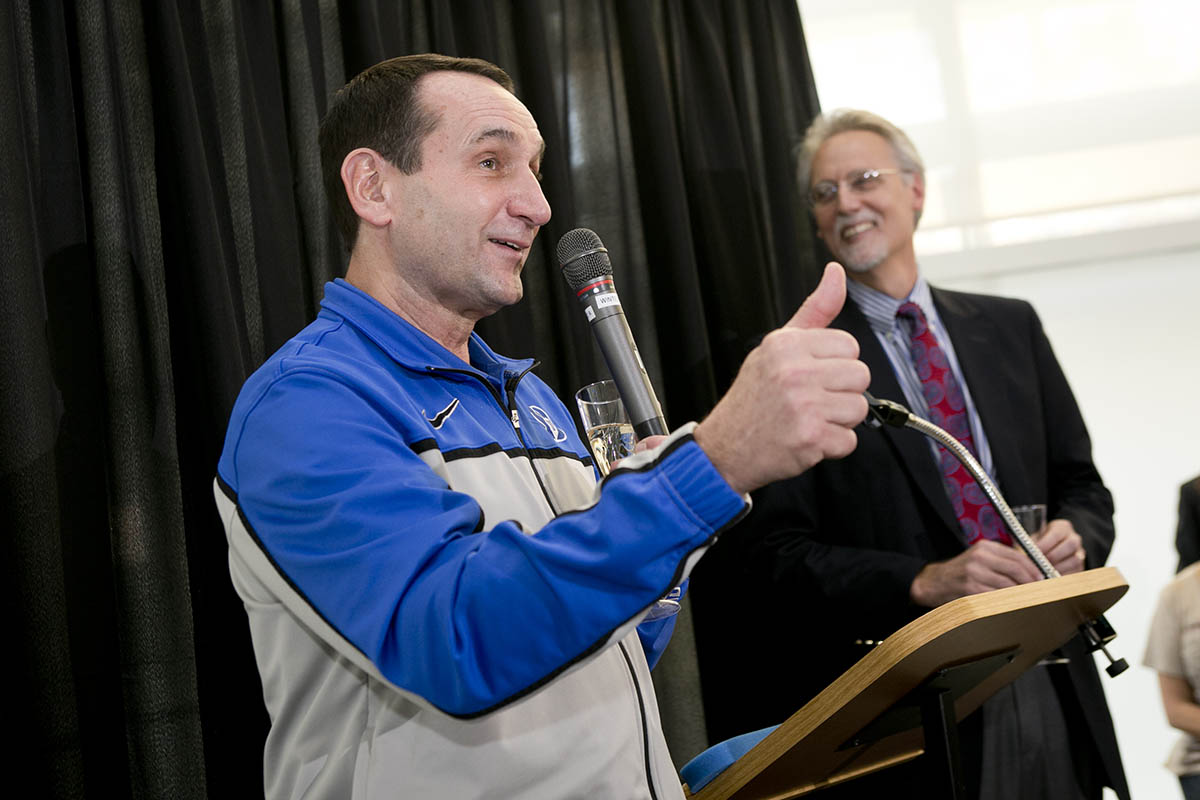 There is a motto at Duke University and the Fuqua School of Business—work hard, play hard. Sure, our students spend a lot of time working on case studies, but they also spend a lot of time outside of the classroom at Cameron Indoor Stadium, the home of Duke Basketball.
The Duke Blue Devils Men's Basketball Team has won five NCAA National Championships and made 11 championship game appearances. Coach Mike Krzyzewski has served as the head coach since 1980, and this year became the all-time winningest coach in college basketball history—currently having 1,124 wins.
There are a lot of parallels between Duke basketball and Fuqua. So how is basketball helping to shape our students' experience? Here are just a few examples:
Duke and Fuqua #1
2015 is when the men's team won its fifth national title. Coincidentally, that same academic year Bloomberg Businessweek ranked Fuqua as the number one business school in the U.S.
The "Fist" Team Analogy
Coach K is known for his "fist" analogy when it comes to talking about teamwork. There are five teammates who play on a basketball court, just like you have five fingers on each hand. Rather than going at something with one finger, when those five players, or fingers, come together to form one fist, it combines all of their talents to become stronger as a group. That same team mentality is true at Fuqua, where we believe in moving teams forward toward a common goal.
The Basketball Community
Duke basketball fans, also known as the Cameron Crazies, will travel near and far to watch the Blue Devils. Fuqua is known for bringing students and alumni together, and Duke Basketball is no different. How often is it that you get to watch a Final Four basketball game with Apple CEO Tim Cook (MBA '88)?
Learning Opportunities
Fuqua students don't just attend games and support teams, they learn about the sports industry. At Fuqua, it is not uncommon for Fuqua Client Consulting Practicum clients to include professional and college sports teams. We even have our Media, Entertainment, and Sports Club, which among other activities, has partnered with Duke Men's Basketball for the Duke MBB Stats team. All you need to have is a love for Duke Basketball—no data analytics experience required.
The Fuqua Currency
You have heard of cryptocurrencies, but at Fuqua, there is something way more valuable—signed Coach K basketballs. If you are lucky enough to score one of these at an auction or raffle, consider yourself lucky!
The Tradition of Campout
Why pay $2,000 or more for a ticket to the Duke versus UNC game in Cameron when you can earn free season tickets! Each year, Fuqua students participate in the annual Campout tradition, where they camp out for 36 hours to enter the lottery to win season tickets.
Coach K at Fuqua
The Coach K Center on Leadership and Ethics (COLE) is an academic center at Fuqua, focused on talent and knowledge development in the ethical leadership context. Coach K might be busy with basketball, but he is a COLE executive-in-residence and will hold lectures for MBA students and host invitation-only summits on management challenges.

College Rivalries
The Duke-UNC rivalry is one of the best in college sports. Since 1920, Duke and UNC have met twice each year to prove which school has the better basketball team. While UNC has won six NCAA Championships, Duke fans feel pretty strongly that we might get our sixth title this year (fingers crossed and knock on wood)!
And if all these examples prove how much we love basketball, take a look below at what the atmosphere is like on campus when there is a game. Let's go Duke!
"A single shade of blue…" 🔵😈 pic.twitter.com/7vHpKWxquC

— Duke Basketball (@DukeMBB) February 20, 2019