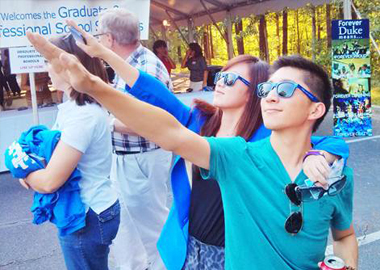 Duke and Durham are really different from anything I've experienced before or expected. As an international student and as a Fuquan, here are some things I've experienced and observed since being here that have really struck me:
Student Life at Duke & Fuqua
Duke is HUGE, definitely the biggest campus I've ever seen.
Fuqua is the most diverse community that I've ever been a part of, period!
You can always expect to hear a good story when you start a conversation with a random person you meet at Fuqua.
GO BLUE DEVILS! I've never seen people so proud of their sports team! Duke has not only achieved a great standard in sports, but also created a unifying force that binds all of Duke together. There's nothing more uniting than for 2 Dukies to share an experience during a game and to root for our home team.
"Study hard and play hard" is not just a motto here. It's actually a way of life that people believe in and follow.
Expect 50 new emails in your inbox, per day!
Classes are tough. There always seems to be too much work and too little time to finish it, but it's the challenges that force us to move forward and improve, isn't it? We love to be challenged here at Fuqua.
Once you get used to the idea of wearing business casual clothes to school every day, students from other schools wearing regular clothes may just seem too "hip."
I love the idea of "Team Fuqua," and people take real pride in being a member of it!
Once you are a Fuquan, you are a Fuquan for life!
I've been here for 7 months, and I still get lost in Fuqua! It's huge, and very weirdly shaped, haha!
You'll grow to love your team members. You spend most of your time with them, in and out of class.
Life in Durham
Durham is nothing like the traditional "small town" you might picture. It has good brunch places and welcoming neighborhoods, and is surrounded by nature with lots of trees.
The weather is awesome! Clear skies, sunny and not dry at all, but the rain storms can get pretty scary.
People are nice. I don't even have to ask for directions. People walking by notice that I look lost and just come up and offer their help.
It's kind of the ideal town to live in. I've always loved to be able to stroll down a small street, find a nice café and just sit, relax, and finish a book. Durham is the type of place where you find people sitting outside of restaurants along the street or sipping a nice cup of coffee at a corner café, with blues playing in the background.
The cultural offerings are rich. Pop culture including concerts and art shows are here all year-round. Just pick up a brochure at a café or browse online to find a fun event like Triangle Restaurant Week. Duke itself also offers a lot of events like movie week and concerts that will always keep your weekend calendar filled.
Just pick any direction, walk for 5 minutes, and you'll find yourself in the middle of trees!
You can get around with public transit, but it's so much easier with a car.
You don't really get a lot of shopping time, but that also forces you to plan and make the most of it. When you go grocery shopping, you might want to get an entire week of supplies rather than what might last for only a couple days.
When you move here, find a way to get furniture as soon as possible. I slept on the floor for 3 weeks and it was quite tough.
You need an American driver's license to buy a car. You have to pass two tests to get the license, and you need several documents to be able to take the tests.
The restaurants here are amazing. Being Chinese and a bit of a cook, I'm extremely picky about what I eat, and Durham has not let me down. I think I'm authoritative enough to say that the Chinese restaurants are very authentic. My first go-to restaurant is Happy China, and I also enjoy Hong Kong China for Dim Sum, and Gourmet Kingdom for Sichuan food. The Sichuan Fish from Happy China always helps whenever I'm homesick. I've also heard great comments from my friends about the other types of cuisine in the area, including classic American steak and unique Italian lasagna, etc.
It only takes about 20 minutes to drive to the airport and flights are relatively cheap, so it's easy to fly anywhere!
Basically, life is good here. You'll LOVE it!