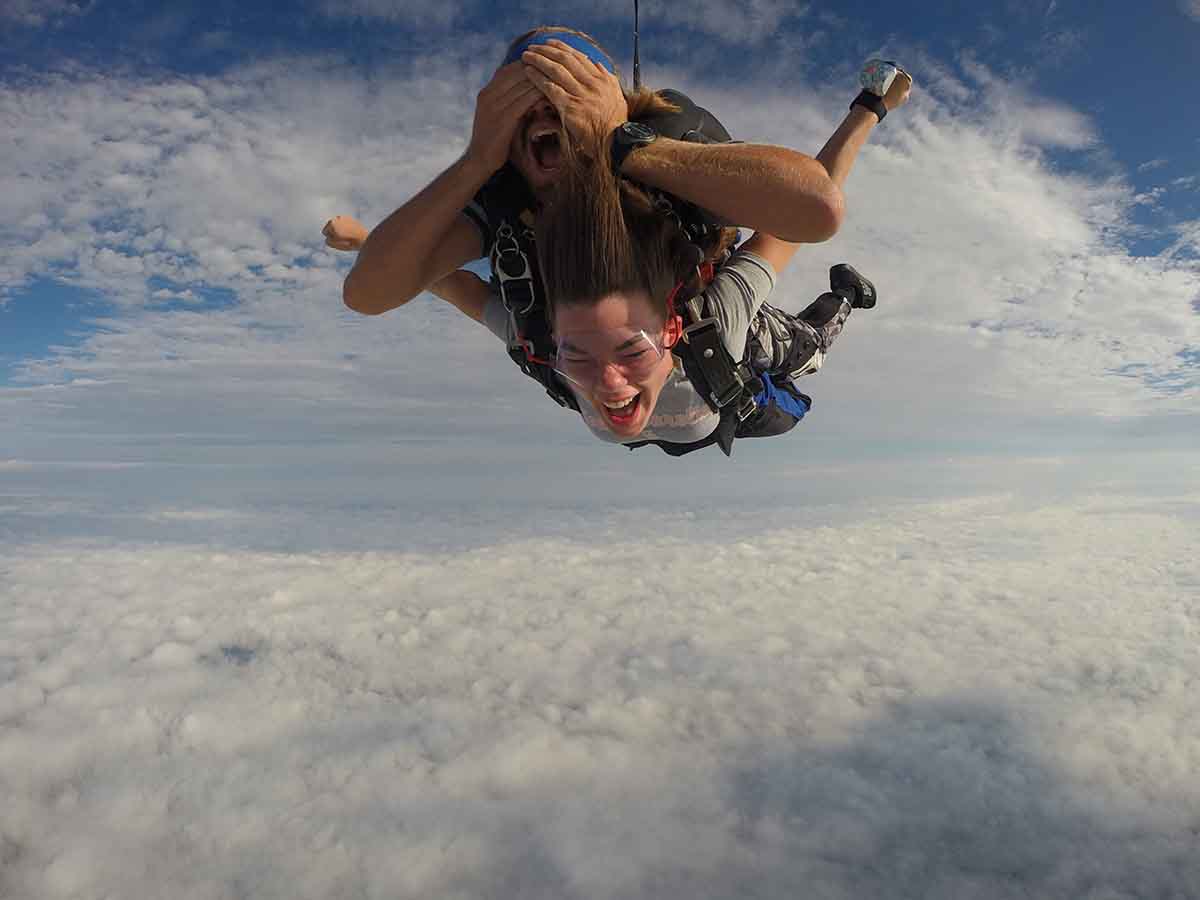 Amid trying to juggle classes, homework assignments, and the job search, it is easy to spend all of your day at Fuqua. Although Durham is a small city, it has a vibrant atmosphere and there are still plenty of things to do outside of Fuqua. Even though the MMS Association (MMSA) often plans events for students, many also have an active social life outside of those organized events. Here are some things current MMS students have been doing this year including some of my adventures!
A simple Google search on your desired activity will always bring up results. For adventure junkies, the Triangle Skydiving Center offers skydiving at discount prices and is only 45 minutes away from Fuqua.
The nearby town of Benson offers hot air ballooning, while all sorts of water and air activities (hang gliding, parasailing, etc.) can be done in the beach town of Kitty Hawk along North Carolina's Outer Banks.
Flight school and acrobatic flights are also available for under $100 near Durham. The hours can also be logged towards getting your flight license.
For dance lovers, Fred Astaire Dance Studio offers private and group ballroom dancing lessons. Cuban Revolution has salsa lessons and dancing every Thursday night.
For athletes, Duke has top rated athletic teams and the games are always exciting. Whether it's tailgating for football or attending the basketball games, students will come out and show their support. For others, attending local Durham athletic events like The Color Run is also a fun experience.
The Durham Performing Arts Center will often cater to touring shows. "Phantom Of The Opera" is one such musical theater production that many MMS students attended in October. Many graduate students also participate in the University Choir at Duke Chapel.
Just within Duke, there are so many different groups of students that come together to do what they love. Because there are so many different nationalities represented at Duke, there are plenty of cultural experiences to be had. Earlier this month, Duke students got together with University of North Carolina at Chapel Hill and North Carolina State students to celebrate Navratri, a traditional Hindu festival, and students of all religions and nationalities were welcomed at this event.
Fuqua students are curious, independent, cultured and driven. They are focused and energetic. These traits often come out in MMS students' interests in traveling. With such a global perspective, Fuqua students are highly conscious of the world outside of America and all the opportunities that can be had through being exposed to new cultures and ways of thinking. For shorter breaks like Labor Day weekend, many MMS students stayed in the U.S. and went to New York City, Washington, D.C., or Las Vegas. For fall break, a group of MMS students went to Cancun, Mexico. Some students have begun to plan Caribbean cruises and a European excursion during the longer winter and summer breaks.
Even if financial resources are a concern, there are always free or cheap things to do. A trip to Eno River State Park in Durham is a day filled with hiking, swimming, and camping without any cost.
Overall, having an active life outside of Fuqua is a grand adventure. There are always people and fellow classmates who are willing to join you for these events. Regardless of the stress and workload at Fuqua, people still make time to have new experiences and live their lives to the fullest.