Although our first term at Duke Kunshan University (DKU) has passed, so many memorable and exciting parts of life there are still vivid in my mind. Below are the top four amazing things during my time from mid-January to mid-March in Kunshan as an MMS: DKU student.
1) DKU Campus
I was impressed by the design and look of the entire campus when I first arrived in January. There are lots of trees and several big ponds located between the major academic building and conference center. The element of water embedded in the landscape of the university reflects the local culture of the famous water towns around Kunshan.
I really enjoy having meals at the cafeteria and looking out the French windows at the beautiful ponds on a sunny day. The campus is designed by the famous American architecture firm Gensler. Not only does it looks modern and appealing, the high-tech and environmentally-friendly features makes studying and living on such an amazing campus comfortable and attractive. Our classrooms and team rooms have very similar electronic components of the rooms back at Fuqua. Much of the furniture in the conference center and even treadmills in the gym are directly imported from the U.S. Overall, DKU is able to provide the Duke standards for university facilities to its students in China. I talked with some non-Duke undergraduate exchange students and they all said the facilities at DKU are comparable to the ones at their home universities.
2) Class Trips
The overnight trip to Hangzhou and scavenger game in Shanghai were unbelievably interesting.
The Hangzhou trip brought us to Ant Financial, a company owned by e-commerce giant Alibaba. We were lucky to have a Duke alumna working for that company who introduced and explained the company's business and its massive "big data," such as person-to-person transactions made through the server.
After the company visit, we went to several relaxing tourist attractions, such as tea gardens, West Lake and food street. The highlight of the night was going to a jazz bar and a karaoke bar/KTV with my friends. We sang English, Spanish and Korean songs, which demonstrated the multicultural nature of our class.
The scavenger hunt was shorter than the Hangzhou trip but equally enjoyable. We were grouped based on our academic teams of four people each and were asked to finish a list of tasks in Shanghai, such as learning Shanghainese from a local resident. My group didn't finish all the tasks but we made our hunt much more valuable than it was originally designed. One task is finding the Taobao Mall and taking a group picture with the mall in the background. After we did that, we followed a group of foreign tourists to a tailor store and eventually bargained a very good price for a couple of suits for my two teammates. The asking price was 1200 RMB we got it for 600 RMB.
Later that day, all groups went to a premium buffet restaurant at Lujiazui (financial center in Shanghai) to enjoy the city view and share their findings and experiences during the day. Both these travel experiences made me feel that the MMS: DKU cohort is truly like a big family, where we learn teamwork, explore a new city, and try new cuisines all together.
3) My New Team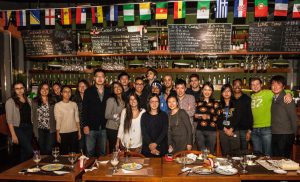 There are 32 MMS: DKU students in Kunshan and eight teams of four people were assigned at the beginning of the spring term. I am excited to have Sue, Jon and Jin be my teammates. They are all hard-working, diligent and smart people with a strong team spirit. Ten days in a row, we spent five to eight hours each night working to finish assignments of a quick-paced accounting class. Because of the long hours of teamwork, group efficiency was built up over time and contributed to an excellent team score in a later operations simulation game. The professor said that my team's overall performance in the simulation game breaks the records among all his MMS students.
Team spirit is also enhanced through social events such as team dinners. We tried Xinjiang (Middle Eastern and Muslim influences) and Dongbei (Northern China) cuisines in Kunshan. You can imagine that after a long day of study, good food and beers with teammates is absolutely a nice treat and a good strategy to relax.
4) Open House and Duke Alumni Day
DKU hosted a few big events around this time—an open house for prospective students in February and Duke Alumni Day in March. My role at the open house was being a panelist at an information session for prospective students. Together with other three MMS: DKU students, we shared our knowledge of the program and the DKU campus with interested visitors and their parents.
It was an awesome experience to answer questions about my time in the program, because it reminded me of many wonderful things that occurred since I was admitted last year, but that I had not thought of recently—among them, Triangle Training in Durham and an organic farm visit in Kunshan.
Following the open house was the Duke Alumni Day, during which over 80 Duke alumni visited DKU. Some of them even got to test drive in a Tesla around Yangcheng Lake, thanks to a Fuqua alumnus who is a general manager for the company in China. During the event break, I networked with admitted MMS 2016 students, MMS alumni and Duke alumni. At the end of the day, my classmates and I were invited to join a career session where five Duke alumni shared their career paths, kind advice and information about job openings in their companies. I am truly grateful for this kind of opportunity to speak with them and to get their advice for my job search.