Looking back on it, the lead-up to graduating from MMS was hectic.
MMS students were either scrambling to finalize their job offers, or were signing apartment leases in the cities where they were moving and figuring out their visa situations. A lot of us were making plans to head to New York City after graduation, although many others were grouping in Charlotte and other cities across the U.S. Some of the international students are heading back to their homes including China and India.
Regardless of the final destination, we were all happy to spend our last day at the graduation ceremony together.
However, before graduation and the study crunch for finals week, MMS students endured long projects including a Best Buy valuation for our Financial Analysis class. Although our teams had to stay up late into the night to finish the work, it was still a sentimental moment between teammates.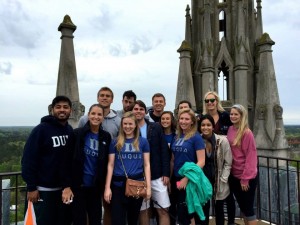 Before our Financial Analysis final exam, MMS students took a morning to make the famous Chapel Climb—a graduation tradition at Duke. The view and camaraderie were well worth it!
Duke students celebrated LDOC (Last Day Of Classes) in style with a concert featuring Jeremih and T-Pain. Afterwards, some MMS students went to Motorco to catch the famous Spanish band, Jarabe de Palo!
The week before final exams consisted of last dinners out with each other to restaurants like JuJu's, salsa dancing at Cuban Revolution, partying at Shooters, and of course our Spring Formal. Although we were ready for exams to be done and the next stage of our lives to begin, it was still bittersweet knowing that our MMS experience was coming to an end.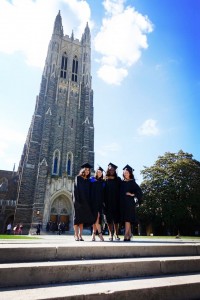 Our week-long break between final exams and graduation had many MMS students traveling to Myrtle Beach, SC, for the Fuqua 'Beach Week' tradition of relaxing by the ocean. Some students explored various cities in the U.S. with their families, while others finished their apartment search.
Our MMS graduation ceremony was a happy and most fulfilling event, full of goodbyes and blue-colored champagne. M. Susan Chambers, the executive vice president for the Global People Division of Walmart, spoke at our ceremony. Dean Bill Boulding offered words of wisdom, while our class president, Carter Boyle, reminded us of what all we've accomplished.
Now that it's all said and done, I look back on MMS as one of the best years of my life so far, and I am so thankful that I decided to pursue this program. I will never forget the experiences and people I've been able to connect with at Duke, and I'm already reaping the professional benefits of this degree. Looking forward, I can confidently say that I am in a much better place now than I was a year ago.
So thank you for everything, Duke. You've been incredible, and I will always love you and be proud to call you my alma mater.