Category:

Admissions
Visiting Campus as a Prospective Student
Scheduling a campus visit is a great opportunity to get to know more about Fuqua's culture. By immersing yourself in our community for a day, you will be able to talk face-to-face with current students, the admissions team, and likely even faculty members
Scheduling a campus visit is a great opportunity to get to know more about Fuqua's culture. By immersing yourself in our community for a day, you will be able to talk face-to-face with current students, the admissions team, and likely even faculty members. As a prospective MQM student, I flew thousands of miles from China to Duke, and found it such a rewarding trip! So what should you expect when visiting campus?
Group Meeting with Admissions
During each scheduled campus visit, there is a group meeting. At the beginning of it, admissions and the career management team will give a presentation so that prospective students will have a better understanding of the admission requirements, application process, and career development of former students. For instance, last year, I was unsure about whether my electrical engineering background was a good fit for MQM, but I received not only very positive feedback but also some personalized advice on my application.
Tour of Fuqua and Lunch
A student ambassador will walk you through the Fuqua facilities such as the Ford Library, Fox Center, classrooms, and more. You will see the impressive hall of flags which presents the diversity of Fuqua. After the tour is free lunch at the Fox Center with current MQM students! This was the favorite part of my trip because I could get closer to students and listen to their day-to-day stories through a casual conversation during lunchtime. In the afternoon, I went for a class visit with a current student, where I had the opportunity to experience the highly engaged classroom environment at Fuqua.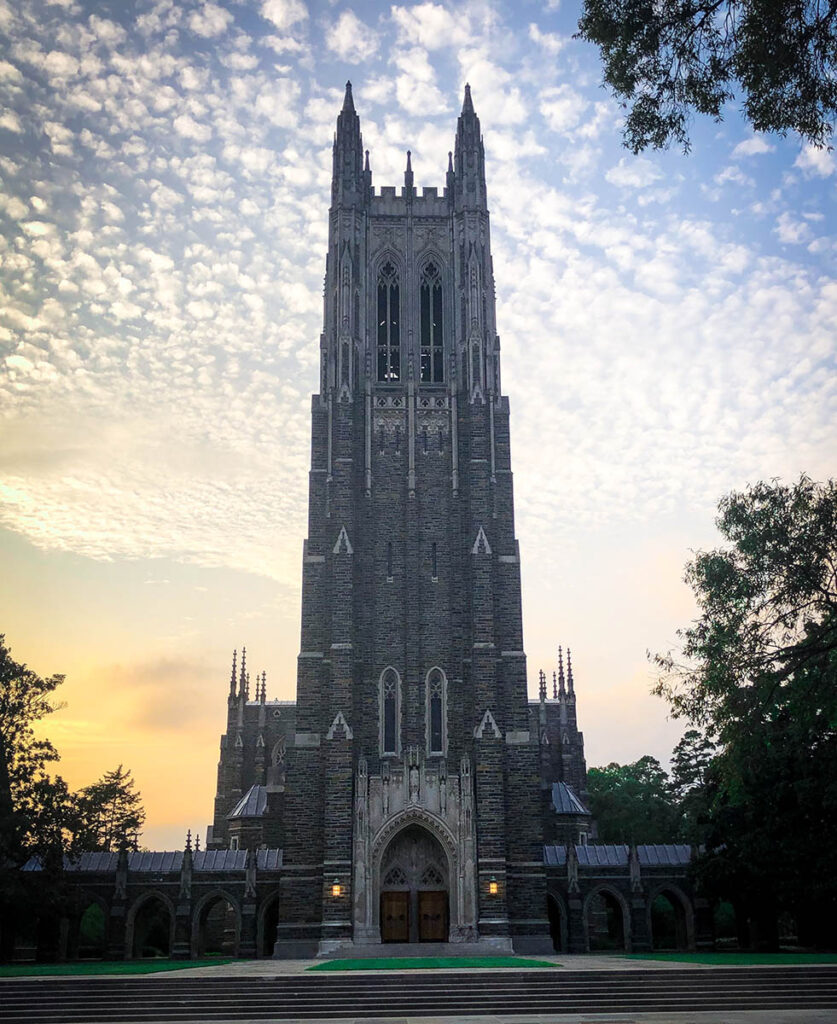 Duke Campus Tour
Duke's campus is amazing! A student ambassador will introduce you to many of the spots that Duke students frequent, such as Perkins Library, Wilson Gym, and Cameron Indoor Stadium (you must know it if you are a Duke basketball fan!).
Personally speaking, Duke Chapel is my favorite area at Duke. You can sense the history of Duke through those Gothic-style buildings. If you become a Fuqua student, most of your course work and social activities will be at Fuqua, but it is always a pleasant experience to walk around the entire Duke campus and explore the interesting spots.
Tips for Your Visit
Always remember, a campus visit is a trip of exploration rather than an interview! Ask the questions you really care about and be yourself while you're interacting with the community. Take the time to talk with Fuqua people and understand Fuqua's culture and values.
However, if you cannot make the campus tour in person, don't worry! Fuqua offers virtual information sessions, and you can always connect with student ambassadors and meet them virtually. You can also follow us on Instagram (@dukefuqua and @fuquamqm) to explore interesting stories of MQM student life!
Welcome to Fuqua in advance, and we hope you will enjoy your time here!