Category:

Life at Fuqua
Taking Advantage of Every Moment in MQM
With only 10 months in the MQM program, you quickly learn to make every moment count.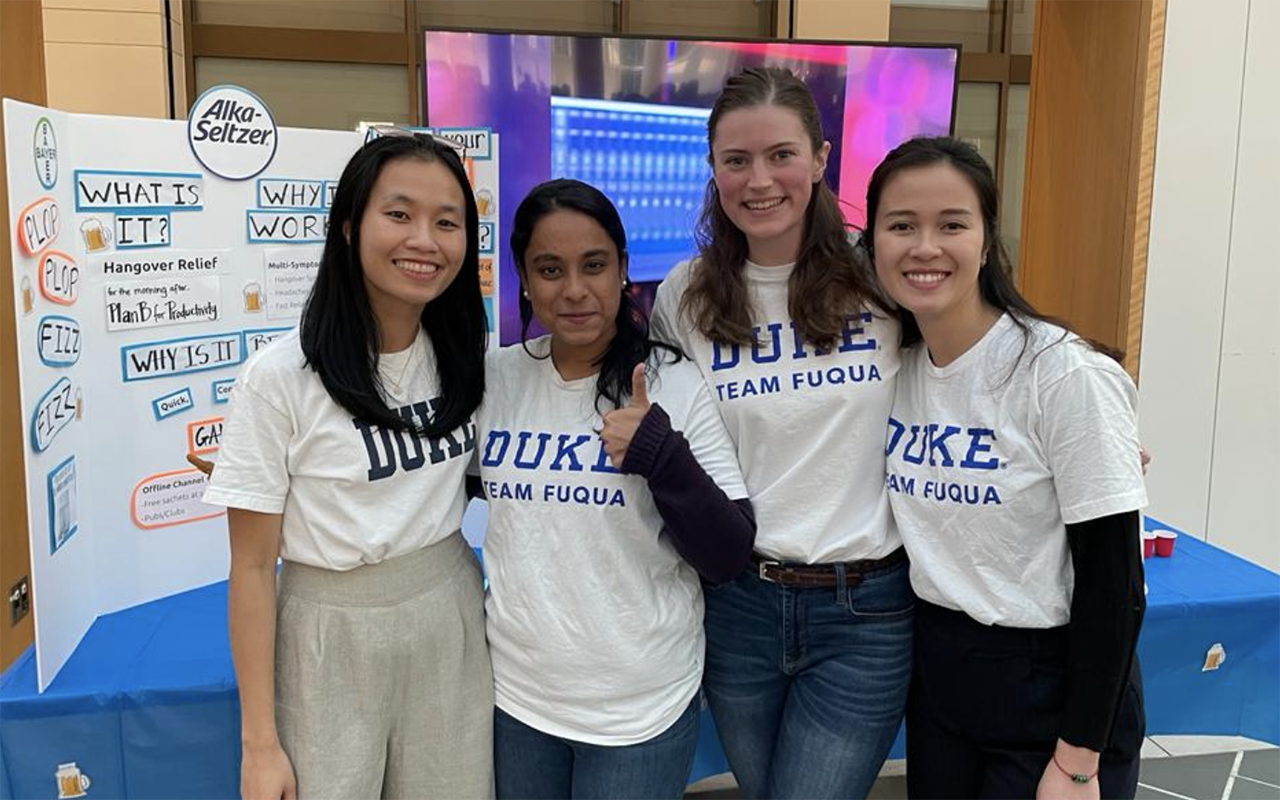 With only 10 months in the MQM program, you quickly learn to make every moment count. One Friday during my second Fall term when I didn't have any class, I decided to do just that. Here is a look into my not-so-everyday day.
Morning
Bright and early, my team for the Annual Brand Challenge arrived at Fuqua to finalize our presentation representing Bayer's Alka Seltzer Hangover Relief. For the Annual Brand Challenge, the Duke MBA Marketing Club partners with different brands, such as Dawn Dish Soap and Cadbury Chocolate, that are then assigned to each participating team. We are challenged with creating brand solutions and creative strategies for our specific product. Our goal was to develop a strategy to capture the attention of Alka-Seltzer's low-awareness audience, Millennials. In a few short hours, we would be the only team of One-Year Masters students to present and compete at Fuqua Friday.
Midday
After making progress on our presentation, we took a break for lunch. My lunch would be cut short with what would be one of two MQM Association (MQMA) planned events of the day. The MQMA consists of student-elected leadership positions, such as academic track chairs and student engagement chairs, where leaders meet weekly to plan events for our student body. I serve as a Judicial Representative and do not have any duties to plan events but enjoy attending meetings and offering any needed extra assistance. This particular Friday, our wellness chair planned a goat yoga event at a local farm to help us relieve stress. These goats were trained therapy goats that knew to watch for our cues if we wanted them to come by and join us during the session.
Afternoon
After cleaning all the hay off myself and changing into my Team Fuqua t-shirt, I headed back to Fuqua to help set up our Brand Challenge table to present at Fuqua Friday. For two hours, my team explained our product and how to effectively communicate our branding with the company's desired audience. This experience allowed me to meet many alumni, MBA students, and Fuqua faculty outside the MQM program. When the presentations had ended, the winners were ready to be announced. Our team won third place and $500 for our effective understanding and targeting of the Millennial age group. Our cheers filled up the Kirby Winter Garden.
Evening
The night was not over for MQM students as our MQMA academic track chairs planned an event at Sky Zone, an indoor trampoline park. I spent the rest of the night with my cohort jumping, flipping, and flying through the air. It was fun and a workout, so we treated ourselves to ice cream at the end of the night.
This Friday was certainly different from the usual day of classes and team meetings. However, I feel it embodies the MQM experience. With proper time management and prioritization of what experiences are important to you, the opportunities to meet new people and try new things are endless.