This Friday at 7:15 pm, the Arts@Fuqua Club will put on Fuqua's first originally produced live musical, appropriately titled Fuqua Musical… The show is the opener for the club's annual Fuqua Idol event and chronicles the journeys of a few "typical" Fuqua students, hopefully as everyone remembers it! To introduce most of the cast, the musical opens with a surfy rock number depicting the excitement and uncertainty of orientation.
The cast and crew of Fuqua Musical… is made up of approximately 40 students who have all put in an impressive amount of time and effort to create what will undoubtedly be a touching and memorable production.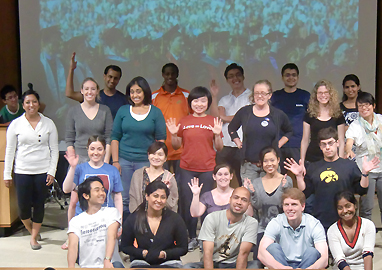 The Arts@Fuqua Club co-presidents Duke and Jean Wong came up with the original concept for the musical at the end of last school year. Their dream seemed lofty at first, but after a little investigation they were able to come up with a core team made up of second-year students Matt Portner and Anthony Ware, as well as myself.
From the start, one of the most fun aspects of the process was that we knew every single person involved would encounter a great deal of new and unfamiliar territory. Anthony and I have experience writing music and lyrics, but never in this kind of setting. Matt had worked in film before, but had never taken a crack at coming up with a script himself. Later on, as the work started to materialize and our cast and the rest of our crew were formed, it became clear that most of our singers, actors, and dancers had never been on stage before, let alone act in a musical! We realized that we had set on a mission without even trying to establish one — to allow everyone participating in the creation of this work to step outside of their known boundaries and to really stretch their limits, a concept that is completely transferable to all parts of life, even, no, especially, in the careers most of us will embark on for our internships and full-time positions!
Fuqua Musical… is going to be 30 minutes of good old Fuqua fun and will certainly be added to the list of unforgettable Fuqua experiences, leaving the audience with catchy melodies, and of course blackmail on their friends and potential future colleagues who will perform on the stage.
A few highlights of the show:
A Type-A personality with a rebellious and punky edge will sing about the competitive nature of teams and classrooms.
Two characters will experience the magic of an iconic Fuqua theme party, leading to a romance that only seeing one another dressed in '80s glory can cause.
A completely a cappella beatbox/rap battle will illustrate the stresses and victories of recruiting season.
A a balladic graduation, where students will be expectant of what the future holds but not know exactly what's in store for them – much like their situation at the start of their B-school careers.
You won't want to miss it!
Professor Shane Dikolli (who has been involved with FuquaVision and Fuqua Idol for years and whose Twitter handle is @fuquaidoljudge) stopped by to watch our dress rehearsal last night. After we made it all the way through to the curtain call, we asked him for constructive comments. He paused, and simply said, "That was the best thing I've ever seen happen on the Geneen stage. And I've seen a lot."