Where should I live?
It was the first question in my head after the joyful moment of getting admitted.
I'm sure others have felt the same way, and I wanted to help shed light on some of the options in Durham. Most Daytime MBA students live in apartments in the Ninth Street area, however, there are many who don't—like me. So here are a few students' reasons why they chose to live where they are and some tips on how to find the place that's best for you.
Stacey's Choice: Station Nine
I picked these apartments for three reasons. First of all, this is a place where a lot of students live and lots of social gatherings happen. As a first-year student, I thought that I should be located at a place where I can network with people easily. Secondly, this is a gated apartment, so I thought it would be safe and secure. Last but not least, the location is amazing, especially if you're not planning to buy a car. There are lots of restaurants, cafes, and a grocery store nearby in walkable distance. It's so convenient!
Gaukhar's Choice: 810 Ninth Street
I wanted to live close to but not at the center of the parties. When I was searching for a place before I arrived in Durham, these apartments were one of the few options still available. I asked my friend to check it out and send me pictures and video, and then I signed the contract directly with the leasing office. So far I really like living here. It has really good management that responds to inquiries and solves the problems within 24 hours, and they organize monthly tenant gatherings (not a party, but just providing free donuts, etc). Also, the gym and common areas aren't crowded so they're good to use on most occasions. Perhaps the biggest complaint is that sometimes people suffer from a low cellular connection. However, I like 810 Ninth Street and will be living here again next year as well.
Elly's Choice: Berkshire Ninth Street
I chose Berkshire Ninth Street over other apartments in the area because of its dog park. Since I have two dogs, it was important for me to find a place that is pet-friendly. It's not the only place with a dog park, but it's fenced-in and I like it more than others I've seen. Now when I open the back door of my apartment, I can directly access the park! Of course, I like other things about it—the location is close to everything, especially the Harris Teeter grocery store which operates 24 hours.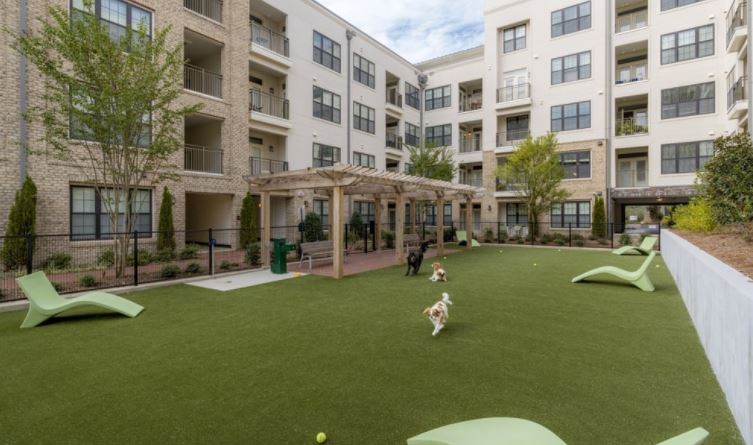 My Choice: A House Near the Ninth Street Area
At first, I never thought of living in a house. However, my roommate found this place, and I decided to live here just to try out a new type of accommodation for me (a house was not a common option where I lived in Korea). I like the location—which is not too close and not too far from the Ninth Street area—and the price was cheaper than some other options with more space. If you come to Durham with your family, renting a house would be a good option since it's likely to have more rooms than most apartments and a backyard. I also love the opportunity to network with neighbors. There is a very active mailing list around the neighborhood, through which you can often get help with something when you need it, find curb alerts, items for sale, etc.
Other Choices
While those are some of the most common options around the Ninth Street area, there are also popular places elsewhere, such as Lofts at Lakeview or Trinity Commons at Erwin, which are closer to Fuqua than the Ninth Street area. Some people live in relatively distant places, like the Southpoint Mall area or Chapel Hill which are both about 20 minutes away.
Pro Tips
Use these helpful resources!
Do some research so you know what options are available, and think about what's important to you when choosing a place. There are lots of resources to help you.
Each year, Fuqua students help create an in-depth PDF housing guide for admitted students where you can check the apartments listed in the file, and get used to the map around Fuqua and the Ninth Street area. The Admissions team can give you the most current version. Also, some international societies have their own guidebook.
Your Fuqua Buddy or other current students you connect with will happily help you, and give you an honest opinion.
Duke's student newspaper maintains a comprehensive listing.
Even if you can't come to Durham in person to check out the options, you can always ask people for photos and videos that might give you a better sense of the property than its website alone.
The Facebook group of admitted students is also a very useful source as many students have acquired their lease from previous classes and are looking to transfer it to new students. It can also be a good place to find roommates.
Finally, the Fuqua Partners and Fuqua Moms groups can be a great resource to help you find the most family-friendly options.
Securing a transferred lease vs. signing directly with the property management
Both ways have pros and cons. If you can get the place you want by lease transfer you might avoid being waitlisted, and sometimes it comes with furniture, which is very convenient. However, in this case, you never know if it will be well cleaned before you get there. You might get waitlisted if you go directly through the apartment, but you'll know the place has been cleaned, and you could request that it be re-carpeted, etc. before you move in. And sometimes apartments offer deals on the prices if you reach out to them early enough.
Try to pick the best location within the apartment complex
These apartment buildings are large so a well-located room could make a big difference. The location can affect the amount of noise you hear and some apartments are next to busy streets or a railroad. Do you want the first floor or higher? Do you want a place next to the parking lot, or next to the stairs, or overlooking a courtyard or swimming pool?
No matter what your preferences are, I hope you find a place successfully and enjoy your life in Durham!