When speaking with prospective students, I've been asked to describe the 'usual' day in the life of a Fuqua student. Every time I searched for an answer, I realized how challenging it would be to express—every student engages in different activities, and every week tends to be different with academics, recruiting, club activities, and social life. So maybe the best way for me to convey the life of a student is to show it via a peek into my weekly schedule, my Fuqua holy grail. So here's a look at a week during Spring Term 2 of my first year.
Monday
9:00 – 10:00 a.m.
I head into school early for a team meeting for Decision Models class. Working with teams in this class is invaluable—it has allowed me to develop an understanding in a weaker area for me within a relatively risk-free environment.
10:30 – 11:30 a.m.
As part of my role as MBA Association VP of Student Organizations, I meet with a few clubs to help them plan for the coming year. Working with clubs to ensure they have the resources to succeed is rewarding, but also time-consuming!
11:30 a.m. – 12:20 p.m.
I head into my weekly meeting with The Fuqua/Coach K Center on Leadership & Ethics (COLE) leadership team and advisor. Having recently been elected to the COLE executive team, we've been working through our plans for the coming year to improve the first-year MBA experience.
12:30 – 2:15 p.m.
I rush over to my Decision Models class right after my meeting, making it just in time! The class combines real-life examples with technical applications, making it easier for me to understand how I can apply what I learned after B-school.
3:00 – 6:00 p.m.
The day has come for the Fuqua calendaring committee meeting. In my MBAA role, I'm responsible for managing Fuqua's student event calendar, so I have been working countless hours to ensure events are scheduled with as little conflict as possible. Today, I have to meet with Fuqua staff to review the schedule and ensure resources are in place to meet club needs.
7:30 – 9:30 p.m.
After the meeting ends, it is time to relax (at least for a little while). I head over for dinner with my C-LEAD team – we decided in our team charter that we would meet for dinner once a month and haven't broken this commitment yet despite hectic schedules. Having both the academic and social connection with my team was crucial to my success in the first year.
Tuesday
9:00 – 11:15 a.m.
I start my day by heading to Marketing Strategy class, which has been one of my favorites so far. We've been working on a team project for Microsoft Xbox, allowing us to develop real-world experience and expand our knowledge past the classroom.
11:30 a.m. – 12:15 p.m.
I head over to eat lunch in the Fox Center. Our days at Fuqua can be very busy, so taking the opportunity to catch up with my class section-mates and friends serves as a much-needed break from work.
12:30 – 2:45 p.m.
Next up is Leadership class, a unique course that gives students the chance to reflect on their leadership strengths and opportunities for improvement. As part of the class, I'm working on an action plan for my summer internship, and I appreciate that this class gives me the dedicated time to think deeply about personal improvement and my leadership philosophy. I also appreciate that this term is relatively recruiting free for first-years, and I can focus on other priorities.
3:30 – 4:30 p.m.
For my MBAA role, I attend the Student Activities Meeting, a group comprised of student leaders and staff from each department at Fuqua. We gather weekly to discuss big events coming up and issues affecting the student body.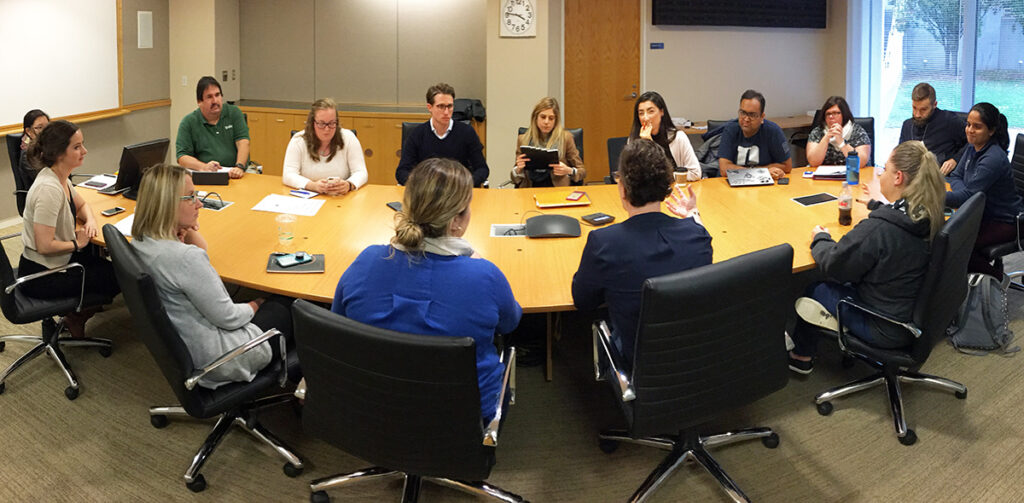 4:30 – 5:00 p.m.
Following the Student Activities Meeting, I head over to another MBAA-related discussion with our student body presidents, William Brody and Julian Gordon. We scheduled a meeting with Bon Appétit, our on-campus food provider, to discuss the potential to make food options available at night after hours and update the coffee selection. They were very proactive in hearing us out, presenting options, and addressing requested student changes quickly. I always appreciate that campus staff is responsive to student suggestions for improvement.
6:00 – 8:00 p.m.
I'm closing out my evening on campus with a COLE Fellow All Hands Meeting. This is our first meeting as a group, and we took the opportunity to discuss our goals for the coming year, vote on team leaders, and continue to get to know each other.
8:00 p.m.
I head home and then prep for classes for the rest of the week!
Wednesday
12:00 – 1:00 p.m.
Since most students don't have classes on Wednesdays at Fuqua, we pack the days full of group work and club meetings. I took the morning to continue working on projects that are due in the near future and then head to campus for a team meeting to complete a Decision Models assignment.
1:30 – 2:30 p.m.
The time has come for all of the second-year club leaders to transition their knowledge to the first-years taking over. I'm taking a position as the VP of Communications for the Duke MBA Marketing Club, so I meet up with the student in the current role to understand all the tasks I will lead and tips for the coming year.

2:30 – 2:50 p.m.
I meet with a group of student leaders looking to form a new club on campus. Part of my MBAA role is helping new clubs in their chartering process, so we discuss the steps they'll need to take to get the new club approved.
3:00 – 5:30 p.m.
While we don't usually have classes on Wednesday, those participating in the Global Academic Travel Experience (GATE) programs meet once per week on Wednesday evenings. During the class, we discuss the history of the country to get perspective and context prior to the trip, as well as talk about practical details such as where we'll visit and what to bring.
6:00 – 7:00 p.m.
In addition to the GATE classes, we have several social events to get to know each other prior to the trip. This week, our trip leaders organized a gathering featuring Chinese food and conversation about technology development in the country.
7:00 p.m.
It's time to head home and finish up work for the next day of class.
Thursday and Friday
The class schedule on Thursday is the same as Monday, and Friday is the same as Tuesday. So I have class along with—you guessed it—club events and team meetings. A highlight of the week is our weekly school-wide happy hour, Fuqua Friday. It's the one time a week I give myself a full pass to relax and hang out with my friends. And no one is complaining about the free food!
Saturday and Sunday
Weekends in Durham are fun but also include a lot of homework. This weekend, I have to work on a write-up for Marketing Strategy class and prepare the cases for the coming week, so that takes up a big chunk of my time. On Saturday night, we have a big event for my class section, our Safari Dinner, an evening where successive courses are prepared and eaten at the residences of different hosts. I'm a section representative and in that role, I've been working with my cabinet to plan this event for a while. So, I'm excited to see it come to fruition! We have randomly assigned small groups to go to each host's home, so it's a good opportunity for students to speak with section-mates they may not know as well and have a meaningful interaction outside the classroom.
As you can see, life at Fuqua can be very busy, but our time is not spent solely on classwork. Fuqua is an institution that encourages leadership development through practice and gives us frequent opportunities to lead our fellow students. While getting this involved certainly has taken up a lot of my time, I've learned so much about myself through these leadership positions. I wouldn't change a thing about my MBA journey.